A while back I was wrestling with trying to correct phase for my microphone set up. The microphones all had a different distance between one mic to another. This would not have been such a big deal wi
A while back I was wrestling with trying to correct phase for my microphone set up. The microphones all had a different distance between one mic to another. This would not have been such a big deal with only two mics, but I have 5 microphones in use. That tends to "complicate" things, just a little bit. The end result is, if you have more then one mic and they are not in exactly the same position, you're most likely going to experience some phase distortion. The farther apart your microphones, the more time lag and thus more phase distortion.

Portare il ritardo del campione Logic
Rounik Sethi , direttore di piombo per MacProVideo.com
Da quando ho avuto 5 microfoni, ho aggiustato 4 dei 5 microfoni con il ritardo del campione su ogni striscia di canale, lasciando il microfono più lontano dalla sorgente senza alcun ritardo, naturalmente. Ogni microfono è stato testato anche controllato utilizzando guadagno Logic plug-in e selezionando invertire fase di guardare i risultati delle mie impostazioni campione come sono stati regolati. Ho monitorato il multimetro sulla mia uscita principale. Ho guardato la dbs e con il multimetro, ho potuto vedere anche la frequenza / db consumi in tempo reale.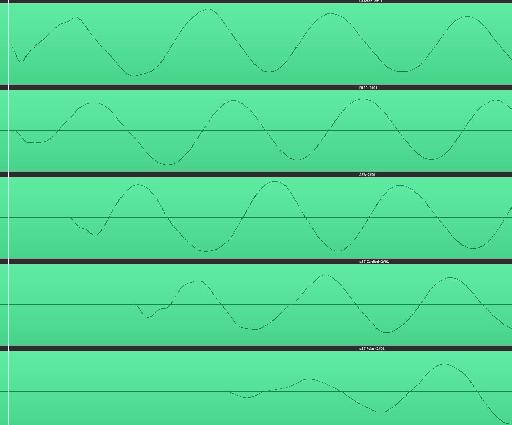 Figura 1 - Segnale portato in Logic da 5 microfono diverso distanziate a varie distanze. Partendo dall'alto, il microfono più vicino, al fondo, il microfono posizionato lontano dal cabinet.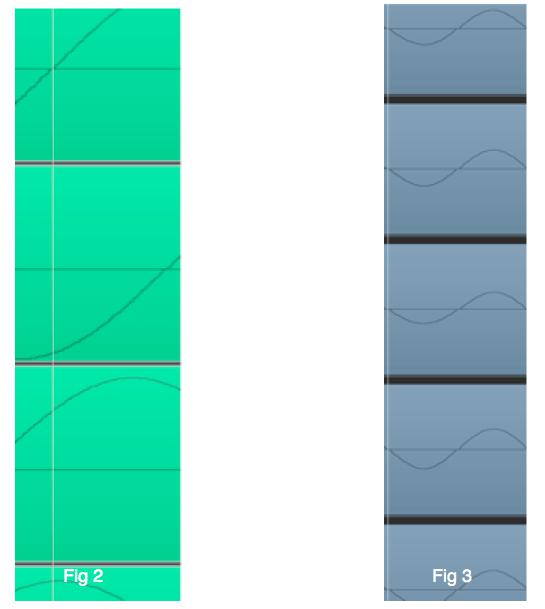 Figura 2 - testa Gioca posto proprio all'inizio della prima forma d'onda, si può vedere la distorsione di fase che si verificano evidenti dalle forme d'onda successivi. Figura 3 - Dopo aver regolato il ritardo del campione su ogni traccia, tranne il microfono più lontano, le 4 tracce sono spostati e con la testa di giocare insieme proprio per l'inizio della forma d'onda in alto, le forme d'onda successive sono ora in perfetto allineamento.
Ora, poiché si tratta di due microfoni diversi e perché fase opere non solo in maniera diretta e inversa, può cadere il dbs -30 segnale se si considera che sono del mondo reale e mondo virtuale non perfetta. Le variabili che esistono impedire al 100% la cancellazione totale di fase a meno che non lavoro più fisico e reale tridimensionale
Check out Cantare Productions Canarie Registrazione Chitarre , capitolo due, sezione 8, regolatore di tempo, per uno sguardo a quello che ho appena descritto. ma con un sistema a due microfoni e l'utilizzo di Pro Tools, invece di logica, che utilizzano ancora il ritardo di esempio per creare lo stesso effetto. Verificate anche Cantare Productions Canarie, L'arte della registrazione audio,
Latenza e normalizzazione Tricks
Per ottenere i migliori risultati, è necessario fare due cose, fare e correggere la latenza tutto il sistema, regolando la latenza di andata e ritorno IO del sistema. Per maggiori informazioni, vi consiglio caldamente Logic 207, Toolbox latenza Logic da Tom Rice . In secondo luogo, verificare se è possibile regolare il livello del microfono su o in giù su una delle strisce di microfono a due canali per vedere se questo aiuta la situazione. L'obiettivo è quello di ottimizzare ed ottenere la cancellazione massima fase. Se i livelli bisogno di regolazione, aprire l'editor del campione, selezionare il segnale di test registrato e utilizzare la funzione di normalizzare fino a quando non è il massimo. Fate questo per tutte le tracce e dovrebbero essere tutti egualmente impostato su 0,0 db. Ora sapete il segnale è uguale e non dovrebbero più bisogno di alcuna regolazione del livello. Questo aiuterà i vostri sforzi notevolmente.
(Ed - Bear in mind: Normalizing audio in the Sample Editor will destructively change the levels of the original audio file. You can use Logic's 'Bounce Tracks in Place' feature and tick 'Normalize' to quickly create new audio files while leaving the original recordings unaltered).

In the end, you can use this technique for each mic gauged against the one furthest from the recording source, which in my case was a speaker cabinet.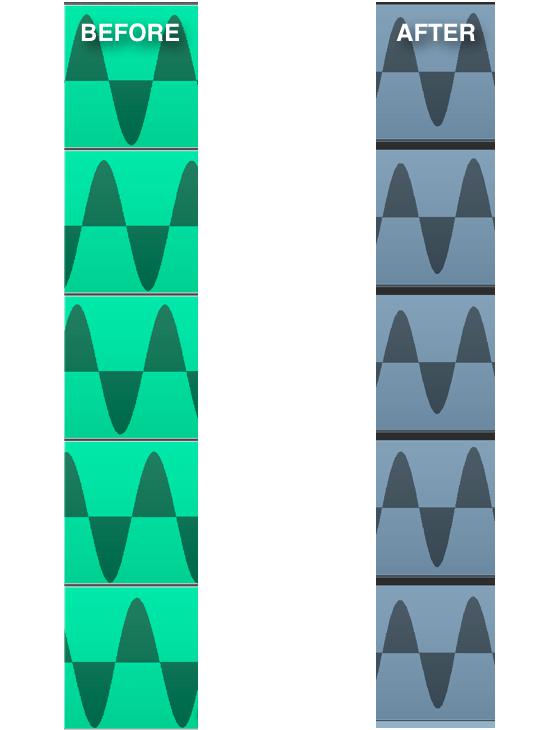 Figura 4 - Prima e dopo le schermate delle forme d'onda ingrandito. Vi è un chiaro vantaggio di badare tua fase microfono e con il ritardo del campione è un ottimo modo per ottenere attraverso una sfida di questo tipo. 'Prima' è l'attuale fase dei segnali microfonici entrando nel DAW. 'Dopo' è dopo aver configurato il ritardo del campione e rimbalza fuori ogni traccia microfono alla DAW come una traccia registrata.
Come ulteriore controllo, ho provato la stessa tecnica, controllando ogni microfono contro l'altro in base alle impostazioni di ritardo ho risolto avanti per la prima prova. Che ha fatto produrre dei buoni risultati in ogni microfono che stava mostrando l'ottimizzazione da una all'altra. In altre parole, erano in fase in qualsiasi combinazione che è esattamente quello che vuoi.
C'è indubbiamente un metodo alternativo se è possibile ruotare la vostra mente abbastanza, ma solo per utilizzare la funzione di ritardo campione integrato in una logica, che è un metodo veloce e molto efficace per fare un lavoro a più rig microfono insieme.
Il futuro?
Mi auguro che una futura versione di Logic si presenta con una funzione che è chiamata fase di correzione microfono che permette una correzione di fase simile e più ampi che potrebbero essere istanziata direttamente sulla striscia di canale per il microfono particolare.
Ecco una foto del gruppo di microfoni e dei ritardi campione inserito su ogni canale. L'unico microfono senza il plug ritardo campione è stato il più lontano dal cabinet.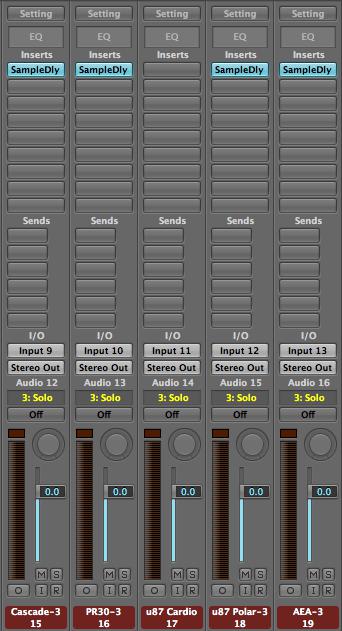 Figura 5a - Il Channel Strip ogni set con un ritardo campione tranne il microfono più lontano dalla sorgente.
Fino alla prossima volta! Godetevi la registrazione e lo zapping che problema di latenza per sempre.