A while back I was wrestling with trying to correct phase for my microphone set up. The microphones all had a different distance between one mic to another. This would not have been such a big deal wi
A while back I was wrestling with trying to correct phase for my microphone set up. The microphones all had a different distance between one mic to another. This would not have been such a big deal with only two mics, but I have 5 microphones in use. That tends to "complicate" things, just a little bit. The end result is, if you have more then one mic and they are not in exactly the same position, you're most likely going to experience some phase distortion. The farther apart your microphones, the more time lag and thus more phase distortion.

Trazer em Atraso Logic Amostra
Rounik Sethi , editor de pistas para MacProVideo.com
Desde que eu tinha cinco microfones, eu ajustei 4 dos 5 microfones usando o Delay amostra em cada faixa de canal, deixando o microfone mais distante a fonte, sem demora, é claro. Cada microfone testada foi também verificada usando o ganho Logic plug-in e selecionando inverter fase para ver os resultados de minhas configurações de amostra como eles foram ajustados. Eu monitorou o Multímetro na minha saída principal. Eu assisti o dbs e com o multímetro, eu era capaz de também ver o medidor de freqüência / db em tempo real.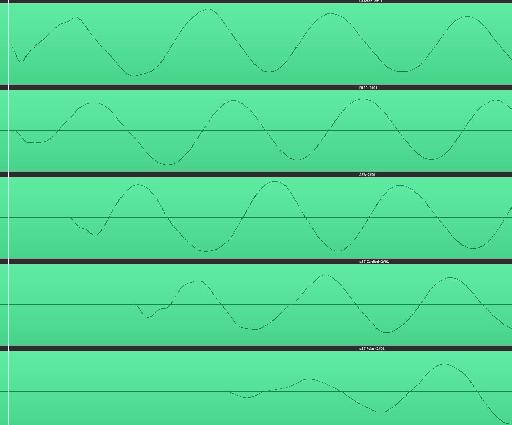 Figura 1 - Sinal trazido Lógica de 5 microfone diferente espaçadas em distâncias variadas. Começando no topo, o mais próximo de microfone, ao fundo, o microfone posicionado mais distante do armário alto-falante.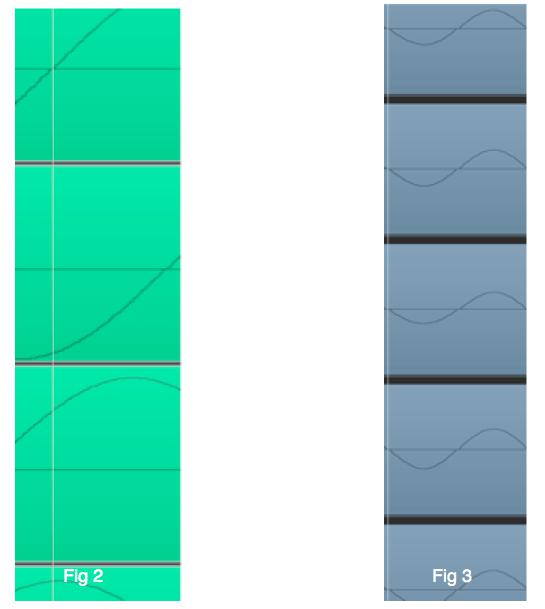 Figura 2 - Jogue a cabeça colocada precisamente no início da onda em primeiro lugar, você pode ver a distorção de fase óbvias que ocorrem a partir de formas de onda sucessivas. Figura 3 - Depois de ajustar o Delay da amostra em cada faixa, exceto o mais distante do microfone, o 4 faixas são movidos e com a cabeça jogar definir precisamente para o início da onda de topo, as formas de onda sucessivas agora estão em perfeito alinhamento.
Agora, porque eles são dois microfones diferentes e porque fase de obras não apenas de uma forma direta e inversa, ele pode cair o sinal de -30 dbs, se você considerar que eles são do mundo real e mundo virtual não perfeito. As variáveis ​​que existem evitar cancelamento de fase total de 100% a menos de trabalho mais físico e real tridimensional
Confira Cantando Productions Canárias Gravação de Guitarras , capítulo dois, seção 8, Ajustador Time, para um olhar para o que acabo de descrever. mas com um sistema de microfone dois e usando o Pro Tools, em vez de lógica, eles ainda usam o atraso de exemplo para criar o mesmo efeito. Também verificar para fora Cantar Productions Canárias, A Arte de gravação de áudio,
Truques de latência e Normalização
Para obter os melhores resultados, você deve fazer duas coisas, fazer e corrigir a sua latência do sistema gama, ajustando-o para a latência do sistema IO ida e volta. Para mais informações, eu sugiro fortemente Logic 207, Logic Toolbox Latency por Tom Rice . Em segundo lugar, verifique se você pode ajustar o nível do microfone para cima ou para baixo em uma das duas tiras microfone canal para ver se isso ajuda a situação. O objetivo é otimizar e obter o cancelamento de fase máxima. Se os seus níveis precisam de ajuste, abra o editor de exemplo, selecione o sinal de teste gravados e utilizar a função de normalizar até que seja máxima. Faça isso para todas as faixas e todas elas devem ser igualmente definido para 0,0 db. Agora você sabe o sinal é igual e que eles devem deixar de precisar de qualquer ajuste de nível. Isso ajudará o seu esforço consideravelmente.
(Ed - Bear in mind: Normalizing audio in the Sample Editor will destructively change the levels of the original audio file. You can use Logic's 'Bounce Tracks in Place' feature and tick 'Normalize' to quickly create new audio files while leaving the original recordings unaltered).

In the end, you can use this technique for each mic gauged against the one furthest from the recording source, which in my case was a speaker cabinet.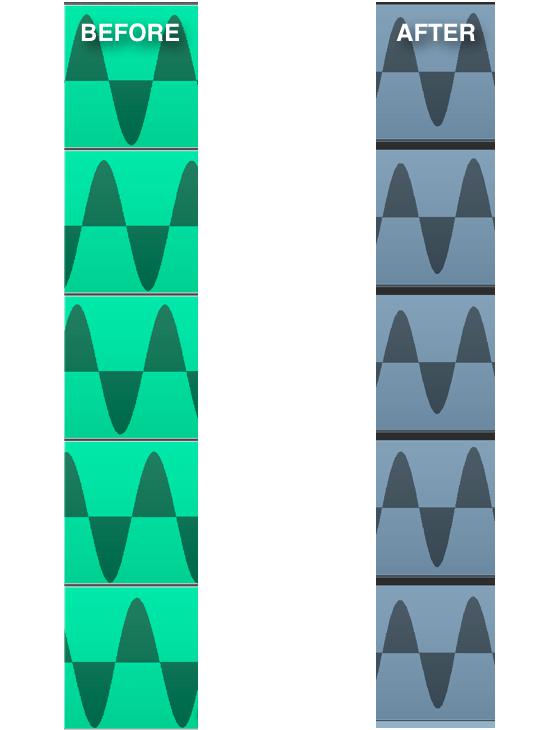 Figura 4 - Antes e depois de capturas de tela da onda de formas com menos zoom. Há uma clara vantagem de se importar sua fase de microfone e usando o atraso da amostra é uma excelente maneira de começar com um desafio deste tipo. 'Antes' é a fase actual dos sinais mic entrando no DAW. "Depois é depois de configurar o atraso amostra e saltando para fora cada faixa mic para o DAW como uma faixa gravada.
Como uma verificação adicional, eu tentei essa mesma técnica, verificando cada mic contra os outros com base nas configurações de atraso eu estabeleci-me sobre para o primeiro teste. Que deu alguns bons resultados em que cada mic estava mostrando a otimização de um para o outro. Em outras palavras, eles estavam na fase em qualquer combinação que é exatamente o que você quer.
Há, sem dúvida, um método alternativo se você pode girar sua mente o suficiente, mas para apenas usando o recurso de atraso amostra construída em lógica, que é um método rápido e muito eficaz para fazer um trabalho de multi plataforma microfone juntos.
O futuro?
Espero que uma futura versão do Logic vem com um recurso que é chamado de correção Mic fase que permite uma correção de fase semelhante e mais extensa que pode ser instanciado diretamente sobre a faixa de canal para o microfone particular.
Aqui está uma foto do grupo de microfones e os atrasos amostra inserida em cada canal. O microfone um sem o plug atraso na amostra foi mais longe do gabinete do alto-falante.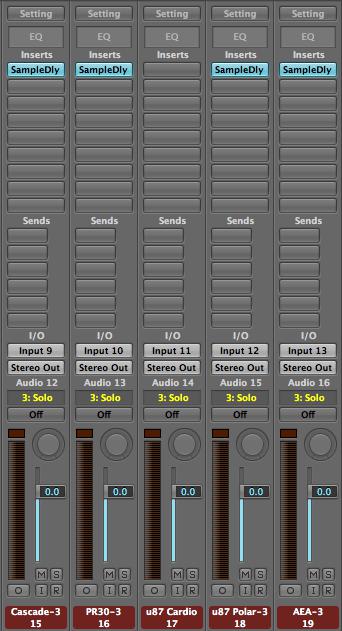 Figura 5a - O Canal Tiras de cada conjunto com um atraso de amostra, exceto o mais distante do microfone da fonte.
Até a próxima vez! Desfrute de gravação e zapping que problema de latência para o bem.