Pitch correction has become a staple in the music producers toolbox. This tutorial shows how to use Logic's Pitch Correction plug-in without knowing your Bb major from G minor - with A+ results!
The Pitch Correction plug-in in Logic Pro is a very useful tool for tidying up the inaccuracies of a vocalist (or other melodic performer) who may have less than perfect intonation. But what if you yourself have a less than perfect sense of tuning, or little knowledge of musical theory in harmony? While the ideal is that those involved with audio recording and mixing are also themselves trained musicians, this is not always the case, so if you don't know your Bb major from your relative major of G minor then read on'¦
Logic's Pitch Correction plug-in works best if you select the notes of the key or melody that the vocalist intended to sing, and deselect those not required. Leaving all 12 notes selected means that out-of-tune notes may be adjusted onto pitches that are incorrect, and the result will be worse than with no pitch correction! So if you don't know, why not ask the singer? Well they may not know themselves, or they may tell you a key or scale that may be incorrect, because the blues inflections of modern pop music mean that the notes they sing and the chords in the backing are not as related as classical music theory says they should be '" that is, '˜wrong' notes are actually correct! So what to do?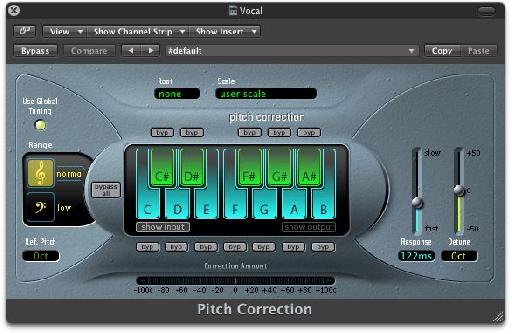 Leaving this plug-in in default mode can make things worse!
Step 1

Begin by creating a Software Instrument track and call up a preset like an acoustic piano. Piano is ideal for this task as it is not an '˜interesting' sound (unlike say an evolving or rhythmic pad sound for example), and therefore will not distract you from your task '" your focus needs to be on the vocalist's notes not what the piano sounds like. The chosen sound should also have no modulation to distract from the pitch you are hearing.
Step 2

Bypass Logic's Pitch Correction plug-in, then with a section of the performance in Cycle Mode, play a C on your MIDI keyboard that is as close to the right pitch range as you can find.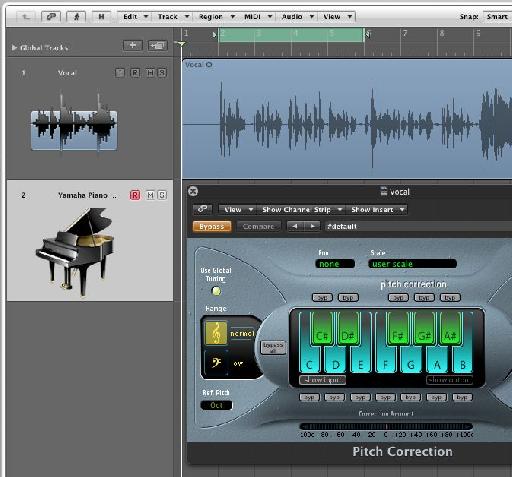 The set-up in Logic's Arrange window for checking which notes should be selected in the Pitch Correction plug-in.
Repeatedly play this note and ask yourself this question - does it fit? Yes or No. If the answer is '˜yes' (either the vocalist is singing something like a C in their melody, or a C sounds okay alongside the notes they are singing) then leave the C key switched on in Logic's Pitch Correction plug-in (image).
Step 3

Repeat the process for all 12 notes (semitones) in the octave moving up one step at a time. You should immediately hear when it is a '˜No'! The note you play will jar horribly against the vocalist's notes. Switch these notes off in the plug-in.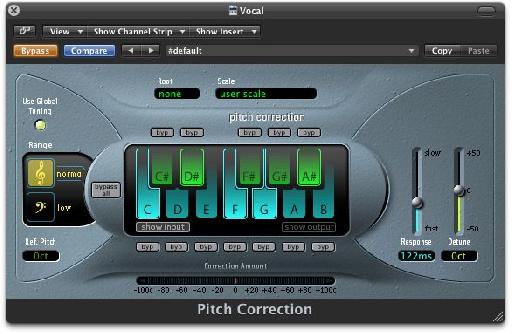 The vocalist is singing a melody with only 5 different notes.
If you are unsure '" usually because the note you are playing is not in the melody, but it doesn't sound too weird or horrible - leave it switched on. Finally turn the bypass off for the Pitch Correction plug-in and adjust the Response time to suit. The faster the response time the more likely you are to hear the effect of pitch correction and in some cases this is desirable (certain genres demand this sound!), but usually the idea is to tune the vocalist or performer without anyone noticing - Simon Cowell please take note!