When it comes to creating drum parts, Ultrabeat provides a ton of suitable sounds for almost any musical style. And for programming the patterns? Mo Volans steps up with a House Beat pattern.
Dans un précédent article nous avons cherché à créer un laid-back Hip Hop style boucle dans Logic utilisant Ultrabeat . Cette fois nous allons suivre le même processus de base pour produire un battement maison.
Tout Ill faire ici sera en utilisant les échantillons qui sont regroupés avec Logic, donc vous devriez être en mesure de suivre avec une installation standard de Logic Pro 9. Ceci est vraiment destiné aux débutants qui est nouveau dans la programmation des beats électroniques.
Étape 1 - Charger un kit de base
UltraBeat est emballé avec des charges de très cool, des kits utilisables. Cette fonction est idéale si vous êtes assez nouveau pour Logic et n'avez pas une bibliothèque d'échantillons énormes de votre choix. Quand il s'agit de la maison de programmation bat nous avons effectivement un choix assez bonne ici.
J'ai opté pour un des kits de maison plus évidente ici appelé Progressive House. Idéalement, j'aimerais construire mon propre kit, mais pour les fins de ce tutoriel il avait plus ou moins tout J'avais besoin de construire un beat de base de maison.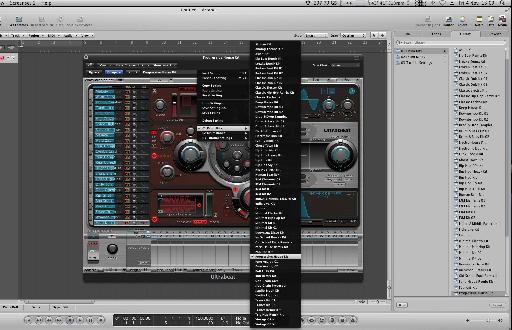 Le kit est chargé.
Avec le kit de chargement étaient prêts pour commencer la programmation de la section de base de notre maison ... battre
Étape 2 - Programmation L'épine dorsale de votre rythme
J'ai utilisé UltraBeats séquenceur interne au programme de la partie principale du battement ici. Bien que ce que vous entendez ci-dessous peut-être un peu de peinture par numéros lorsque de nouvelles pour le monde de la programmation de battre ce peut être une excellente façon de commencer.
J'ai simplement utilisé un tambour 4 / 4 kick, une décalé chapeau ouverte haute et une embûches quelques couches sur les 2e et 3e bat. Slideshows en effet très simple mais incroyablement efficace et immédiatement reconnaissable comme un battement de maison.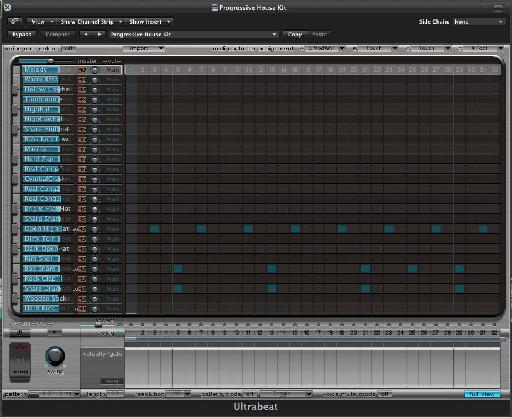 Le beat simple séquenceur Ultrabeats.
Bien sûr, la façon dont vous vous faire de cette sorte est d'ajouter d'autres pièces décoratives. Ces effets pourraient être ou de percussion et devrait ajouter groove et de la variation de la simplicité créative weve jusqu'ici.
Eh bien le faire en utilisant MIDI mais d'abord bien avoir besoin pour obtenir notre rythme de base en piano, Logiques roll pour éditer et bien le faire dans la prochaine étape ...
Le beat simple, nous avons en ce moment:
[Audio id = "10381"]

Ajouter des pièces Utilisation du MIDI
Comme nous l'avons vu lors de la programmation de notre rythme RnB base, le déplacement du MIDI de séquenceur interne d'Ultrabeat est agréable et simple. Nous avons tout simplement récupérer l'icône modèle de glisser et placer l'info sur la piste UltraBeats.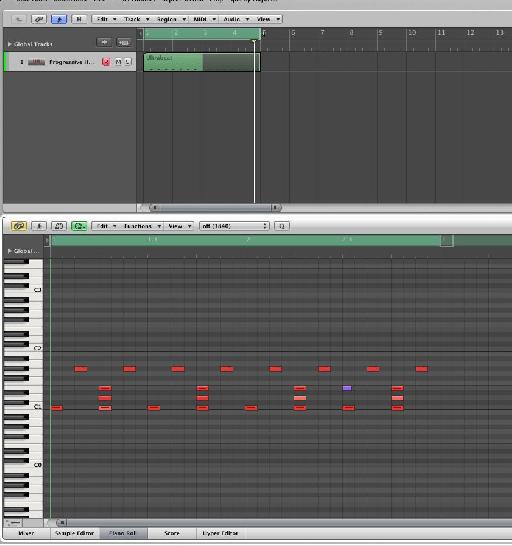 Le MIDI est déplacé vers une nouvelle piste.
Tournez séquenceur pas à pas Ultrabeats off, ou vous entendrez tout deux fois! Vous pouvez maintenant voir le MIDI dans l'éditeur piano roll Logiques et sont prêts à modifier votre travail à ce jour ou augmenter le motif avec des informations MIDI supplémentaire.
J'ai déménagé quelques-uns de nos pièces préalablement programmé autour pour créer une touche de variation. J'ai alors commencé à ajouter de petites pièces de percussion à la boucle en utilisant un clavier MIDI. Même ces petites étincelles d'intérêt peut transformer une simple boucle de ce genre et se transformer en quelque chose d'un peu plus individuel.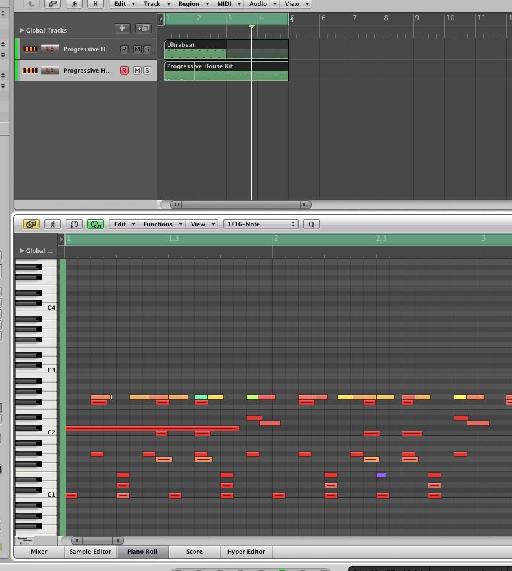 Programmation supplémentaire est ajouté à notre part.
Les nouvelles pièces aider à ajouter la variation à la boucle:
[Audio id = "10380"]

Maintenant, essayez de battre et de créer votre propre maison et mélanger les choses un toucher. Ceci est juste un tremplin pour créer vos propres rythmes uniques dans ce style.