When it comes to creating drum parts, Ultrabeat provides a ton of suitable sounds for almost any musical style. And for programming the patterns? Mo Volans steps up with a laid back hip hop pattern.
Für diejenigen unter Ihnen, die ziemlich neu zu machen Beats in Logic Ich dachte, Id zusammen ein paar Tutorials machen Beats in bestimmten Stilen und Genres sind. Nun mit einem entspannten Hip Hop Beat, die tatsächlich mit einer Reihe von verschiedenen Stilen verwendet werden konnte beginnen.
Ill werden Dinge einfach zu halten in dieser schnellen Spitzen, konnte aber immer auf die Techniken, die in fortgeschrittenen Tutorials zu einem späteren Zeitpunkt eingesetzt zu erweitern.
Schritt 1 - Firing Up UltraBeat
Man könnte fast jedem Sampler oder virtuelle Drum Machine als Schallquelle hier verwenden, aber wir sind mit Logics nativer Trommel-Lösung gehen,
Der beste Weg, um Ultrabeat Zugriff auf eine neue Software-Instrument-Spur mit dem Plus-Symbol im oberen Bereich von Logic Pro Haupt-Arrange-Fenster hinzuzufügen. Dann wechseln Sie auf die Library-Bereich und wählen Sie UltraBeat aus der Liste. Dies wird einen Titel mit einer Instanz von Ultrabeat für Sie vorinstalliert.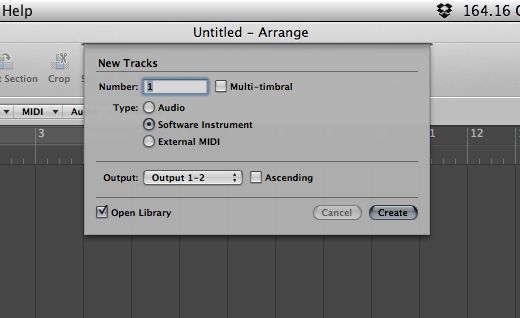 Lädt ein neues Instrument-Kanal.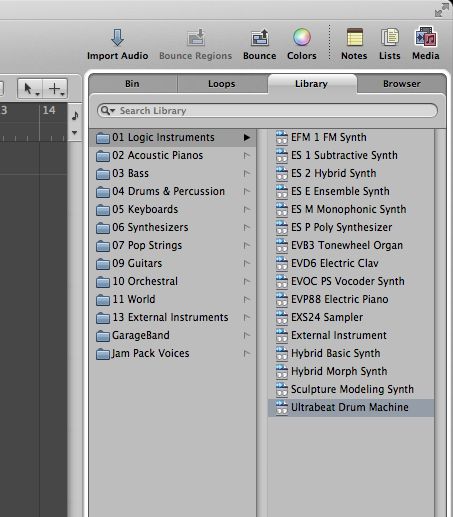 Die Auswahl Ultrabeat in der Bibliothek.
Jetzt sind wir bereit zu starten Auswahl einige geeignete Klänge ...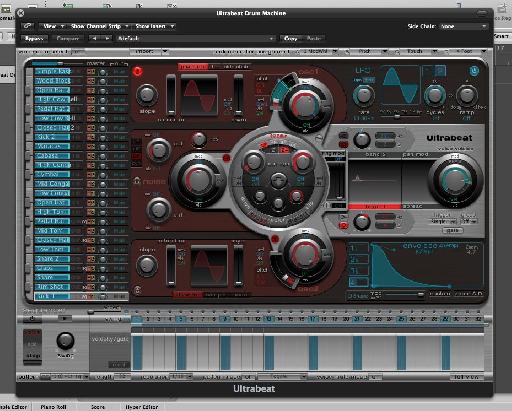 Ultrabeat ist gut zu gehen!.
Schritt 2 - Laden eines geeigneten Kit
Eine vollständige Installation von Logic Studio gibt Ihnen eine beeindruckende Sammlung von Sounds für jedes Instrument zur Verfügung und
Natürlich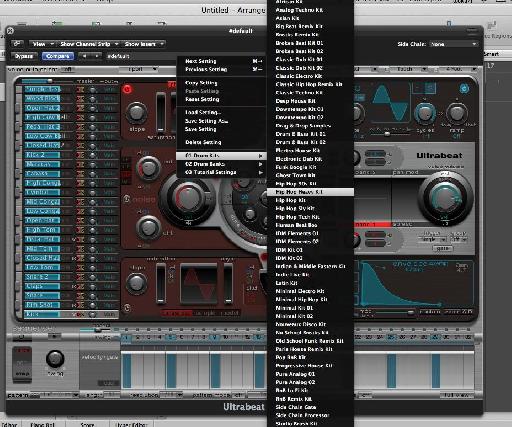 Die Auswahl der richtigen Kit.
In diesem Fall entschied ich mich für den Hip Hop
Schritt 3 - Programmierung ein Grundmuster
Es gibt ein paar Möglichkeiten, wie wir Programmierung von Beats mit Ultrabeat, können Sie die internen Step-Sequenzer zu verwenden oder verwenden Sie es als eine virtuelle MIDI-Modul und setzen auf eine Tastatur und Logics verschiedenen Event-Editoren. Im eigentlich vor sich geht, um eine schöne Kombination der beiden hier zu verwenden.
Starten Sie, indem Sie die Tastentöne Sie Ihre schlagen aus (I in der Regel mit Kick und Snare-Start) zu konstruieren. Sobald Ihr Sound wird mit Hilfe der Tastatur auf der linken Seite der UBS-Schnittstelle, sind Sie bereit zu beginnen verteilen Schritte.
Der Step-Sequenzer wird über den unteren Rand der UBS-Schnittstelle zugegriffen und ist ziemlich einfach. Bevor Sie beginnen möchten Sie vielleicht irgendein Muster, die mit Ihrem Kit geladen wurde initialisiert. Dies wird durch Control-Klick auf die Muster-Menü und wählen Sie klare getan.

Clearing der Step-Sequenzer.
Steps können nun hinzugefügt oder gelöscht werden mit einem einzigen Mausklick und die Geschwindigkeit der Schritte ist leicht mit den Schiebereglern zur Verfügung gestellt geändert. Denken Sie daran, stellen Sie sicher, den richtigen Ton gewählt werden, wenn die Programmierung Schritte.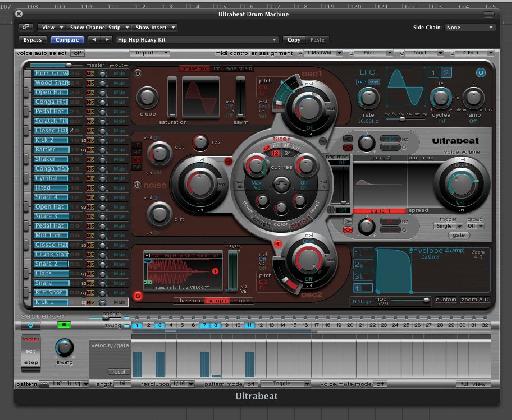 Programming einige erste Schritte.
Ich habe auch einige Schaukel, um die Schleife aufgenommen, um ihm eine menschlichere fühlen. Wiederholen Sie diese Schritte, bis Sie eine Schleife Sie sind zufrieden mit haben. Sie können hören, was ich kam mit unten.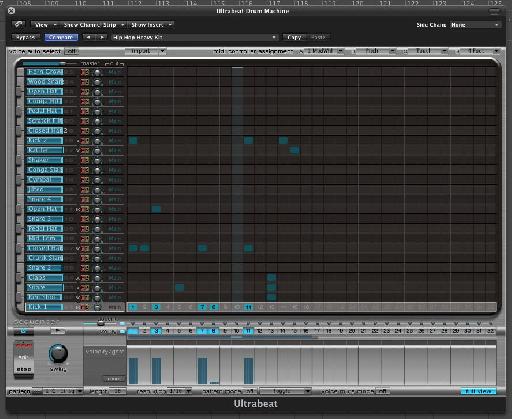 Die Reihenfolge in der vollen Ansicht.
[Audio id = "8484"]

Schritt 4 - Moving Ihre Muster auf die Main-Arrange Seite
Mit Ihrem Muster komplett Sie können nun Ihre Arbeit von der UBS Step-Sequenzer, um Logics wichtigsten arrangieren Seite. Das heißt, Sie können die MIDI-Daten zu bearbeiten und einfach fügen Sie Ihrem aktuellen Projekt.
In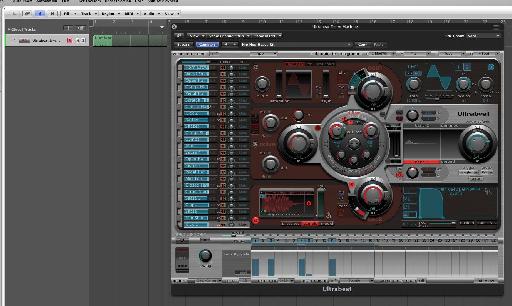 Das Teil ist in Logics arrangieren Fenster gezogen.
Sie sollten nun Ihre neue Loop als MIDI-Ereignis und das kann ausgeschnitten, kopiert und sequenziert werden in der gleichen Weise wie alle anderen. Lernen Sie Ihre eigenen Beats und sehen, was Sie tun mit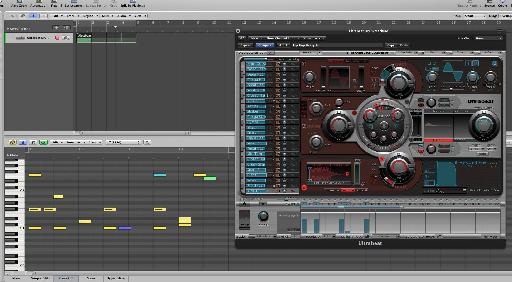 Der Teil in Logics Piano Roll-Editor.
Erfahren Sie alles, was Sie über Mammut Trommel Logic-Sampler / Synthesizer Instrument kennen Logic 204: Ultrabeat Unleashed .