When it comes to creating drum parts, Ultrabeat provides a ton of suitable sounds for almost any musical style. And for programming the patterns? Mo Volans steps up with a laid back hip hop pattern.
Per quelli di voi che sono abbastanza nuovo a fare battute in Logic ho pensato Id mettere insieme un qualche tutorial a fare battute in specifici stili e generi. Bene iniziare con un ritmo di cui Hip Hop schiena che potrebbe effettivamente essere utilizzato con un certo numero di stili diversi.
Sarò mantenere le cose semplici in queste punte rapide, ma potrebbe sempre estendere le tecniche utilizzate in altri tutorial avanzati in un secondo momento.
Fase 1 - Fuoco Su UltraBeat
È possibile utilizzare praticamente qualsiasi campionatore o drum machine virtuale, come la sorgente audio, ma qui stiamo andando con una soluzione a tamburo Logiche nativo,
Il modo migliore per accedere Ultrabeat è quello di aggiungere una nuova traccia di strumento software utilizzando l'icona più la parte superiore del Pro Logic Disporre finestra principale. Poi spostarsi verso la zona Biblioteca e selezionare UltraBeat dalla lista. Questo aggiungerà un brano pre-caricato con un'istanza di Ultrabeat per voi.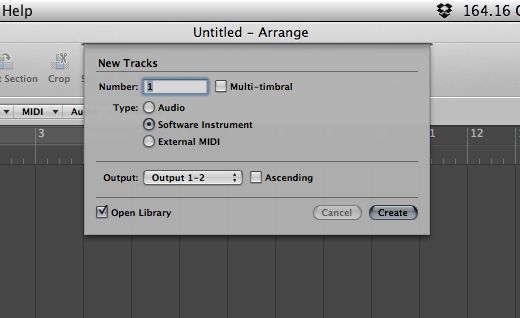 Caricamento di un nuovo canale dello strumento.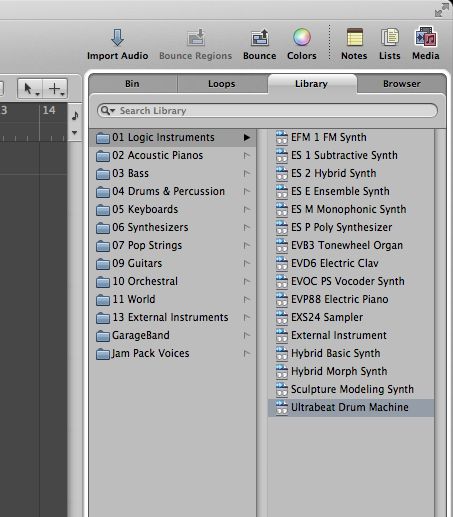 Selezione Ultrabeat in biblioteca.
Ora siamo pronti per iniziare a selezionare alcuni suoni adatti ...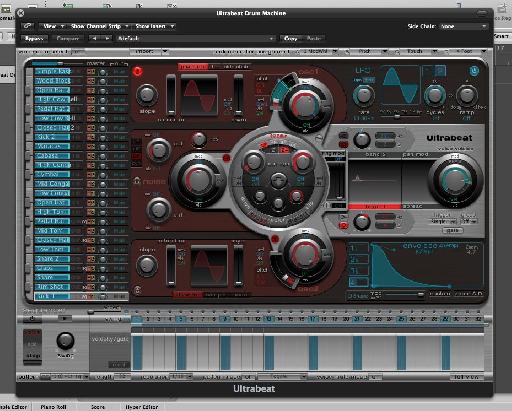 Ultrabeat è pronti per partire!.
Fase 2 - Caricamento in corso un apposito kit di
Una installazione completa di Logic Studio vi darà una collezione impressionante di suoni per tutti gli strumenti disponibili e
Naturalmente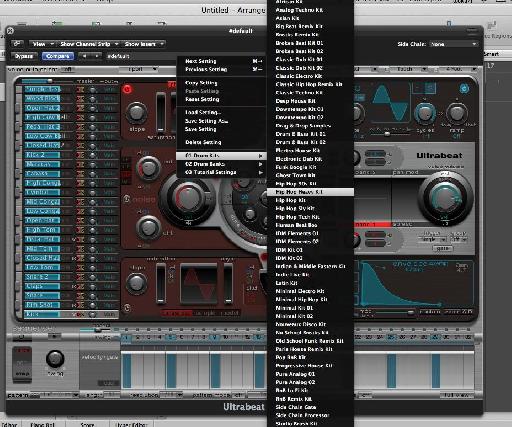 Picking il kit giusto.
In questo caso ho optato per l'Hip Hop
Fase 3 - Un modello di programmazione di base
Ci sono alcuni modi possiamo batte programma utilizzando UltraBeat, è possibile utilizzare il sequencer interno passo o usarlo come un modulo virtuale MIDI e fare affidamento su una tastiera e gli editori evento Logiche diverse. Im intende usare una bella combinazione dei due qui.
Inizia selezionando i suoni chiave che si desidera costruire il vostro da battere (di solito iniziano con cassa e rullante). Una volta che il suono è stato selezionato utilizzando la tastiera a sinistra dell'interfaccia di UBS, si è pronti per iniziare inserendo passi.
Il step sequencer si accede attraverso il bordo inferiore di UBS interfaccia ed è molto semplice. Prima di iniziare si consiglia di inizializzare qualsiasi modello che è stato caricato con il kit. Questo è fatto da Control-clic sul menu e selezionando schema chiaro.

Cancellazione della step sequencer.
Passi possono ora essere aggiunti o eliminati con un semplice clic e la velocità dei passi è facilmente cambiato con i cursori in dotazione. Ricordate di assicurarsi di avere il suono giusto selezionato durante la programmazione passi.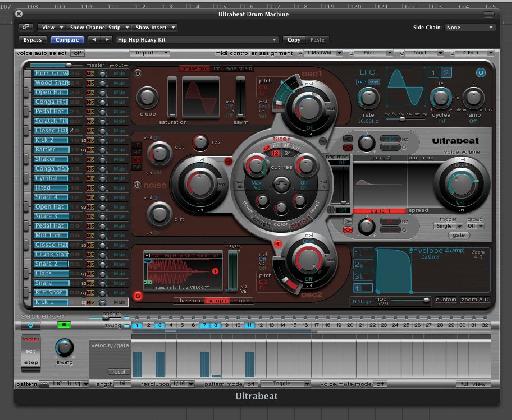 Programmazione alcuni passi iniziali.
Ho anche aggiunto qualche altalena alla rete per dare un tocco più umano. Continua a ripetere questi passi fino ad avere un ciclo si è soddisfatti. Si può sentire quello che mi è venuta sotto.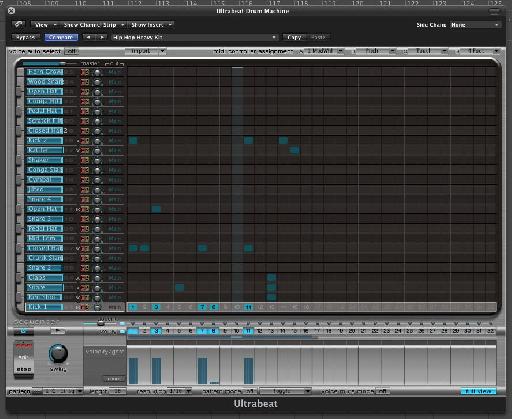 La sequenza in piena vista.
[Audio id = "8484"]

Fase 4 - Spostamento del modello alla Pagina Principale Arrange
Con il vostro modello completo è ora possibile spostare il lavoro da step sequencer UBS Logiche organizzare pagina principale. Questo significa che è possibile modificare i dati MIDI e facilmente aggiungerlo al progetto corrente.
In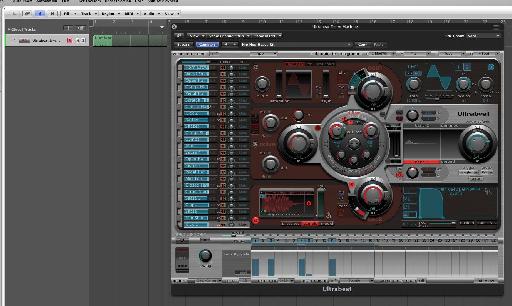 La parte è trascinato in Logiche finestra Arrange.
Ora dovreste vedere il vostro nuovo ciclo come un evento MIDI e questo può essere tagliato, copiato e sequenziato allo stesso modo come tutti gli altri. Imparare a rendere il vostro beat e vedere cosa si può fare con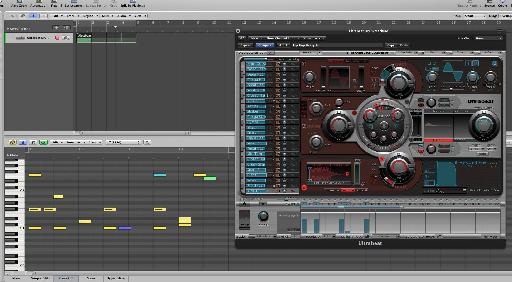 La parte in editor Piano Roll Logiche.
Scopri tutto quello che c'è da sapere su Logic mammut drum sampler / synth strumento in Logic 204: Ultrabeat Unleashed .