When it comes to creating drum parts, Ultrabeat provides a ton of suitable sounds for almost any musical style. And for programming the patterns? Mo Volans steps up with a laid back hip hop pattern.
Para aqueles de vocês que estão muito novo para fazer batidas em Lógica pensei Id juntos alguns tutoriais sobre como fazer batidas de estilos e gêneros específicos. Bem começar com um descontraído bater Hop Hip volta que realmente pode ser usado com um número de diferentes estilos.
Ill ser manter as coisas simples nessas dicas rápidas, mas sempre poderia expandir as técnicas utilizadas em tutoriais mais avançados em uma data posterior.
Passo 1 - Firing Up UltraBeat
Você pode usar praticamente qualquer sampler ou bateria eletrônica virtual como sua fonte de som aqui, mas estamos indo com Logics solução de bateria nativos,
A melhor maneira de acessar Ultrabeat é adicionar uma faixa novo Instrumento de software usando o ícone mais a parte superior do Prós Logic Organizar janela principal. Em seguida, mova para a área de Biblioteca e selecione UltraBeat da lista. Isto irá adicionar uma faixa pré-carregado com uma instância de Ultrabeat para você.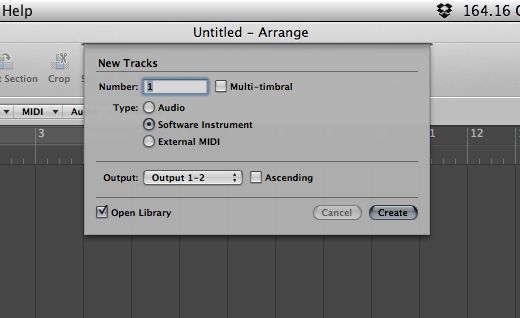 Carregando um canal novo instrumento.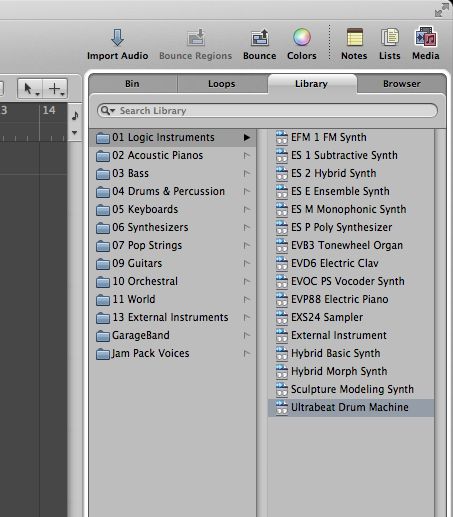 Selecionando Ultrabeat na biblioteca.
Agora estamos prontos para começar a seleccionar alguns sons adequados ...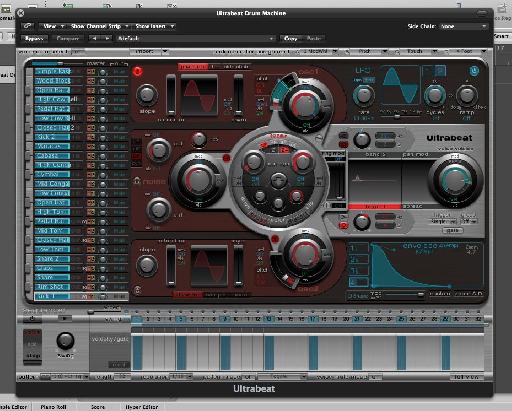 Ultrabeat é bom para ir!.
Passo 2 - Colocar uma Kit Adequado
Uma instalação completa do Logic Studio irá dar-lhe uma impressionante coleção de sons para todos os instrumentos disponíveis e
Claro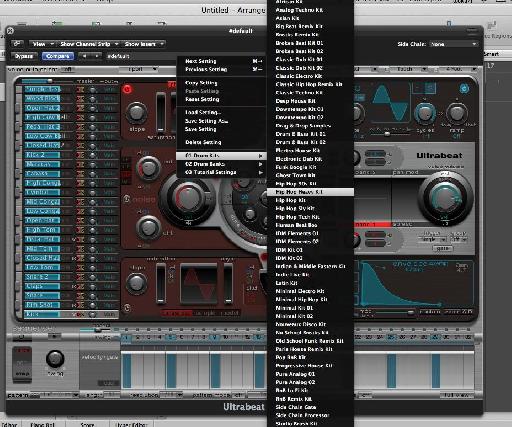 Escolher o kit direita.
Neste caso optei pelo Hip Hop
Passo 3 - Programação um padrão básico
Existem algumas maneiras podemos batidas programa usando UltraBeat, você pode utilizar o sequenciador interno ou usá-lo como um módulo MIDI virtuais e contam com um teclado e editores Logics eventos diversos. Im realmente vai usar uma boa combinação dos dois aqui.
Comece por seleccionar os sons de tecla que você deseja construir sua batida a partir de (eu costumo começar com Kick e Snare). Uma vez que seu som é selecionado usando o teclado do lado esquerdo do UBS interface, você está pronto para começar a introduzir passos.
O seqüenciador passo é acessada através da borda inferior do UBS interface e é bastante simples. Antes de começar você pode querer iniciar qualquer padrão que foi carregado com o seu kit. Isso é feito por Control-clique no menu padrão e selecionando claro.

Limpando o seqüenciador passo a passo.
Etapas podem agora ser adicionados ou excluídos com um único clique ea velocidade dos passos pode ser facilmente alterado com os controles deslizantes fornecidos. Lembre-se de ter certeza de que o som certo selecionado quando a programação passos.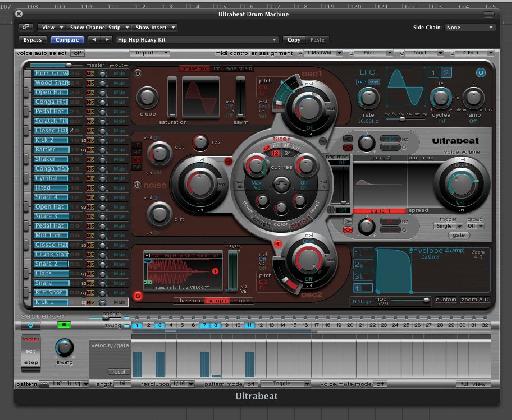 Alguns passos de programação inicial.
Tenho também acrescentou alguns swing para o loop para dar-lhe um toque mais humano. Ficar repetindo estes passos até que você tenha um loop que você está feliz com ele. Você pode ouvir o que eu vim acima com abaixo.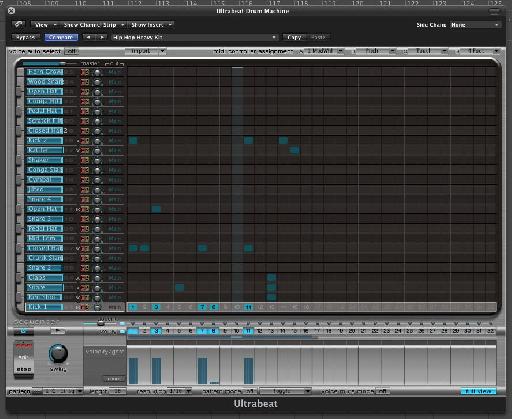 A seqüência em plena vista.
[Audio id = "8484"]

Passo 4 - Passando o seu padrão para a página principal Organizar
Com o seu padrão completo agora você pode mover o seu trabalho de UBS seqüenciador passo a passo para organizar Logics página principal. Isto significa que você pode editar os dados MIDI e facilmente adicioná-lo ao seu projeto atual.
Em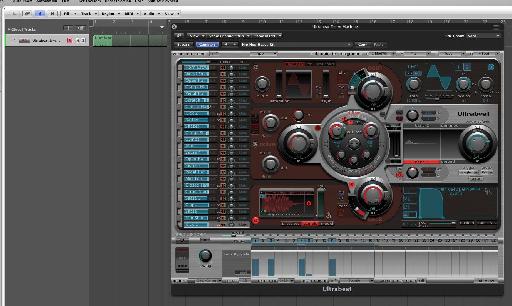 A peça é arrastada para organizar Logics janela.
Agora você deve ver o seu novo ciclo como um evento MIDI e isso pode ser cortados, copiados e seqüenciados da mesma forma como qualquer outro. Começa a fazer suas próprias batidas e veja o que você pode fazer com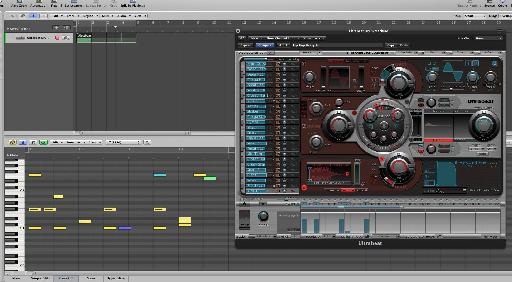 A parte em Logics editor Piano Roll.
Aprenda tudo que você precisa saber sobre o mamute Logic tambor instrumento sampler / sintetizador em Logic 204: Ultrabeat Solta .