Made a mistake when recording? No problem. Mike Watkinson shows how the old skool method of punching in and punching out in Logic Pro can be used to make it sound perfect.
When recording audio in Logic Pro, you have several choices when it comes to repairing a mistake. One approach might be to record on a completely fresh track. Secondly you may exploit Logic's ability to create takes and store them in a take folder when recording on top of an existing recording. But there is another way. It makes use of a concept that was born in the days of tape when huge track counts were impossible and recording a fresh take meant recording over an existing take.

Punching in and out is implemented in two ways in Logic Pro: manually or automatically.
The Manual Method
In order to make Logic Pro behave like a tape machine, so that you have to act as tape op and physically punch buttons to drop in and out on a recording (as if you were stabbing the buttons on a Studer deck) follow these steps:
Click and hold the Record button and activate Punch on the Fly (this is also available from Options > Audio)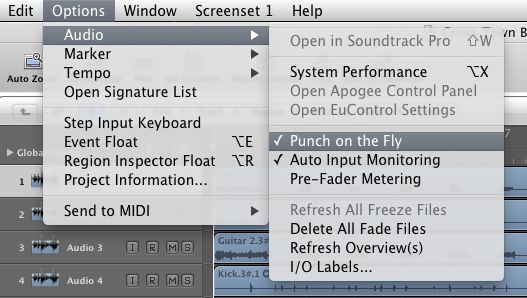 Enabling Punch on the Fly
Open the Key Commands window (Logic Pro > Preferences > Key Commands, or Option-K) and search for the word '˜Record'

Find and select '˜Record Toggle'. this is usually set to Shift-R but just in case it isn't, set up a keyboard command in the usual way

Back up from your mistake, record enable the track(s) and hit the Play button

Hit Shift-R (or your own key command) at the appropriate moments (in and out) to punch in and out
Logic Pro's default behavior is to capture your punch-in as a new take, which it will automatically select in place of the mistake. Both regions will be placed in a take folder for convenience: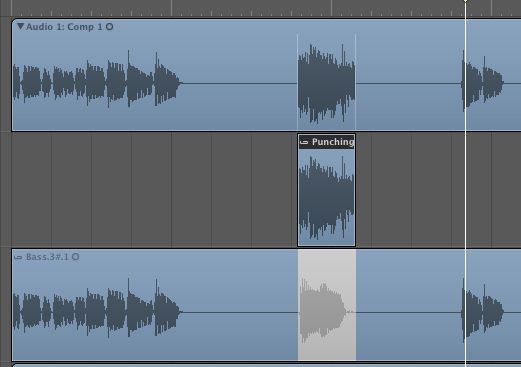 Logic creates a take folder by default
Automatic for the People
If that's all too much like hard work you can use Autopunch as an alternative, as follows:
Click the Autopunch button in the Transport


Autopunch (in red!)
The Autopunch area appears in the Bar ruler. Adjust its left and right boundaries as appropriate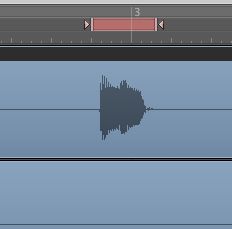 The Autopunch area - in red!
Back up a little way before the Autopunch area and hit Record

The Record button will flash until it gets to the Autopunch area, where it will go solid red and recording will take place. With nothing else selected in the Transport, a take folder will be created as before

You can also quickly define an Autopunch area without enabling Autopunch in the transport by making a Marquee selection and pressing Record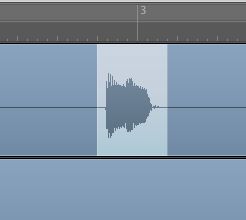 Autopunch can be defined by a Marquee selection
Replace

The Replace button
Clicking the Replace button in the Transport (next to the Autopunch button) stops Logic Pro from creating a take folder. Instead, one of two things happens:
If you are using '˜Punch on the Fly' the new region will replace the old one in the area where you punch in

When using Autopunch, the Autopunch area is removed from the existing region as soon as you click Record in anticipation of the new material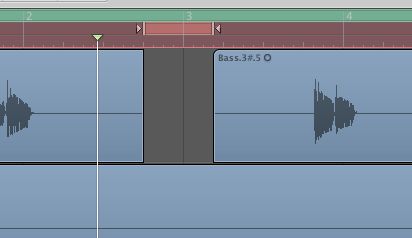 Autopunch with Replace mode (and an active Cycle area!)
Don't panic! In neither case is the replaced audio actually deleted from disk (as it would be if this were tape). The simplest way to restore a missing section if you mess up is to use Command-Z!