نصيحة سريعة : 3 طرق لتحسين أصوات الغيتار الخاص في مصمم الأمبير في المنطق
There are a lot of guitar simulation plug-ins available for digital musicians these days. Included with Logic 9 is Amp Designer and Pedal Board - a welcome departure from the older Guitar Amp Pro plug
هناك الكثير من المحاكاة الغيتار المكونات الإضافية المتاحة للموسيقيين الرقمية في هذه الأيام. وشملت مع المنطق 9 هو الأمبير والمجلس مصمم الدواسة -- خروجا ترحيب من الأمبير القديمة جيتار برو في المكونات. انهم كومة جيدا ضد المنافسة وتنوعا في مضاهاة ، لهجة والتخطيط. في رأيي ، الامبير نظيفة تحقيق نتائج باهرة بالمقارنة مع أبناء الأجهزة الخاصة بهم.
ما وراء المسبقة ، وهناك الكثير يمكنك القيام به مع أنه مصمم الأمبير هو واضح. توبي بيتمان أعمق بكثير في البرنامج التعليمي الممتاز ، "المنطق 402 -- المنطق وأدوات تسجيل الغيتار" . محملة النصائح والحيل والأساليب العملية خطوة بخطوة لاستخدام كل والمجلس مصمم الأمبير الدواسة.
In this Quick Tip I'm going to highlight 3 useful tips for guitar tone sculpting glory built-in to Amp Designer.

01 -- تحريك هيئة التصنيع العسكري
عند تسجيل الغيتار أمبير التقليدية هناك اعتبارات الهامين : ما هو نوع الميكروفون لاستخدام وأين موقف هيئة التصنيع العسكري. يمكن أن تكون لهجة مختلفة إلى حد كبير مما لو وضعت هيئة التصنيع العسكري بالرصاص في وسط أو إلى جانب المخروط المتكلم.
في مصمم الأمبير يمكنك الاختيار بين استخدام المكثف ، مضاهاة أو ميكروفون الشريط الحيوي من القائمة المنبثقة هيئة التصنيع العسكري.
تحوم مؤشر الفأرة فوق الحكومة على حق في واجهة (فوق القائمة المنبثقة هيئة التصنيع العسكري) ورئيس التعديل يتم عرض الرسوم البيانية. اسحب نقطة بيضاء لضبط موضع الميكروفون. عموما ، وأكثر إشراقا للروك الغيتار نغمات مكان إلى الجانب كما هو مبين أدناه.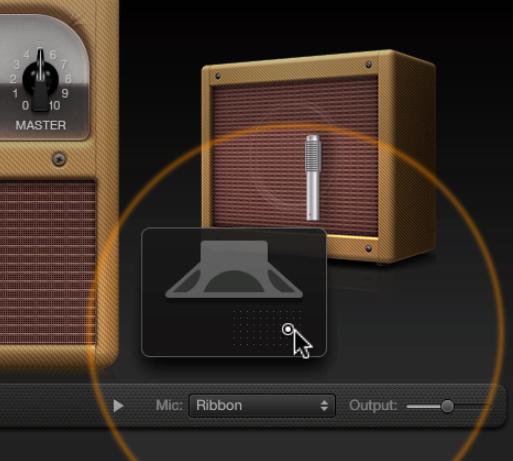 02 -- عن المعادلات
هناك الكثير من أنواع الأمبير والمسبقة. إذا كنت لا تزال لا يمكن إنشاء تماما صوت الغيتار كنت تبحث عن يمكنك مزيج المباراة النموذجي ، الأمبير ومجلس الوزراء لبناء أمبير المخصصة الخاصة بك! هذا لا يصدق... ولكن أقل من طرف واحد معروف هو يمكنك اختيار أنواع مختلفة من مكافئ لكل أمبير.
الماوس فوق كلمة "EQ" ثم انقر فوق لعرض EQ القائمة المنبثقة. من هنا يمكنك ان تختار بين مشرق البريطانية ، خمر ، كلاسيك الولايات المتحدة ، والحديث والبوتيك.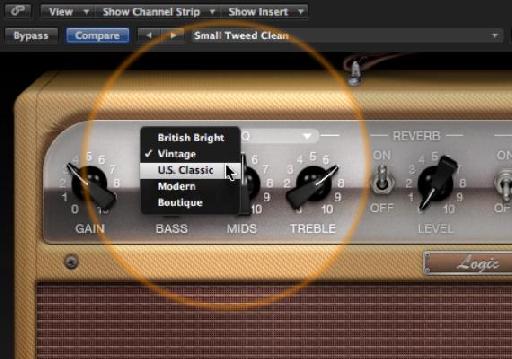 أجد نفسي تميل نحو خمر والكلاسيكية الولايات المتحدة في أكثر الأحيان.
03 -- عن تردد
بدلا من إدراج مثيل من مصمم الفضاء (أو تردد في المكونات الأخرى) على الغيتار الخاص الشريط القناة لإضافة مساحة إلى الصوت ، يمكنك تعيين مستويات تردد مباشرة على واجهة مصمم الأمبير. مثل مكافئ ، الأمبير مصمم يأتي مع تردد أكثر من نوع واحد.
Click on the Reverb label (top, middle of the amp) to display this Reverb type pop-up menu.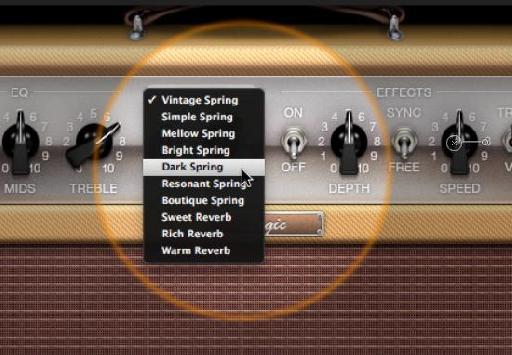 يمكنك الاختيار بين خمر الربيع ، ربيع بسيط ، ربيع ناضج ، ربيع مشرق ، ربيع داكن ، ربيع الرنانة ، بوتيك الربيع ، تردد الحلو ، تردد الغنية والدافئة تردد.
انها تستحق التدقيق هذه الأنواع من الأصوات على الغيتار الخاص. يمكن تغيير الصوت تكون وخيمة وانقاذ لكم من استخدام تردد منفصلة في المكونات!
سحب توبي بيتمان في المنطق 402 -- أدوات المنطق وتسجيل غيتار لمعرفة أكثر من هذا بكثير حول كيفية الحصول على أفضل النتائج من مصمم الأمبير ، ومجلس الدواسة والمنطق وغيرها من المدمج في أدوات لعازفي الجيتار.