Veloce Suggerimento: 3 modi per migliorare i suoni di chitarra in Amp Designer Logic
There are a lot of guitar simulation plug-ins available for digital musicians these days. Included with Logic 9 is Amp Designer and Pedal Board - a welcome departure from the older Guitar Amp Pro plug
Ci sono un sacco di simulazione di chitarra plug-in disponibili per i musicisti digitali in questi giorni. Incluso con Logic 9 è Amp Designer e Pedale consiglio - una partenza di benvenuto dal Guitar Amp Pro vecchi plug-in. Si accumulano molto bene contro la concorrenza e sono versatili nel tono, l'emulazione e il layout. A mio parere, gli amplificatori pulito ottenere risultati impressionanti rispetto ai loro cugini hardware.
Al di là del preset, c'è molto di più si può fare con Amp Designer che è evidente. Toby Pitman va molto più in profondità nel suo ottimo tutorial, "Logica 402 - Registrazione Logic Toolbox Guitar" . Ricco di suggerimenti e trucchi e pratico passo-passo approcci utilizzando sia Amp Designer e pedaliera.
In this Quick Tip I'm going to highlight 3 useful tips for guitar tone sculpting glory built-in to Amp Designer.

01 - Spostare il Mic
Durante la registrazione di un amplificatore per chitarra tradizionale ci sono due importanti considerazioni: che tipo di microfono da usare e dove posizionare il microfono. Il tono risultante può essere molto diverso se il microfono è posizionato morto-centro o al lato del cono dell'altoparlante.
In Amp Designer è possibile scegliere tra l'utilizzo di uno, emulazione microfono a condensatore barra multifunzione o dinamico dal menu Mic pop-up.
Passa il mouse sopra l'armadio sulla destra dell'interfaccia (sopra il menu Mic pop-up) e la regolazione altoparlante viene visualizzato grafica. Trascinare il punto bianco per regolare la posizione del microfono. Generalmente, per chitarra Rock e brillanti toni metterlo al lato come illustrato di seguito.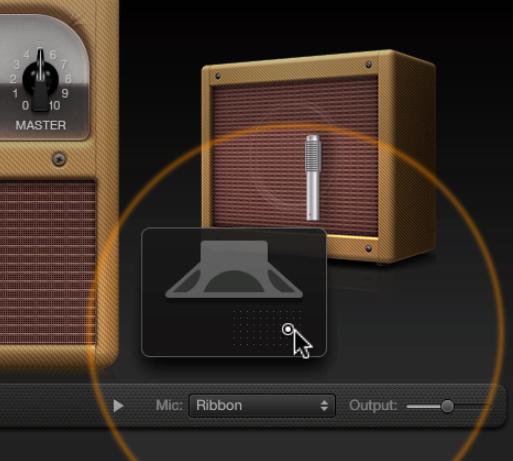 02 - Più Equalizzatori
Ci sono molti tipi di Amp e preset. Se ancora non è possibile creare esattamente il suono della chitarra che state cercando è possibile combinare le, Amp Model e gabinetto per costruire il vostro amplificatore personalizzati! Questo incredibile ... ma una punta meno noto è che si possono scegliere diversi tipi di EQ per Ampere.
Mouse sulla parola "EQ" e fare clic per visualizzare la EQ menu a comparsa. Da qui è possibile scegliere tra Luminoso britannico, Vintage, US Classica, Moderna e boutique.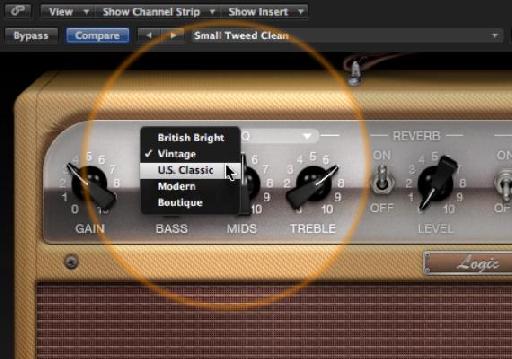 Mi ritrovo a guardare agli Stati Uniti d'epoca e classiche più delle volte.
03 - Più di riverbero
Piuttosto che inserire un'istanza di Space Designer (o riverbero altri plug-in) sul tuo striscia chitarra canale per aggiungere spazio al suono, è possibile impostare i livelli di riverbero direttamente sull'interfaccia Amp Designer. Come l'EQ, Amp Designer viene fornito con più di un tipo di riverbero.
Click on the Reverb label (top, middle of the amp) to display this Reverb type pop-up menu.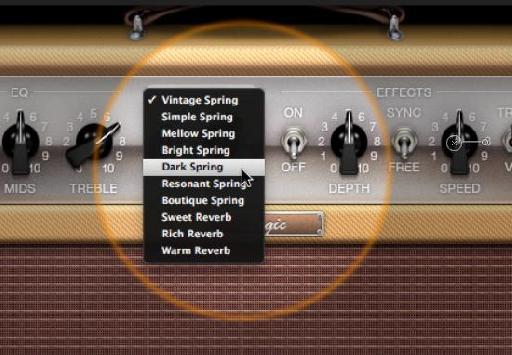 Si può scegliere tra la primavera Vintage, Primavera Semplice, Mellow Primavera, Primavera luminoso, Primavera scuro, Primavera di risonanza, Primavera Boutique, Reverb dolce, Reverb Rich e Reverb caldi.
Vale la pena verificare questi tipi sul vostro suoni di chitarra. Il cambio al vostro suono può essere drammatico e risparmiare di usare un riverbero separato plug-in!
Controlla Toby Pitman di Logic 402 - Registrazione Logic Toolbox per chitarra di imparare molto, molto di più su come ottenere il meglio da Amp Designer, pedaliera e Logic altrui strumenti integrati per chitarristi.