There are a lot of guitar simulation plug-ins available for digital musicians these days. Included with Logic 9 is Amp Designer and Pedal Board - a welcome departure from the older Guitar Amp Pro plug
Há uma série de simulação de violão plug-ins disponíveis para músicos digitais estes dias. Incluído com o Logic 9 é Amp Designer e Pedal Board - um desvio de boas vindas do Amp mais velhos Guitar Pro plug-in. Eles se comportam muito bem contra a concorrência e são versáteis na emulação, tom e layout. Na minha opinião, os amplificadores limpa alcançar resultados impressionantes quando comparados a seus primos hardware.
Além dos presets, há muito mais você pode fazer com o Designer Amp que é aparente. Toby Pitman é muito mais profundo em seu excelente tutorial, "Logic 402 - Logic Toolbox Gravação Guitar" . Embalado com dicas e truques e prático passo-a-passo abordagens para usar tanto Designer Amp e pedaleira.
In this Quick Tip I'm going to highlight 3 useful tips for guitar tone sculpting glory built-in to Amp Designer.

01 - Mova o Mic
Ao gravar um amplificador de guitarra tradicional existem duas considerações importantes: que tipo de microfone para usar e onde posicionar o microfone. O tom resultante pode ser muito diferente se o microfone é colocado dead-centro ou ao lado do cone do alto falante.
Em Designer Amp você pode escolher entre usar um condensador, emulação de microfone ou fita dinâmico do Mic menu pop-up.
Passe o mouse sobre o armário do lado direito da interface (acima da Mic menu pop-up) e de Ajustamento Speaker gráfica é exibida. Arraste o ponto branco para ajustar o posicionamento do microfone. Geralmente, para o Rock e mais brilhante guitarra tons de colocá-lo para o lado como mostrado abaixo.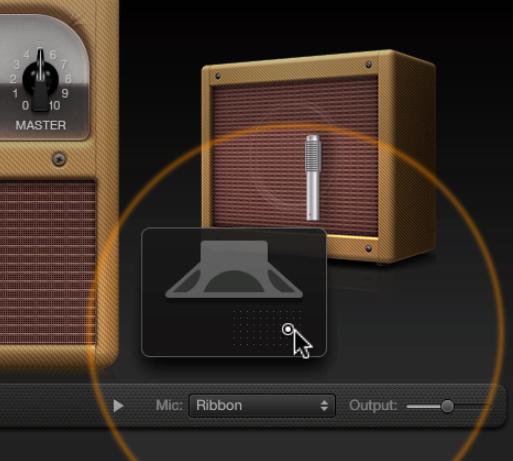 02 - Mais Equalizadores
Há uma abundância de tipos de Amp e presets. Se você ainda não pode criar bastante o som da guitarra que você está procurando, você pode misturar e combinar o Modelo de Amp, e do Gabinete para construir o seu amplificador personalizado! Este incrível ... mas uma ponta menor conhecido é que você pode escolher diferentes tipos de EQ por amp.
Passe o mouse sobre a palavra "EQ" e clique para exibir o menu pop-up EQ. A partir daí você pode escolher entre a British Bright, Vintage, Classic EUA, Moderna e Boutique.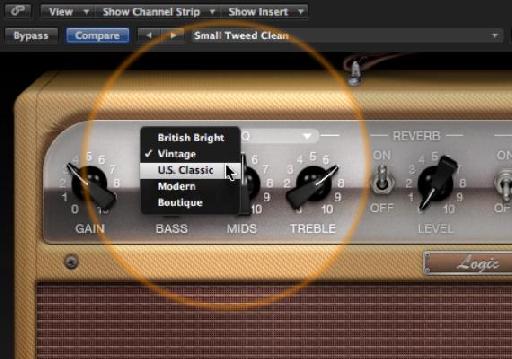 Encontro-me tendendo para o Vintage clássico e EUA com mais freqüência do que não.
03 - Mais Reverb
Ao invés de inserir uma instância de Designer Space (ou reverb outros plug-in) em sua faixa de canal de guitarra para adicionar um espaço ao seu som, você pode definir os níveis de reverb diretamente na interface Designer Amp. Como o EQ, Designer Amp vem com mais de um tipo de reverberação.
Click on the Reverb label (top, middle of the amp) to display this Reverb type pop-up menu.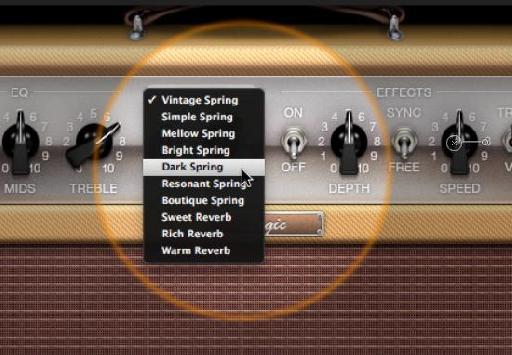 Você pode escolher entre Primavera Vintage, Primavera simples, Primavera Mellow, Bright Spring, Spring Dark, Primavera Resonant, Primavera Boutique, Reverb Sweet, Reverb Ricos e Reverb Warm.
É assim vale a pena conferir esses tipos de sons para fora sua guitarra. A mudança para o seu som pode ser dramático e salvá-lo de usar um reverb plug-in separado!
Confira Toby Pitman da Logic 402 - Logic Toolbox Gravação guitarra para aprender muito, muito mais sobre como obter o melhor de Designer Amp, pedaleira e Lógica de outras ferramentas embutidas para guitarristas.