نصيحة سريعة : كيفية أتمتة القنوات أوكس في المنطق أبل
If you use Multiple-Outputs in Ultrabeat or EXS24, or you like to send to Auxiliary channels, then today's tips may be extremely useful! Adding track automation to tracks in the Arrange window is a
إذا كنت تستخدم متعددة المخرجات في Ultrabeat أو EXS24 ، أو تريد أن ترسل إلى قنوات مساعدة ، ثم قد نصائح اليوم على أن تكون مفيدة للغاية!

إضافة إلى أتمتة تتبع المسارات في إطار ترتيب عملية مباشرة إلى الأمام. اما الصحافة "A" على لوحة المفاتيح لعرض أتمتة أو اختر عرض
من هنا ، يمكنك اختيار لوضع التشغيل الآلي الخاص بك على الطريق الصحيح حاليا اختيار أو استخدام أحد أساليب التنفيذ المنطق لأتمتة السجل تتبع في الوقت الحقيقي.
لذا ، ماذا تفعل عندما تريد أتمتة الحجم ، القومية ، وكتم الصوت ، منفردا (أو أي معلمة من أي تأثير) على المسار مساعدة؟ والقنوات أوكس لا تظهر افتراضيا في ترتيب المنطقة. ومع ذلك ، هناك بعض طرق بسيطة لتحقيق ذلك.... ومثل كل وظيفة تقريبا في المنطق ، انها مسألة انتقاء واختيار الأسلوب الذي يناسب العمل الخاص بك! قراءة لأكثر...
نصيحة 1 -- إضافة إلى ترتيب

لذا ، ليس هناك قناة أوكس في ترتيب... كيفية إضافة واحد؟ حسنا ، كنت أعتقد على زر 'إضافة المسارات" في قائمة ترتيب المنطقة المسار سيعمل ، ولكن ذلك لا يعطي إلا على خيار إنشاء برامج الصوت الصك ، والمسارات الخارجية... دعونا نلقي نظرة في خلاط ، حيث يمكن مشاهدة القنوات أوكس.
انقر فوق علامة التبويب لعرض خلاط خلاط وحدد القناة أوكس قطاع (ق) في الاختيار.
From the Mixer's local menu choose:
Options > Create Arrange Tracks for Selected Channel Strips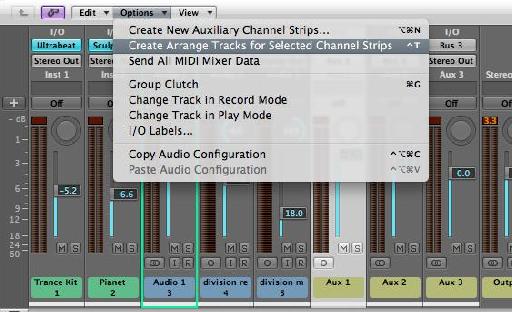 هناك طرق أخرى لإضافة شريط القناة إلى ترتيب المنطقة :
يمكنك استخدام أمر مفتاح (الاختيار الخاص تعيينات القيادة الرئيسية للأمر أعلاه). يتم تعيين لمكافحة الألغام - T.
يمين / على شريط القناة في خلاط أو المفتش التحكم انقر واختر إنشاء / حدد ترتيب المسار.
Alternatively, you can select (or create) an extra track in the Arrange area and reassign it by control/right-clicking on the Track Header and choosing:
Reassign Track > Mixer > Aux >

أيهما الطريقة التي اختارت لإضافة المسار أوكس إلى منطقة ترتيب ، يمكنك أن أنتقل الآن على وجهة ومكان التنفيذ المسار أوكس في أي من وسائل التنفيذ (القراءة ، اللمس ، مزلاج ، الكتابة) على النحو المرغوب فيه.
نصيحة 2 -- إضافة إلى ترتيب
إذا كان لديك منطق الدراية ، وانه من الممكن قطع خطوات في العملية. هذه النصائح لتوفير الوقت وتستحق وزنها ذهبا... هنا واحد أود أن أشاطركم -- الأمر في غاية البساطة ، ولكنها فعالة جدا.
يمكنك القيام بذلك إما في خلاط أو إذا كان يمكنك ان ترى الخاص أوكس في قناة المفتش ترتيب المنطقة ، وهذا العمل هناك أيضا.
انقر على اختيار مجال أتمتة قطاع القناة أوكس وحدد أي وضع التنفيذ. وستضاف أن قطاع قناة لترتيب المنطقة وعلى استعداد ليكون آليا. انه لشيء رائع أن هذا يمكن أن يتم دون فتح حتى خالط!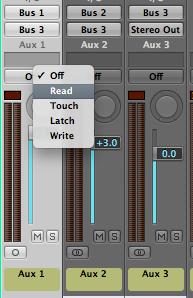 غيض 3 -- خاطرة النهائي

زوجان من النقاط في الاعتبار... على الرغم من أن يمكن وضعها على المسارات المناطق أوكس في مجال ترتيب فإنها لا تنتج أي صوت / لا يمكن قراءتها من قبل القنوات أوكس. بحيث يمكن لتعقب أوكس توفير مساحة تخزين مفيد للمناطق...
وهذا الأسلوب أعلاه (نصائح 1 و 2) العمل على حد سواء قنوات أوكس ، قناة المخرجات (ق) في واقع الأمر أي شرائط القناة. مضيفا أن قطاع قناة الإخراج إلى ترتيب وسيلة رائعة لإضافة يتلاشى بسرعة إلى بداية ونهاية أغنيتك باستخدام أتمتة تتبع لمشروع متعدد المسارات.
اذا كنت بحاجة الى مزيد من المساعدة في هذا المنطق ، أو أي قضية أخرى أو ماك البرمجيات زيارتنا في www.macprovideo.com/forum/

Interested in learning more about Logic? These tutorials will help you to become proficient whether you are starting out or looking for advanced tips, tricks and techniques! We'd love to hear from your. Let us know what you think by writing a comment below!