If you use Multiple-Outputs in Ultrabeat or EXS24, or you like to send to Auxiliary channels, then today's tips may be extremely useful! Adding track automation to tracks in the Arrange window is a
Wenn Sie Multiple-Ausgänge im Einsatz Ultrabeat oder EXS24 oder Sie zu Auxiliary-Kanäle senden, dann ist die heutige Tipps können sehr nützlich sein!

Hinzufügen Spur-Automation, um Spuren im Arrange-Fenster ist ein einfacher Prozess. Drücken Sie entweder "A" auf der Tastatur zu sehen Automation oder wählen Sie Ansicht
Von hier aus können Sie wählen, um die Automatisierung auf die Spur der Wahl offline erstellen oder verwenden Sie eine der Logic Automation Modi zur Spur-Automation in Echtzeit aufzuzeichnen.
Also, was tun Sie, wenn Sie Lautstärke, Panorama, Mute, Solo (oder ein Parameter eines Effekt) auf einen Auxiliary-Track automatisieren möchten? Der Aux-Kanäle nicht standardmäßig angezeigt im Arrangierbereich. Allerdings gibt es einige einfache Möglichkeiten, um dies zu erreichen .... und wie fast jede Funktion in Logic, ist es eine Frage der Kommissionierung und der Wahl der Methode, die Ihren Workflow Anzüge! Lesen Sie mehr ...
Tipp 1 - Add to Arrange

Also, es gibt keine Aux-Kanal in der Arrange ... Wie eine Annonce aufgeben? Nun sollte man meinen, die "Spuren hinzufügen" wählen in der Anordnen Gegend Track List funktionieren würde, aber es gibt nur die Möglichkeit, Audio, Software-Instrument und Externe Tracks erstellen ... Werfen wir einen Blick in den Mixer, wo Aux-Kanäle angezeigt werden können.
Klicken Sie auf den Mixer Registerkarte, um die Mixer-Ansicht und wählen Sie die Aux Channel Strip (s) der Wahl.
From the Mixer's local menu choose:
Options > Create Arrange Tracks for Selected Channel Strips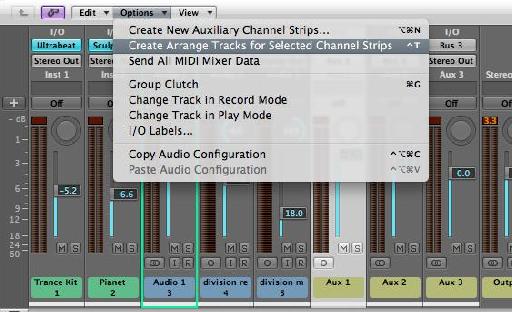 Es gibt andere Wege, um ein Channel-Strip hinzufügen, um den Arrange-Bereich:
Sie können einen Tastaturbefehl (überprüfen Sie Ihre Key Command-Zuweisungen für den Befehl oben). Meins ist es, Control-T eingestellt.
Rechts / auf einem Channel-Strip im Mixer oder der Inspektor Control-Klick und wählen Sie Create / Select Arrange Track.
Alternatively, you can select (or create) an extra track in the Arrange area and reassign it by control/right-clicking on the Track Header and choosing:
Reassign Track > Mixer > Aux >

Welchen Weg Sie auch an den Aux-Track to Arrangierbereich hinzugefügt haben, können Sie jetzt auf Automation Ansicht drehen und platzieren Sie den Aux-Spur in einem der Automation Modi (Read, Touch, Latch, Write), wie gewünscht.
Tipp 2 - Add to Arrange
Wenn Sie den Logic-Know-how haben, ist es möglich, schneiden Sie die Schritte in einem Prozess. Diese zeitsparende Tipps wert sind ihr Gewicht in Gold ... Hier ist eine Ich mag mit Ihnen teilen möchte - es ist sehr einfach, aber sehr effektiv.
Sie können dies entweder im Mixer oder wenn Sie Ihre Aux-Kanal in den Inspekteur der Arrangierbereich sehen können, werden diese dort arbeiten auch.
Klicken Sie auf die Automation Auswahlbereich des Aux Channel Strip und wählen Sie eine Automation-Modus. Das Channel Strip wird Arrangierbereich hinzugefügt werden und bereit, automatisiert werden. Es ist großartig, dass diese auch ohne Öffnen der Mixer getan werden kann!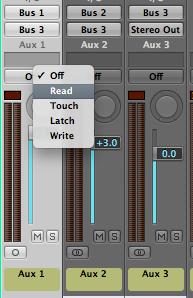 Tipp 3 - Final Thoughts

Ein paar Punkte zu beachten ... Obwohl die Regionen können auf Aux-Spuren im Arrange-Bereich gebracht werden können, wird kein Ton zu hören / kann nicht durch Aux-Kanäle ausgelesen werden. So ist ein Aux-Spur könnte auch nützlich Lagerfläche für Regionen ...
Diese Methode vor (Spitzen 1 und 2) wird für beide Aux-Kanäle, Output Channel (s) und in der Tat alle Kanalzüge Arbeit. Hinzufügen der Output Channel-Strip auf die Arrange wäre ein guter Weg, um schnell hinzuzufügen verblasst zu Beginn und am Ende des Songs mit Spur-Automation für eine Multi-Track-Projekt sein.
Wenn Sie weitere Hilfe zu diesem oder einem anderen Logic oder Mac-Software ausgeben müssen Besuchen Sie uns auf www.macprovideo.com/forum/

Interested in learning more about Logic? These tutorials will help you to become proficient whether you are starting out or looking for advanced tips, tricks and techniques! We'd love to hear from your. Let us know what you think by writing a comment below!