If you use Multiple-Outputs in Ultrabeat or EXS24, or you like to send to Auxiliary channels, then today's tips may be extremely useful! Adding track automation to tracks in the Arrange window is a
Si utiliza múltiples salidas en Ultrabeat o EXS24 , o si desea enviar a los canales auxiliares, a continuación, consejos de hoy puede ser muy útil!

Automatización de la pista a las pistas en la ventana Organizar es un proceso sencillo. Presione "A" en el teclado para ver la automatización o seleccione Ver
A partir de aquí, usted puede optar por llamar la automatización en la pista de la línea elección o utilizar uno de los modos de automatización de Logic para grabar automatización de pista en tiempo real.
Así que, ¿qué hacer cuando se quiere automatizar el volumen, panorama, mute, solo (o cualquier otro parámetro de efecto) en una pista auxiliar? Los canales auxiliares no aparecen por defecto en el área Organizar. Sin embargo, hay algunas maneras sencillas para lograr esto .... y como casi todas las funciones de la lógica, que es una cuestión de escoger el método que se adapte a su flujo de trabajo! Siga leyendo para conocer más ...
Consejo 1 - Añadir a arreglos

Por lo tanto, no hay canal Aux en Organizar ... Cómo agregar uno? Bueno, uno pensaría que el botón "Agregar pistas" en la lista de arreglos zona de pista iba a funcionar, pero sólo da la opción de crear instrumentos de audio, software y pistas exteriores ... Vamos a echar un vistazo en el mezclador, donde los canales auxiliares se pueden ver.
Haga clic en la ficha Mixer para ver el mezclador y seleccionar la Aux Channel Strip (s) de elección.
From the Mixer's local menu choose:
Options > Create Arrange Tracks for Selected Channel Strips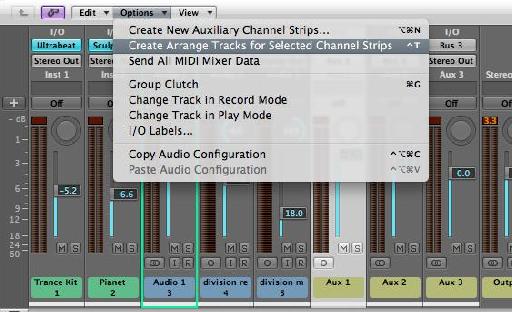 Hay otras maneras de añadir un canal para el área Organizar:
Puede utilizar un comando de teclado (ver sus asignaciones comando de teclado para el comando de arriba). La mía está en Control-T.
Derecha / Control + clic sobre un canal en el mezclador o el Inspector y seleccione Crear / Seleccionar arreglos de la pista.
Alternatively, you can select (or create) an extra track in the Arrange area and reassign it by control/right-clicking on the Track Header and choosing:
Reassign Track > Mixer > Aux >

Cualquiera sea la forma que eligió para añadir la pista auxiliar para el área Organizar, ahora se puede activar la vista de automatización y el lugar de la pista auxiliar en cualquiera de los modos de automatización (Leer, Tocar, Cerrar, escribir) como se desee.
Consejo 2 - Añadir a arreglos
Si usted tiene la lógica de know-how, es posible cortar los pasos de un proceso. Estos consejos de ahorro de tiempo valen su peso en oro ... Aquí hay una que me gustaría compartir con ustedes - es muy simple, pero muy eficaz.
Usted puede hacer esto ya sea en el mezclador o si usted puede ver su canal Aux en el Inspector del área Organizar, este punto también allí.
Haga clic en el área de selección de automatización de la franja de canal auxiliar y seleccionar cualquier modo de automatización. Que tira de canal se añadirá a la zona de arreglos y listo para ser automatizado. Es muy bueno que esto se puede hacer sin tener que abrir la consola!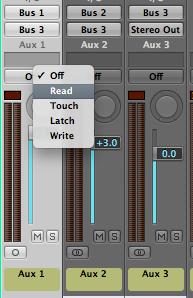 Consejo 3 - Consideraciones finales

Un par de puntos a tener en cuenta ... Aunque las regiones se pueden colocar en las vías auxiliares en el área Organizar no se produce ningún sonido / no puede ser leído por los canales auxiliares. Así que una pista auxiliar podría proporcionar un área de almacenamiento útil para las regiones ...
Este método anterior (consejos 1 y 2) funcionará para ambos canales auxiliares, el canal de salida (s) y, de hecho, las tiras de canal. Añadir el canal de salida a la Organizar sería una gran manera de añadir rápidamente se desvanece al principio y al final de su canción utilizando la automatización de la pista para un proyecto multi-track.
Si necesita más ayuda en este o en cualquier otra lógica o un problema de software Mac visítenos en www.macprovideo.com/forum/

Interested in learning more about Logic? These tutorials will help you to become proficient whether you are starting out or looking for advanced tips, tricks and techniques! We'd love to hear from your. Let us know what you think by writing a comment below!