If you use Multiple-Outputs in Ultrabeat or EXS24, or you like to send to Auxiliary channels, then today's tips may be extremely useful! Adding track automation to tracks in the Arrange window is a
Si vous utilisez plusieurs-sorties en Ultrabeat ou EXS24 , ou si vous souhaitez envoyer à canaux auxiliaires, puis des conseils d'aujourd'hui peut être très utile!

Ajout d'automatisation de piste sur les pistes dans la fenêtre Arrangement est un processus simple. Soit appuyer sur "A" sur le clavier pour voir Automation ou choisissez Afficher
De là , vous pouvez choisir de dessiner sur votre piste d'automatisation de la ligne choix ou utiliser un des modes d'automation de Logic pour enregistrer automatisation de piste en temps réel.
Alors, qu'est-ce que vous faites quand vous voulez automatiser le volume, pan, mute, solo (ou tout autre paramètre d'effet) sur une piste auxiliaire? Les canaux auxiliaires n'apparaissent pas par défaut dans la zone Arrangement. Cependant, il ya quelques moyens simples pour y parvenir .... et comme presque toutes les fonctions de Logic, c'est une question de cueillette et de choisir la méthode qui convient à votre flux de travail! Lisez la suite pour plus de ...
Astuce 1 - Ajouter sur Réorganiser

Donc, il n'ya pas de canal Aux Disposer dans le ... Comment ajouter une? Eh bien, vous pensez sur le bouton «Ajouter des pistes dans le Disposer Track List région pourrait fonctionner, mais elle donne seulement la possibilité de créer de l'audio d'instruments logiciels, et les pistes extérieures ... Prenons un coup d'oeil dans la console, où les canaux auxiliaires peuvent être visualisées.
Cliquez sur l'onglet Mixer pour voir la table de mixage et sélectionnez la tranche de console auxiliaire (s) de votre choix.
From the Mixer's local menu choose:
Options > Create Arrange Tracks for Selected Channel Strips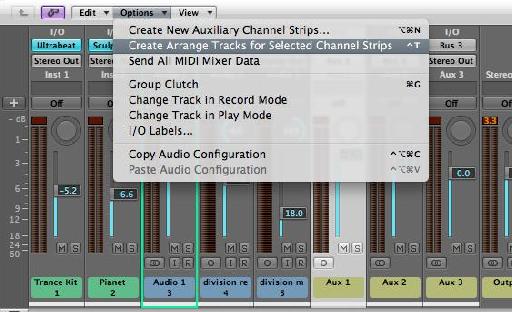 Il ya d'autres façons d'ajouter une bande de canaux pour la zone Arrangement:
Vous pouvez utiliser un raccourci clavier (vérifier vos assignations de touche de commande pour la commande ci-dessus). Le mien est mis à Control-T.
Droite / Control-clic sur une bande de voie de la console ou de l'inspecteur et choisissez Créer / Sélectionner Disposer de piste.
Alternatively, you can select (or create) an extra track in the Arrange area and reassign it by control/right-clicking on the Track Header and choosing:
Reassign Track > Mixer > Aux >

N'importe quelle manière vous avez choisi d'ajouter la piste auxiliaire à la zone Arrangement, vous pouvez maintenant sur la vue d'automatisation et le lieu de la piste auxiliaire dans l'un des modes d'automatisation (Lire, Touch, Latch, Write) comme désiré.
Astuce 2 - Ajouter sur Réorganiser
Si vous avez la logique du savoir-faire, il est possible de découper les étapes d'un processus. Ces conseils pour gagner du temps valent leur pesant d'or ... Voici celui que je voudrais partager avec vous - c'est très simple, mais très efficace.
Vous pouvez le faire soit dans le mélangeur ou si vous pouvez voir votre canal Aux dans l'inspecteur de la zone Arrangement, cela fonctionne aussi.
Cliquez sur la zone de sélection d'automatisation de la bande de canal auxiliaire et de sélectionner n'importe quel mode d'automation. C'est Channel Strip sera ajouté à la zone Arrangement et prêt à être automatisé. C'est formidable que cela peut être fait sans même ouvrir la table de mixage!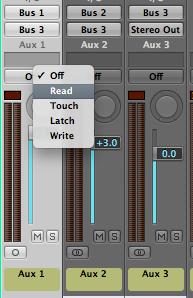 Astuce 3 - Final Thoughts

Un couple de points à considérer ... Bien que les régions peuvent être placés sur les pistes Aux dans la zone Arrange ils ne produisent pas tous les sons / ne peut pas être lu par canaux auxiliaires. Alors une piste auxiliaire pourrait fournir un espace de rangement utile pour les régions ...
Cette méthode ci-dessus (conseils 1 et 2) va travailler pour deux canaux auxiliaires, des canaux de sortie (s) et en fait toutes les bandes de canaux. Ajout de la bande de canaux de sortie à l'Arrange serait une excellente façon d'ajouter rapidement des fondus au début et à la fin de votre morceau en utilisant automatisation de piste pour un projet multi-piste.
Si vous avez besoin d'aide sur cette question ou toute autre logique ou un problème logiciel Mac nous rendre visite à www.macprovideo.com/forum/

Interested in learning more about Logic? These tutorials will help you to become proficient whether you are starting out or looking for advanced tips, tricks and techniques! We'd love to hear from your. Let us know what you think by writing a comment below!