If you use Multiple-Outputs in Ultrabeat or EXS24, or you like to send to Auxiliary channels, then today's tips may be extremely useful! Adding track automation to tracks in the Arrange window is a
Se si utilizza a più uscite in Ultrabeat o EXS24 , o si desidera inviare ai canali ausiliari, poi punte di oggi può essere estremamente utile!

Aggiunta di automazione alle tracce traccia nella finestra Arrange è un processo semplice. Premere "A" sulla tastiera per visualizzare l'automazione o scegli Vista
Da qui, si può scegliere di disegnare l'automazione sulla traccia della linea scelta o utilizzare uno dei modi Logic è l'automazione per registrare l'automazione pista in tempo reale.
Allora, cosa si fa quando si vuole automatizzare volume, pan, mute, solo (o qualsiasi parametro di ogni effetto) su una pista ausiliaria? I canali Aux non appaiono per default nella zona Arrange. Tuttavia, ci sono alcuni semplici modi per raggiungere questo .... e come quasi tutte le funzioni di Logic, è una questione di raccolta e scelta del metodo che si adatta il flusso di lavoro! Continuate a leggere per ulteriori informazioni ...
Suggerimento 1 - Aggiungi Disponi

Quindi, non c'è alcun canale Aux in Arrange ... Come aggiungere uno? Beh, si potrebbe pensare il pulsante 'Tracce Aggiungi' nel Disponi Track List zona avrebbe funzionato, ma dà solo la possibilità di creare audio, strumenti software e le tracce esterna ... Diamo uno sguardo nel Mixer, in cui i canali Aux possono essere visualizzati.
Fare clic sulla scheda Mixer per visualizzare il Mixer e selezionare il Aux Channel Strip (s) di scelta.
From the Mixer's local menu choose:
Options > Create Arrange Tracks for Selected Channel Strips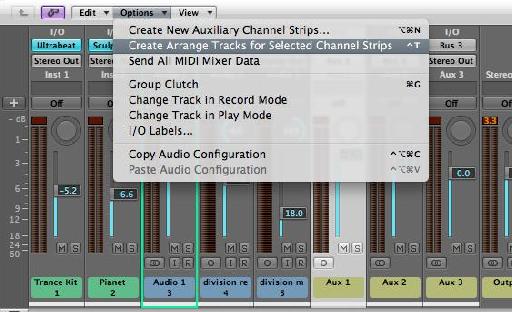 Ci sono altri modi per aggiungere una striscia di canale Disponi della zona:
È possibile utilizzare un comando chiave (controllare le assegnazioni dei comandi principali per il comando precedente). Il mio è impostato a Control-T.
Destra / Control-Click su una striscia di canale nel mixer o l'ispettore e scegliere Create / Select Disporre traccia.
Alternatively, you can select (or create) an extra track in the Arrange area and reassign it by control/right-clicking on the Track Header and choosing:
Reassign Track > Mixer > Aux >

In qualsiasi modo si è scelto di aggiungere la traccia Aux per la zona Arrange, è ora possibile attivare la visualizzazione di automazione e posizionare la traccia Aux in qualsiasi delle modalità di automazione (Read, Touch, Chiavistello, scrittura) come desiderato.
Suggerimento 2 - Aggiungi Disponi
Se avete la logica know-how, è possibile ritagliare fasi di un processo. Questi suggerimenti per risparmiare tempo valgono il loro peso in oro ... Ecco uno che vorrei condividere con voi - è molto semplice, ma molto efficace.
È possibile farlo sia nel Mixer o se si può vedere il tuo canale Aux-in l'ispettore della zona Arrange, questo funzionerà anche lì.
Clicca sulla zona di automazione selezione del canale Aux Striscia e selezionare una modalità di automazione. Channel Strip che verrà aggiunto alla Disponi area e pronto per essere automatizzati. È bello che questo può essere fatto senza nemmeno aprire il mixer!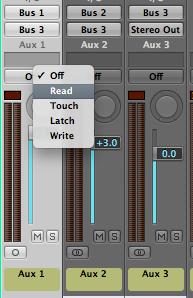 Suggerimento 3 - Considerazioni finali

Un paio di punti da considerare ... Anche se le regioni possono essere immessi sul Aux tracce nella zona Arrange che non produrrà alcun suono / non può essere letto da canali Aux. Quindi una traccia Aux potrebbe fornire una superficie utile di stoccaggio per le regioni ...
Questo metodo sopra (punte 1 e 2) funziona per entrambi i canali AUX, Uscita (s) e in effetti le strisce canale. Aggiunta la striscia di canale di uscita per Disponi sarebbe un ottimo modo per aggiungere rapidamente dissolvenze all'inizio e alla fine della vostra canzone tramite traccia di automazione per un multi-traccia del progetto.
Se avete bisogno di ulteriore aiuto su questo o qualsiasi altra logica o problema software Mac visitate il nostro sito www.macprovideo.com/forum/

Interested in learning more about Logic? These tutorials will help you to become proficient whether you are starting out or looking for advanced tips, tricks and techniques! We'd love to hear from your. Let us know what you think by writing a comment below!