If you use Multiple-Outputs in Ultrabeat or EXS24, or you like to send to Auxiliary channels, then today's tips may be extremely useful! Adding track automation to tracks in the Arrange window is a
자네가 여러 ì¶œë ¥ 사용하는 경우 Ultrabeat 또는 EXS24을 하거나 ë³´ì¡° 채널을 ë³´ë'´, 그럼 오늘의 조언은 매우 ìœ ìš©í•  수 있습니다!

ì •ë ¬ 윈도우에서 트랙을 ì¶"ì  자동화를 추가하면 바로 ì "달 ê³¼ì •ì´ë‹¤. 어느 ì–¸ë¡  키보드에서 "A"는 자동화를 참조하거나보기를 ì" íƒí•  수
여기에서, ë‹¹ì‹ ì€ ì" 택의 오프라인의 ì¶"ì ì— 대한 자동화를 그리거나 실시간으로 ì¶"ì  자동화를 기록 로직의 자동화 모​​드 중 하나를 사용하도록 ì" íƒí•  수 있습니다.
ë‹¹ì‹ ì€ ë³´ì¡° 궤도에 볼륨, 팬, 음소거, 솔로 (또는 ì–´ë–¤ 효과의 매개 변수) ìžë™í•˜ë ¤ëŠ" 경우에 그래서, ë‹¹ì‹ ì€ 어떻게해야합니까? AUX 채널은 ë°°ì—´ 영역에 ê¸°ë³¸ì ìœ¼ë¡œ 표시되지 않습니다. 그러나, 이것을 달성하기 위해 몇 가지 간단한 방법이 있습니다 .... ê·¸ë¦¬ê³  논리의 거의 모ë"  기능처럼, ë‹¹ì‹ ì˜ ìž'ì—… 흐름에 맞는 방법을 따기와 ì" 택의 ë¬¸ì œì—ìš"! 더 읽기 ...에
팁 1 - 배열에 추가

그래서, 배열에 AUX 채널이 없습니다 ... 하나를 추가하는 방법? 글쎄, ë‹¹ì‹ ì€ì´ 지역의 트랙리스트가 작동 것이다 배열에있는 '추가 트랙'버튼을 ìƒê°í• ìˆ˜ë" 있지만, 그것은 오디오, 소프트웨어 악기 및 외부 트랙을 만들 수있는 옵션을 ì œê³µí•©ë‹ˆë‹¤ ... AUX 채널을 ë³¼ 수있는가, 믹서에서 살펴보자.
믹ì"œë¥¼ë³´ê³  ì" 택의 AUX 채널 스트립 (S)를 ì" 택 믹서 탭을 클릭합니다.
From the Mixer's local menu choose:
Options > Create Arrange Tracks for Selected Channel Strips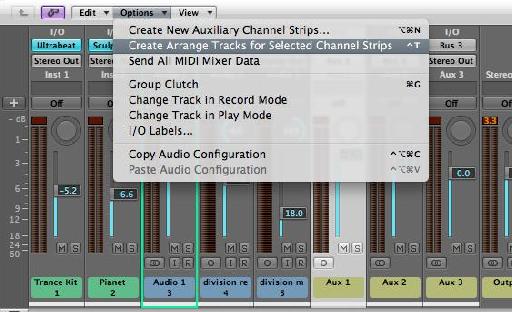 영역을 배열하는 채널 스트립을 추가하는 다른 방법이 있습니다 :
ë‹¹ì‹ ì€ (위의 ëª…ë ¹ì— 대한 주요 ëª…ë ¹ í• ë‹¹ì" 확인) 키를 ëª…ë ¹ì" ì'¬ìš©í•  수 있습니다. ê´'ì'° ì œì–´ - Të¡œ ì"¤ì •ë©ë‹ˆë‹¤.
마우스 / 믹서 또는 경감의 채널 스트립에 컨트롤 버튼으로 í´ë¦­í•˜ê³  트랙을 ì •ë ¬ ì" 택 / 생성을 ì" 택합니다.
Alternatively, you can select (or create) an extra track in the Arrange area and reassign it by control/right-clicking on the Track Header and choosing:
Reassign Track > Mixer > Aux >

ë‹¹ì‹ ì€ ë°°ì—´ 지역 AUX 트랙을 ì¶"ê°€í•˜ë ¤ë©´ 사용한 방법은 ì´ì œ 자동화보기 ì¼œê³  원하는대로 자동화 모​​드 (쓰기, 터치, 래치를 읽기)의로 AUX 트랙을 ë°°ì¹˜í•  수 있습니다.
팁 2 - ì •ë ¬ì— 추가
ë‹¹ì‹ ì€ 로직 노하우가있다면, 그것은 프로세스에서 단계를 잘라 가능합니다. 이러한 시간 ì ˆì•½ 팁 황금 ìžì‹ ì˜ 무게를 가치가 ... 여기 ë‹¹ì‹ ê³¼ 함께 ê³µìœ í•˜ê³  싶은 사람은있어 - 그것은 매우 간단하지만, 매우 íš¨ê³¼ì  ì´ì£ .
ë‹¹ì‹ ì€ ë°°ì—´ 지역의 경감에 AUX 채널을 ë³¼ 수있다면 ë‹¹ì‹ ì€ 믹서에 중이 작업을 수행하거나 í•  수, 이건 너무도 작동합니다.
AUX 채널 스트립의 자동화 ì" 택 영역을 í´ë¦­í•˜ê³  모ë"  자동화 모​​드를 ì" 택합니다. 해당 채널 스트립이 ì •ë ¬ 영역에 ì¶"ê°€í•˜ê³  자동í™"í•  준비가되어있을 것입니다. 그것은 이것도 믹서를 열지 ì•Šê³ ë" í•  수있는 것을 좋아!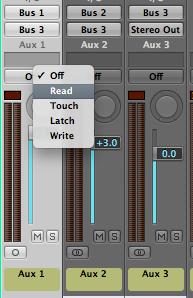 팁 3 - 최종 사상

ê³ ë ¤í•´ì•¼ í•  ì  몇 가지 ... 지역이 ì •ë ¬ 영역에서 AUX 트랙에 배치 수 있지만 그들은 ì–´ë–¤ 소리를 생산하지 않습니다 / AUX 채널에서 읽을 수 없습니다. 따라서 AUX 트랙 지역에 대한 ìœ ìš©í•œ ì €ìž¥ 영역을 ì œê³µí•  수 ...
위의이 방법 (팁 1ê³¼ 2) AUX 채널, ì¶œë ¥ 채널 (S)ê³¼ 사실에 채널 스트립 모두 작동합니다. 배열에 ì¶œë ¥ 채널 스트립을 추가하면 ì‹ ì†í•˜ê²Œ 멀티 트랙 í""ë¡œì íŠ¸ ì¶"ì  자동화를 사용하여 노래의 시작과 끝에 페이드를 ì¶"ê°€í•  수있는 좋은 방법이 ë  것입니다.
ë‹¹ì‹ ì€ 더 이상이 또는 다른 논리 또는 Mac 소프트웨어 ë¬¸ì œì— 대한 도움을 필요로 í•  경우에 우리를 방문 www.macprovideo.com/forum/

Interested in learning more about Logic? These tutorials will help you to become proficient whether you are starting out or looking for advanced tips, tricks and techniques! We'd love to hear from your. Let us know what you think by writing a comment below!