If you use Multiple-Outputs in Ultrabeat or EXS24, or you like to send to Auxiliary channels, then today's tips may be extremely useful! Adding track automation to tracks in the Arrange window is a
Se você usar Multi-Saídas em Ultrabeat ou EXS24 , ou você gostaria de enviar para os canais Auxiliares, então dicas de hoje pode ser extremamente útil!

Adição de automação para controlar faixas na janela Arrange é um processo para a frente. Ou pressione "A" no teclado para ver automação ou escolha Exibir
A partir daqui, você pode optar por chamar a automação em sua trilha de off-line escolha ou usar um dos modos de Lógica de Automação para gravar a faixa de automação em tempo real.
Então, o que você faz quando você quer automatizar volume, pan, solo, mute (ou de qualquer parâmetro de qualquer efeito) em uma pista auxiliar? Os canais Aux não aparecem por padrão na área Arrange. No entanto, existem algumas maneiras simples de conseguir isso .... e, como quase todas as funções em Lógica, é uma questão de escolher e escolher o método que se adapte às suas fluxo de trabalho! Leia sobre para mais ...
Dica 1 - Adicionar para Organizar

Assim, não há Canal Aux na Organizar ... Como adicionar um? Bem, você pensaria no botão "Add Tracks 'na Organizar Lista área da trilha iria funcionar, mas ele só dá a opção de criar Instrumento Software de áudio e trilhas externas ... Vamos dar uma olhada no Mixer, onde Canais Aux pode ser visto.
Clique na aba Mixer para ver o Mixer e selecione o Aux Channel Strip (s) de escolha.
From the Mixer's local menu choose:
Options > Create Arrange Tracks for Selected Channel Strips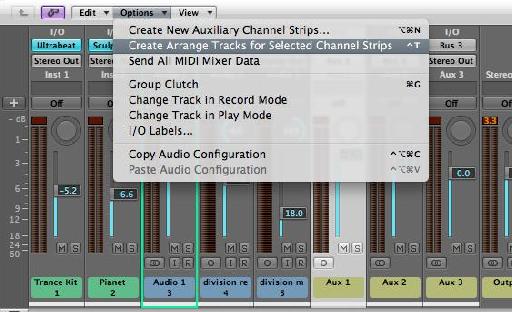 Existem outras maneiras de adicionar uma faixa de canal para a Organizar área:
Você pode usar um comando de chave (confira suas atribuições de comando-chave para o comando acima). O meu é definida como Controlar-T.
Direita / Control-Clique em uma faixa de canal no mixer ou o Inspector e escolha Criar / Organizar Select Track.
Alternatively, you can select (or create) an extra track in the Arrange area and reassign it by control/right-clicking on the Track Header and choosing:
Reassign Track > Mixer > Aux >

Do jeito que você optou por adicionar a trilha Aux para a área Organizar, agora você pode ligar vista Automação e colocar a faixa Aux em qualquer um dos modos de automação (Read, Touch, Trava, Write) como desejado.
Dica 2 - Adicionar para Organizar
Se você tem o Logic know-how, é possível cortar etapas de um processo. Essas dicas de economia de tempo valem o seu peso em ouro ... Aqui está um que eu gostaria de compartilhar com vocês - é muito simples, mas muito eficaz.
Você pode fazer isso no Mixer ou se você pode ver o seu canal Aux na Inspector da área Organizar, isso vai funcionar lá também.
Clique na área de seleção de Automação do Canal Aux Strip e selecionar qualquer modo automação. Faixa de Canal que será adicionado à área de Organizar e pronto para ser automatizado. É ótimo que isso pode ser feito sem abrir o Mixer!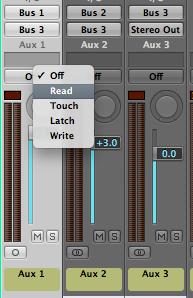 Dica 3 - Considerações Finais

Um par de pontos a considerar ... Embora as regiões podem ser colocadas em faixas Aux na área Arrange eles não vão produzir qualquer som / não pode ser lido por canais Aux. Assim, uma faixa de Aux poderia fornecer uma área de armazenamento útil para regiões ...
Este método acima (dicas 1 e 2) vai trabalhar para ambos os canais Aux, Canal de Saída (s) e de fato as bandas de canal. Adicionando o strip Canal de saída para a Organizar seria uma ótima maneira de adicionar rapidamente se desvanece ao início e final de sua música usando a faixa de automação para um projeto multi-track.
Se você precisar de mais ajuda sobre este ou qualquer outra lógica ou problema de software Mac visite-nos em www.macprovideo.com/forum/

Interested in learning more about Logic? These tutorials will help you to become proficient whether you are starting out or looking for advanced tips, tricks and techniques! We'd love to hear from your. Let us know what you think by writing a comment below!