Occasionally you might want to use a sound in a mix that just lacks some low end punch. In some cases traditional equalization will do the trick and adding a small amount of low end will get the job d
En ocasiones es posible que desee utilizar un sonido en una mezcla que sólo le falta un poco de ponche de gama baja. En algunos casos, la igualación tradicional hacer el truco y la adición de una pequeña cantidad de gama baja conseguirá el trabajo hecho, pero en algunas circunstancias se necesita más potencia de fuego.
Although it's not something I would plaster across a mix it can be a life saver in certain situations and used with caution it can truly enhance a mix. Let's look into the basics of how it operates.

Paso 1 - Cargando el SubBass Plug-in
El SubBass plug-in se puede cargar en cualquier pista de la misma manera como los procesadores más tradicionales pueden ser. Basta con localizar el plug-in en Logic 'especializados' y carpeta de efectos de insertar en la pista que desee tratar. Simple.
Una cosa a notar aquí es que me dijo 'insert' y esto es muy crucial. Es altamente improbable que usted desea utilizar esta en una configuración de envío / retorno. Así que por ahora se adhieren a usar esto como un inserto, lo que realmente fue diseñado para ser utilizado de esta manera.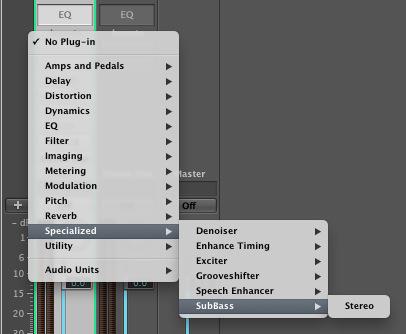 Paso 2 - Configuración de las frecuencias que mejorar
El SubBass plug-in tiene dos bandas de frecuencia que se puede trabajar a través de ellos y el establecimiento es bastante simple. Usted puede marcar en la frecuencia de cada banda utilizando el "centro" de control.
Una vez listo se puede utilizar la regulación de la proporción y el ancho de banda para decidir la intensidad del efecto y lo que rango de frecuencia funciona a través de. Tener estas dos bandas con controles muy precisos le permiten cubrir prácticamente cualquier área de su audio.
Estas dos bandas se puede mezclar lo que dos frecuencias bajas por separado se puede mejorar de distintas maneras y luego se mezcla al gusto, al final del proceso.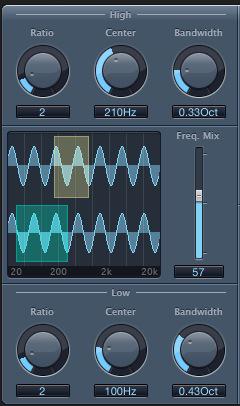 Paso 3 - Mezcla de versiones en seco y húmedo
Una vez que todos los ajustes estén en su lugar se puede seguir adelante y utilizar el control de mezcla húmeda y seca para obtener una comprensión mejor sobre el resultado final. Es poco probable que usted tendrá que usar una versión totalmente procesado de su sonido, así que usar esta función le permite volver a introducir algunas de sus audio seco.

A continuación puede ver la configuración final que se utiliza para un loop de batería que necesita de un fin extra baja. También puede escuchar el audio en cuestión, antes y después, aunque vale la pena recordar que se necesita para escuchar en un sistema de rango completo. Altavoces pequeños simplemente no se levante el procesamiento.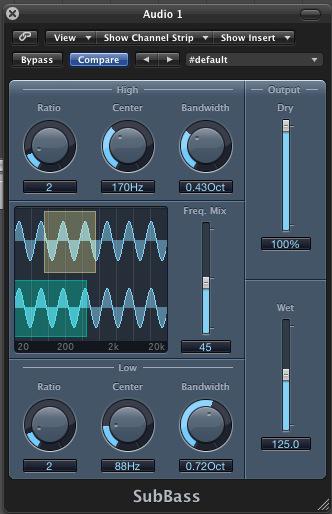 Audio - Antes de la SubBass se añade:
[Audio id = "1129"]
Audio - Y después:
[Audio id = "1130"]
¿Necesitas más consejos mezcla? Echa un vistazo a estos tutoriales !