Automation is literally one of the best things about modern music production software. Hopefully I don't sound old when I say that I can clearly remember using systems that had zero automation or call
Автоматизация в буквальном смысле одной из лучших вещей в современном программном обеспечении для создания музыки. Надеюсь, я не звучат, когда я говорю, что я могу хорошо помню с использованием систем, которые нуля автоматизации или обратного вызова, и это было, хорошо ... кошмар!
Now we can record, automate and edit any movements we make on just about any parameter in our DAW. This is truly a great thing but there are a few pitfalls that you have to look out for. Here we take a look at understanding the various automation modes in Logic Pro.

Написание Автоматизация
При написании первых автоматизации данных недавно записанные или запрограммированный трек, вы можете использовать любой из трех режимов автоматизации (писать, защелкой и осязание). Любой из этих режимов с удовольствием записывать ваши движения на соответствующий трек автоматизации.
Так что ваш проект игры, попасть в режим записи и начать двигаться ваш уровень, кастрюли и плагин параметров. Когда вы закончите вы обнаружите, что все было записано и он готов к использованию.

Зачем использовать защелки против Режим записи?
Так почему же, спросите вы, имеет Логика есть три режима записи и когда мы их используем? Ну, защелка режим является одним из самых полезных режимов, поскольку она продолжает запись данных автоматизации, когда логика игры и вы закончите перемещение параметр / фейдера. Он также не писать поверх существующих данных автоматизации, пока после перемещения параметра с вашим контроллером или мыши.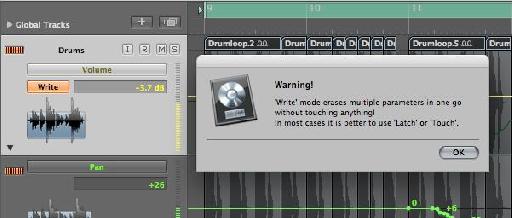 Более разрушительным Режим записи следует избегать, как чумы.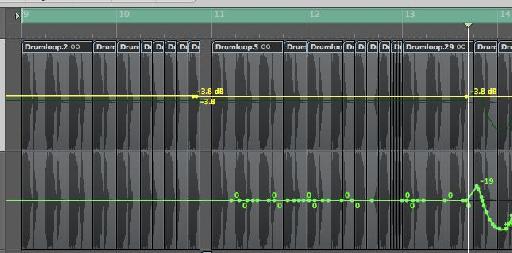 Он делает записи автоматизации данных в традиционном смысле, но сотрет все остальное, что было зафиксировано на всех направлениях. Даже Apple государства в их руководстве, что вы редко будете нуждаться в этом, и что "это только там, чтобы полная автоматизация режимов".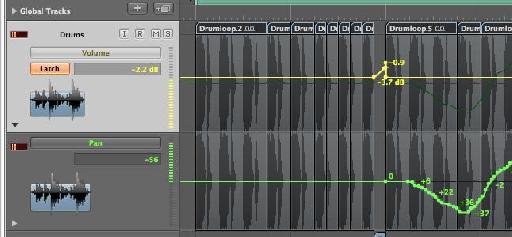 Что такое сенсорный режим?
Сенсорный режим действительно полезная режиме и очень похож на защелку режиме, поскольку он не является разрушительной и листьев записанные данные останутся нетронутыми, если не настройки параметра.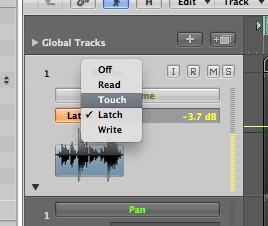 Совет редактора: сенсорный режим по существу работает как режиме чтения. Все имеющиеся данные автоматизации будут читать, пока вы внести изменения в параметр с контроллером сенсорного или мыши. Как только вы отпустите кнопку мыши или контроллера существующие данные автоматизации будет читать.
Сенсорный режим является большим, если, например, вы хотите автоматизировать объеме только в хоре раздел ... то, как только вы отпустите фейдер громкости фейдер переместится все существующее значение было, прежде чем начал применять автоматизацию.
Играя вещи обратно
После того как вы записали ваш автоматизации его воспроизведение так же просто, как положить трек в "Читай" режиме. Все, что записано тогда воспроизведения, что и проект делает. Простой.
Конечно, стоит помнить, что когда в защелку или сенсорного режима ваши данные будут также воспроизведения, так что это еще одна причина, чтобы использовать эти режимы по сравнению с более режим записи лишней.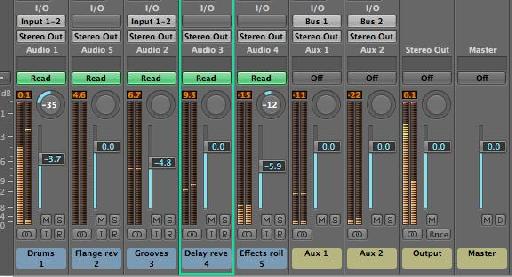 Проверьте Логика 101: Core Logic 9 учебник для более Автоматизация Советы и рекомендации и этот блог учебник для 5 Автоматизация Power-пользователей Полезные советы в Logic Pro !