If you mistakenly deleted one of the factory channel strip settings from the Logic Instruments folder you may be able to restore it painlessly without the install discs. Rounik Sethi demonstrates how.
Are you a Logic user? Then Tobias Escher's article on backing up your Logic based system is essential reading! There's nothing worse than losing data through no fault of your own. But what if you have that common condition of 'click-itis' - you know that urge to click "OK" to every dialog warning box that comes your way - and have accidentally deleted one of the factory Channel Strip Settings from the "01 Logic Instruments" folder in the Library?
Don't rush and find your Logic Install discs just yet as you may be able to re-create it from scratch. Read on to find out how to restore a default Instrument Channel Strip Setting you've mistakenly deleted.
01 - Deleting a Setting
In this case, I've created a new Software Instrument track and chosen to open the Library. By default Logic loads up the Channel Strip Setting in the Library: 01 Logic Instruments > EVP88 Electric Piano

These default Instrument Channel Strip settings are easy to restore as they are simply the default Instrument inserted as the Input on a Software Instrument track. Restoring a more complex channel strip setting (with custom instrument and effect settings) is difficult and in this case prevention is most certainly better than a cure! (See Tobias' article).
So, first off how would one delete a Channel Strip Setting in Logic?
Simply click and hold on the "Setting" button at the top of the Channel Strip and choose:
"Delete Channel Strip Setting."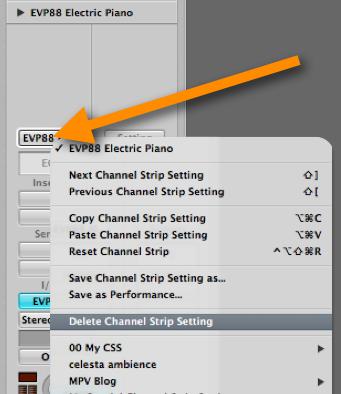 Immediately you'll be presented with a warning dialog box asking if you're sure you want to delete the setting and ensuring you know this cannot be undone.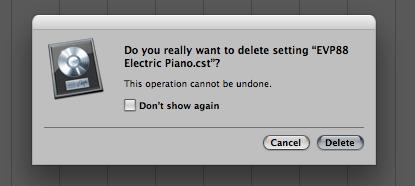 If you're brave enough to click on "Delete" you'll notice that the Channel Strip Setting (CSS) no longer appears in the Library area and no amount of Command-Z (Undo) will bring it back!
02 - Recreate the Setting
Because the EVP88 Electric Piano setting is simply the default Instrument only it's pretty easy to re-create it.
Create a new track or reset your current Channel Strip. Now insert a new EVP88 instrument on that channel by click and holding on the top empty slot under the I/O section of the Channel Strip. Choose "EVP88" from the drop down menu.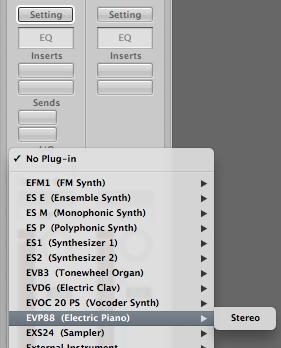 03 - Save it
Click and hold on the very top slot (called Settings) and choose "Save Channel Strip setting as..."
Give it the name "EVP88 Electric Piano" and save it in the default folder.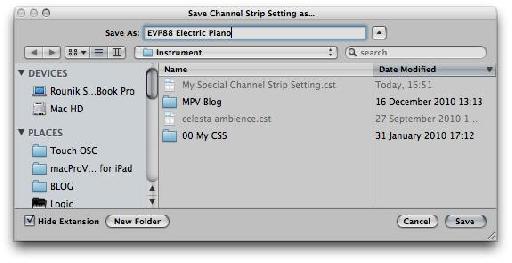 You've now saved it in your default user folder for Channel Strip Settings. If you wish to move it to the factory folder: "01 Logic Instruments" then follow the next steps.
04 - User location for CSS
Switch from Logic to the Finder. Open two new Finder windows (Command-N) or File > New Finder Window.
In our first Finder window we'll navigate to the default location where your personal CSS are saved to.
Users/*Your User Name*/Library/Application Support/Logic/Channel Strip Settings/Instrument/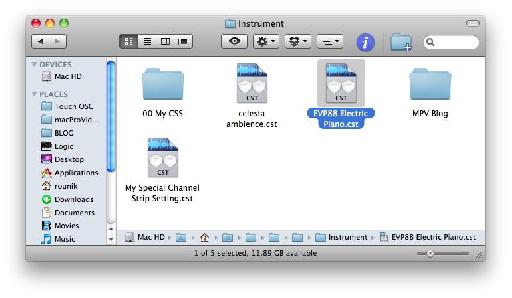 Here you can see our newly created EVP88 Electric Piano.cst setting.
TIP: You could now create folders and move your settings around manually. This makes organizing your custom CSS really easy.

05 - Factory Location for CSS
In the second Finder window navigate to where the Factory settings are, and importantly where the 01 Logic Instruments folder resides.
HD/Library/Application Support/Logic/Channel Strip Settings/Instrument/01 Logic Instruments/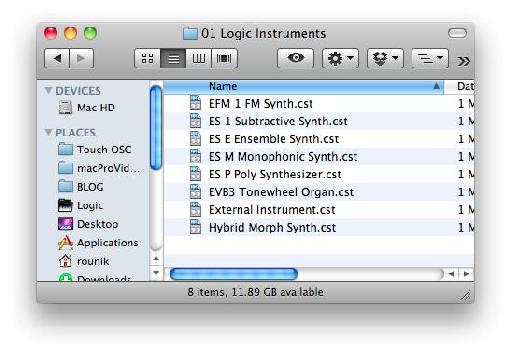 As you can see we're missing the original EVP88 Electric Piano.cst file.
Drag (or copy it if you prefer) from your User's Channel Strips folder to the "01 Logic Instruments" folder. Done. That's all there is to it!
Back in Logic close the Media area and re-open it to refresh the Library view and EVP88 Electric Piano will appear back in the Channel Strip Settings list.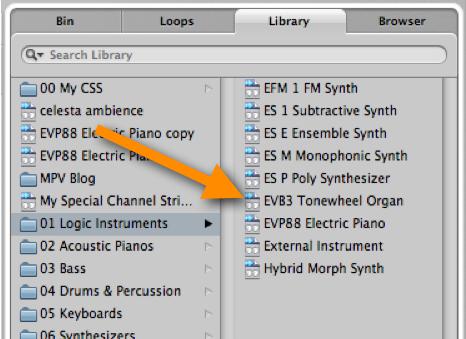 Of course, these tips become especially useful when you backup your Instrument and Channel Strip Settings folders (both factory and your own) using Tobias' methods as explained here.
If you have any tips to share let us know in the comments below and to learn more be sure to check out the Logic tutorials here.