Rewire is a really valuable tool that's now available to users of just about every DAW out there. It acts as a virtual pipeline sending audio, MIDI and even sync data between any number of application
Rewire is a really valuable tool that's now available to users of just about every DAW out there. It acts as a virtual pipeline sending audio, MIDI and even sync data between any number of applications.
As there are so many applications that support Rewire I have decided to demonstrate it's use with some of the most popular titles, namely Logic, Reason and Live. If you use a different DAW do not despair as the set up is extremely similar from program to program and this will certainly get you moving in the right direction.
01 - Master and Slave Applications
When using applications in Rewire mode it's very important you grasp the basic concept of masters and slaves. One application will act as the Rewire master while all other application being used will become the slaves.

The status of your applications will be decided by which order they are opened in. The application that is opened first will automatically become your Rewire master, any app opened subsequently will become a slave.
The master application will essentially act in the same way as you would expect with its master outputs being fed to the normal destination. CPU usage, transport and BPM info will also be displayed in the usual way.
A slave application will take any transport based info from the master and will only be able to send it's audio through the master application. The slave application's CPU usage will also be deployed in the master applications CPU meter.
It's worth remembering here that you will also have to close your applications in the reverse order to which you opened them in. Some apps will actually not allow you to close them before Rewire slaves are shut down.

02 - Setting up your Rewire Input
With our Rewire applications open (in this case Logic and Reason), we can begin to make the connections needed to allow audio and other data to flow between them. We'll start by setting up the input for incoming audio in the Rewire master (Logic Pro).
Logic uses auxiliary channels to bring in any external audio and this includes Rewire audio. To create a fresh 'Aux' channel go to the mixer and press the plus (+) icon that resides on the very left hand side.

You will now be presented with an Options dialogue, here you can ensure it's a stereo channel and you can choose your input. Both Reason and Ableton Live should be in this list by default. Pick the first two channels from the Reason list for this demonstration.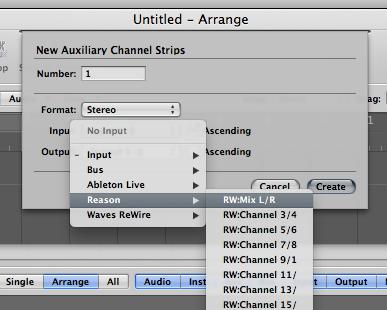 03 - Making the First Audio Connection
Now we have our inputs set up we just need to move to the slave application and complete the connection. When using Reason all these connections are made in the hardware interface area.
There are actually 64 audio outputs that can be utilized in Reason 5. This is pretty impressive and could essentially accommodate 32 full stereo audio streams. This should cater for even the most demanding projects.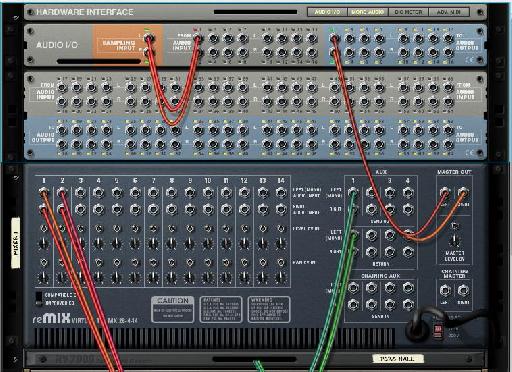 We need to use the first two outputs, which should now be lit green to show they are active and available. Usually the first mixer, device or mastering Combinator will be connected to these outputs by default. Be sure to double check this though and also ensure your master outs are properly connected.
You have now made the audio connection between your two applications and any connected device in Reason should now be heard and the incoming level should be displayed in your new auxiliary channel in Logic.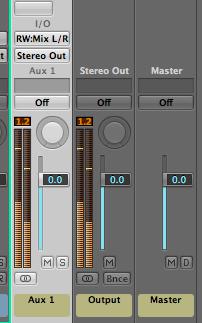 04 - Using Rewire MIDI Connections
It's not just audio that can be sent between your applications, you can also send MIDI data to the slaves. This means you can trigger virtual instruments in Reason straight from Logic. Using Logic in this way effectively gives you a rack full of extra instruments to use in any other application and as some of it's instruments are so good this is certainly a welcome addition to any set up.
To set this up in Logic simply create a new track using the plus (+) button at the top of the arrange screen. This will bring up an Option dialogue allowing you to select 'External instrument'. Also ensure that 'Open Library' is ticked at this point.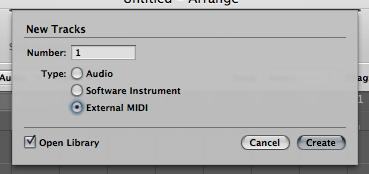 Your new MIDI track will now appear and the Media Library will also be open to the right of this. It's in the library that you can select specific instruments that are open in Reason. You will even notice that any custom names you have given your devices will show up here. Thankfully the integration is pretty tight.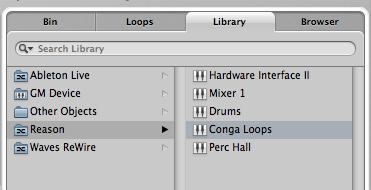 With your instrument highlighted and the active MIDI channel selected you should be able to input MIDI straight from Logic and the audio will also come straight into the mixer. Remember that any MIDI you can play here can also be recorded, so literally everything can be done straight from the Rewire master's interface!
05 - Keeping in Sync
Another great feature of Rewire is it's ability to send sync and tempo information between apps. A change in loop points or BPM in either the master or the slave will be mirrored in any other applications in the set up. All your instruments and audio will attempt to stay in sync when anything is changed.

You will also find that you will be able to play, stop, fast forward and rewind from any of the active applications transport systems. This is great as you could be working on an instrument in a slave application and still effect the project's playbacks.
06 - Using other Applications (such as Ableton Live) as a Rewire Slave
As you can see setting up Rewire communication between Logic and Reason is a pretty straightforward process and once you've done it a few times you should find that it becomes second nature.
The question is how is this achieved with other applications. The truth is most of the process is more or less identical to what you have read here. The only real difference is how you set the output in your slave application.
Obviously this technique differs from one application to another and may require a quick read of your user manual but Ableton Live for example is a nice transparent process. All that you need to do is set the main output to one of the available Rewire inputs.
Once this output is set the Ableton input can then be selected in Logic auxiliary channels. Remember no matter which application you are using, to add more channels the process can simply be repeated, using another auxiliary channel and the next free pair of Rewire outputs from your slave application.
Hopefully this shows you how easy it is to get things set up and use your applications in Rewire mode. This should allow you to utilize instruments in other applications, mix projects from one application in another's mixer and generally be more creative.
Want to learn more? Check out the full range of Logic tutorials here, Propellerheads Reason tutorials here and Ableton Live tutorials here.