In the first part of this tutorial about using Screensets in Logic we had a look at the general concept of Screensets and how you can use them to have important information visible at all times. This
In the first part of this tutorial about using Screensets in Logic we had a look at the general concept of Screensets and how you can use them to have important information visible at all times. This second part brings the tutorial to a close and deals with a number of other areas where Screensets are useful.
Score Editor
Logic's Score Editor is often underestimated. While certainly not the number one choice for producing written symphony scores (that's what Sibelius and the likes are for), it certainly is more than adequate for producing written parts for live recording. But even if you are not preparing live scores, it can still be useful to have a Score Editor open, particularly when recording: With a bit of training, you will be able to read along when overdubbing other lines. Just have the Score Editor show the important parts when you record. This will probably save you lots of notes and sketches on music paper ?
It may be obvious, but I have found the Score Editor one of the few windows that are best used fullscreen. So put the Score Editor maximised in a new screenset so you have it ready when you need it.
As with the Screensets I showed you in the first part, I find it best to leave the arrange on the primary screen untouched. This way you can switch between Screensets while recording without getting confused by the arrange changing.
MIDI Editing
Logic is a pretty mighty application as far as MIDI goes - just think of the nearly unlimited possibilities in the Environment! For MIDI editing, the basic thing to have on your screen is a piano roll. Make it medium size, so you have the chance to cram a small Environment window next to it for quick creation of instruments or access to templates for external instruments like your Motif or Fantom workstation.
When you select multiple regions in the arrange, the piano roll will show their contents in one window, which is great for correcting the timing of notes. I would advise you to do as much timing correction as possible by hand and not use quantization too much as it is very mechanical.
Especially when dealing with MIDI files imported from 3rd party software like Sibelius, you should also have a hyper editor in the MIDI screenset for quick removal of panning information and other controllers. Most MIDI files come pre-panned; you will likely want to adapt the panning to the libraries you use in Logic. The hyper editor is also one place where you get rid of volume information! Otherwise, playing back the track will always reset your faders.
Here is an example of how a MIDI editing screen could look like: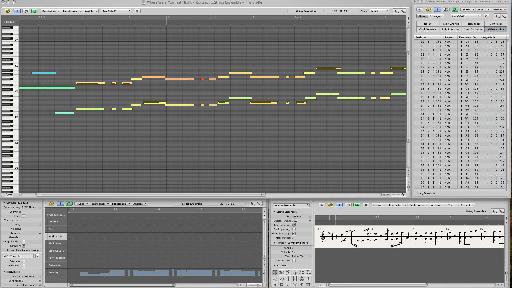 Audio Editing
Software instruments or External MIDI devices are of course only half of Logic, so to speak; there is the whole world of "real" audio waiting. Just like with MIDI editing, your workflow will benefit from having a set of tools for audio manipulation right on a second screen.
Like the PianoRoll for MIDI, the Sample Editor is an indispensable tool when dealing with audio - not only for editing, but also for seeing what is going on. By looking at the waveform, with a bit of practice you will be able to record more exactly because you see the "hitpoints".
For getting an impression of the final project, I have found it of great value to cut unnecessary parts from the recorded files. You probably have some seconds of silence at the start. Sometimes, these parts inject a lot of noise, pops and crackles to your recording. Additionally, they clutter the mix, so make sure to cut your parts accordingly.
Mixing
The way you mix largely depends on your taste and your equipment. If you use a dedicated console for mixing, you probably will not need a screenset for mixing. But if you want to mix in Logic, you will.
I recommend doing the mixing at the end. Naturally, you should dial in a rough mix while recording (especially when dealing with software instruments), but save the real thing for the end. Move the Arrange to your second monitor and put a big Mixer on your primary screen so you have it on front of you. This has two advantages: You see the mixer right in front of you and the placement of the arrange on the second screen sort of creates a psychological barrier to edit things in the arrange. This stage is about the mix, not the arrangement :)
I tend to have two separate Mixer windows in this screenset:
- My lower and main mixer has all the audio and SI tracks (as well as External MIDI, where applicable), but no busses, auxes and other "special" tracks. This is where you mix the individual tracks by drawing automation data.
- The "console mixer", as I call it, at the top has the auxes, busses and the master output. The latter stays at 0.0, while the busses are used to balance individual sections. I rarely use automation with these, you should have your levels near perfect in Mixer 1. This Mixer really is for the fine tuning and balancing of sections. Colour-coded tracks help with not getting lost too.
Note that only the lower Mixer is linked to the Arrange. The upper Mixer does not follow what is selected in the arrange since none of the auxes and busses are actually displayed there. By not linking it, Logic does not unnecessarily jump between tracks and control surfaces do not get confused.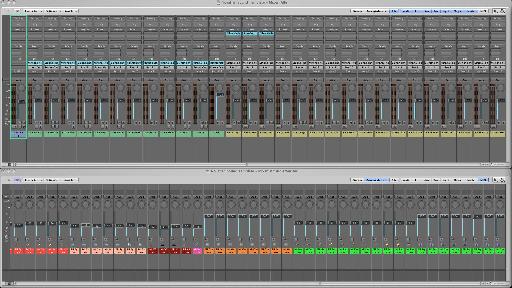 This large full-screen Mixer Screenset gives you the feel of a real analog console and in my experience can drastically enhance your mixes as compared to just adjusting every single track in the Inspector in the Arrange. Try it out!
Post-Production
For post-production, the windows you need on your screen largely depend on what you define as post-production. You should try to avoid making any changes to the actual audio / MIDI material anymore, but only put the finishing touches on your track. Mixing should be complete, with only Mastering left.
When Mastering, you will likely need a number of plugins open, the exact plugins used depending on what you prefer to work with and last but not least on what you have to work with.
In the best case, all you need are a few plugins on the master output and possibly on the section busses - if you have to touch the individual tracks during this last phase, chances are high that you try to fix something in the master that should actually have been fixed in the mix.
Here is a list of some things you should have on your post-production Screenset:
Output level meter: Similarly to the output meter on the recording screenset, a big level meter showing you what comes out of your monitors is a good thing to have. You can easily see when you track is either too quiet or already clipping.
Spectral analyzer: It goes without saying that an array of plugins showing you in a graphical way what is happening in your track are important.
Plugin Windows: I recommend keeping the most important post-production plugins open, so you can edit their parameters with ease and compare the sound.
I hope this overview of what Screensets can do your you was useful. If you have questions, shoot away in the comments and to go stretch your knowledge check out this Logic tutorial.