Fancy yourself as a bit of a Sherlock when it comes to re-connecting missing samples in Logic Pro X's EXS24? Well, take a break from the sleuthing and let Joe Albano show you an easier way!
Most people who work in Logic probably make extensive use of the sample-based Virtual Instruments like the EXS24 sampler plug-in. And 99% of the time, we also probably don't give much thought to how and where the components of our favorite EXS sounds and patches are organized and stored. But every once in a while, issues arise that force us to take a look at how EXS sounds are put together, and a decent understanding of that can help speed through those times, and get us back to work quickly.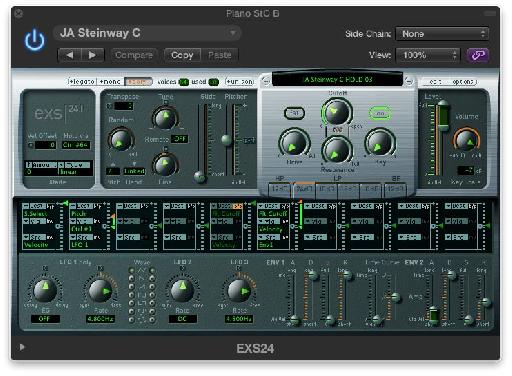 Logic's EXS24 Sampler.
On the upside, Logic and EXS are pretty good at keeping the elements of EXS instruments organized and catalogued, and if we don't deviate from Apple's preferred approach to organization, we don't really have to think about it at all. However, there are situations where we may find that, either by accident or by design, we make changes that force us to confront EXS's hierarchy of organization, which has evolved to be a bit complex on some systems. I'm going to take a brief look at how EXS sounds are organized, and where the elements are kept on hard disk, which should come in handy in those situations that require a little manual EXS organizational effort..
EXS Instruments
Sample-based Virtual Instrument sounds, including EXS sounds, consist of at least two main components: the patch (a.k.a. program, setting, instrument, etc.), which organizes the individual samples, and those actual samples themselves, the audiofiles (WAV or AIFF) that make up the notes or loops that are being played. The patch assigns (maps) individual samples to specific keys, and provides (usually) subtractive synthesis modules (Filters, Envelope Generators, LFOs) to govern the response, and control the expressiveness (musicality) of the sound in performance.
With EXS, these two elements are necessary for every playable instrument. Patches are called EXS 'Instruments', and are identified by the extension .exs.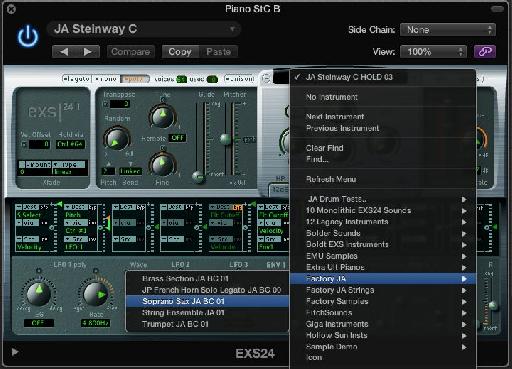 The EXS Instrument Menu.
Each EXS Instrument contains the necessary references to the individual WAV or AIFF samples that supply the actual sound of each note. This is the first place things can go awry.
Re-linking samples
When EXS Instruments are first installed, the installer places these two components in separate folders'"one for the samples, and another for the EXS Instruments.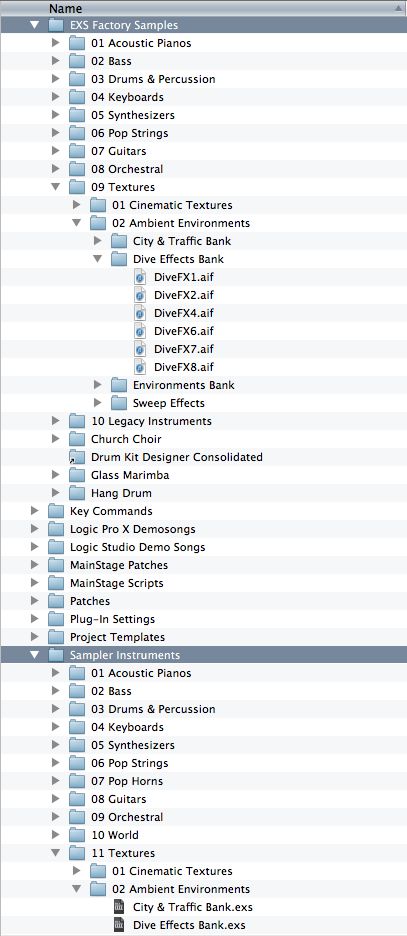 EXS Instrument & Sample Folders.
If an EXS Instrument loses track of where its samples are on disk, it will search your hard disks for them automatically. Fortunately, Logic's automatic search function is very fast (especially compared with some other programs/plug-ins), but it will still noticeably delay the loading of the sound. If it finds more than one copy of the samples it's looking for on your system, it will throw up a dialog box asking you to identify the one in the correct location (this can happen if you have your sample library backed up on local disks, if the samples are used in other Instrument patches, or if there are multiple samples with the same names). You should do this ID carefully, because it will be permanently stored with the Instrument as the new default location for those samples when loading that sound in the future'"so make sure you don't point EXS to a backup copy on a removable disk, or you'll most likely have to go through the process again. Once the samples have been located and re-linked to the .exs file, the Instrument should load fine from that point on, as long as the samples are not moved.
The whole process is pretty quick, but if you have to do it repeatedly while auditioning sounds, it can be a drag on workflow. Normally, EXS Instruments will not lose track of their samples' locations, but there are a couple of common scenarios where this may happen.
Re-locating EXS Sample Libraries
When you install Logic's so-called 'additional content''"around 35 GB or so of samples, mostly EXS sounds'"the installer only gives you the option to install them on the startup disk. However, many peoples' startup disks may be too small or too full to accommodate the library, or they just prefer to keep all their sample libraries on a dedicated separate (external) hard disk. EXS sounds can be moved by hand, and references made to the new location(s), but even when it works properly, this often triggers the search for samples the first time each Instrument is opened. To make things more complicated, there are several locations where Logic/EXS looks for .exs files, and either the Instruments themselves, or a reference to any alternate location, must be in one of those spots. EXS Instruments are found in the startup HD's main Library, in Application Support > Logic, in a folder named Sampler Instruments; additional sounds (that are used in Garageband as well) are found in Application Support > Garageband; and any third-party or user-created EXS Instruments would normally be stored in the User folder, in Music >Audio Music Apps.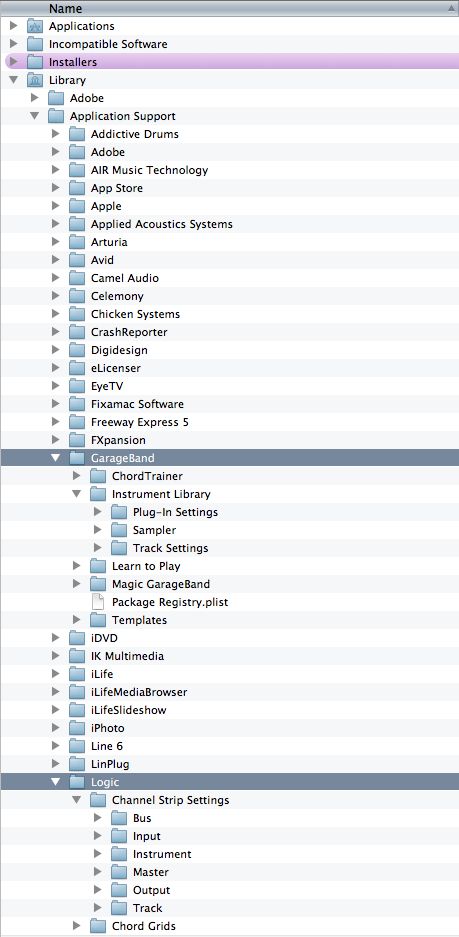 Root-level Library Logic & Garageband Folders (containing EXS Instruments & Samples).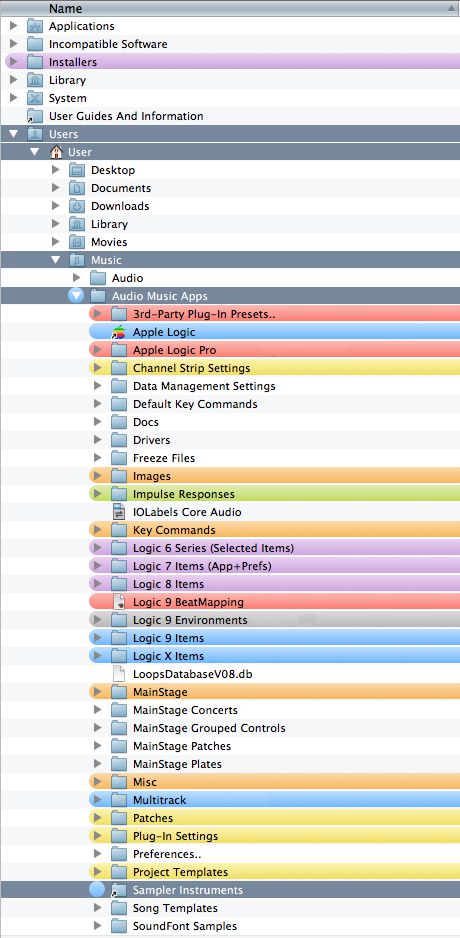 User >Music >Audio Music Apps Folder (with Alias to re-located EXS Sampler Instruments folder).
But these are just the EXS Instruments, without the actual audio files they reference. The actual WAV and AIFF samples can be stored anywhere'"by default, they're found nearby, but in separate folders, named EXS Factory Samples (Logic) or Sampler Files (GarageBand). Usually, there's no need to relocate the EXS Instruments (unless you just want everything to be in the same new location, not a bad idea)'"they are small in size and don't take up too much room. But the samples themselves may need to be moved, to save space. This can be done by copying a folder to be re-located to the new location, and making an Alias or Symbolic Link of the Folder in the new spot'"I usually use an Alias. You'd then re-name the Alias by removing the word 'alias', and insuring that the spelling is identical to the original Folder. This Alias would replace the original folder full of samples, in the original location. Logic/EXS should then be able to follow the Alias to the samples in their new location, but the first time each Instrument is opened, it still will have to re-link the audiofiles to each EXS Instrument. To avoid having this slow down a session, you can do two things: open your most commonly-used Instruments at least once ahead of time, and, if you maintain a backup of the samples, have that disk offline when opening EXS sounds that first time'"Logic should then automatically find the only copies of the samples and re-link them, without you having to dialog with it, making the process a bit quicker. There used to be functions within Logic, as well as a third-party program, that took care of this housekeeping, but these options are no longer available.
Traveling with Logic/EXS Projects
The other situation where people sometimes run into missing samples is when someone takes a Logic Project to another studio. If there are EXS Instruments and their associated samples used in the Project, and these are in the usual locations, outside of the Project folder, then they may show up missing if the studio doesn't have the same library content installed. Even if it is there, Logic/EXS may have to re-link the samples, as above.
The best way to avoid this is to use Logic's options for copying all EXS Instrument & Sample data used in a Project to the Project folder, before taking it on the road, insuring that not only will it be available at the destination studio, but that Logic will know where to find all the sample components, avoiding problems and saving time, to boot. When you do a Save As, you'll see the options to 'Copy EXS Instruments & Samples' to the Project folder'"just check that, then Save. The Project folder may swell greatly in size if you have a lot of EXS Instruments open, but you will be sure of having all the EXS elements needed when you get to the destination studio.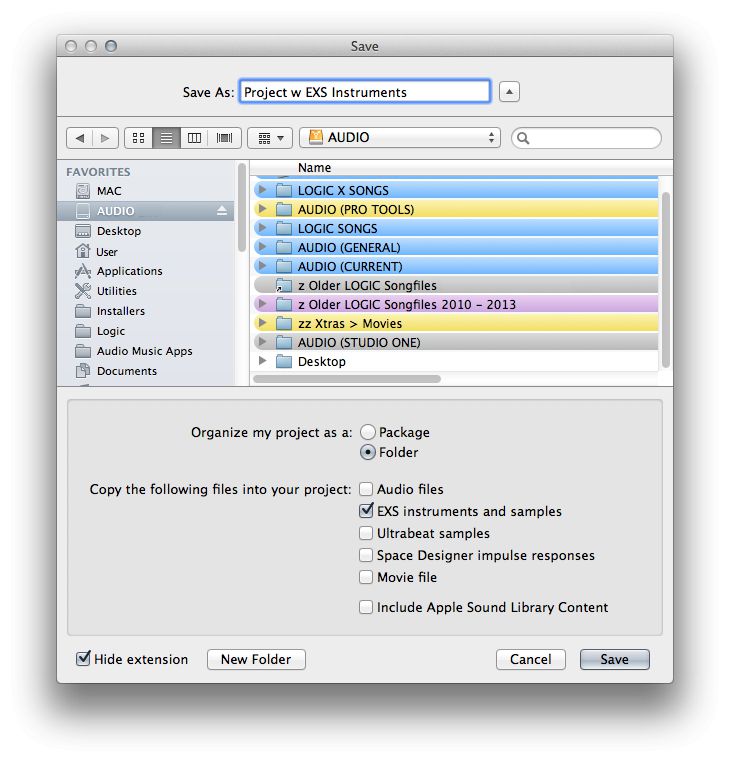 Saving Options to Copy EXS Instruments & Samples to Project Folder.
Settings & Patches
There is another situation where you may run into, especially when traveling with EXS-based Projects. Besides the EXS Instruments, there are other file types that you can load to open EXS sounds. In the EXS plug-in window itself, besides the Instrument menu, you'll find the Settings menu.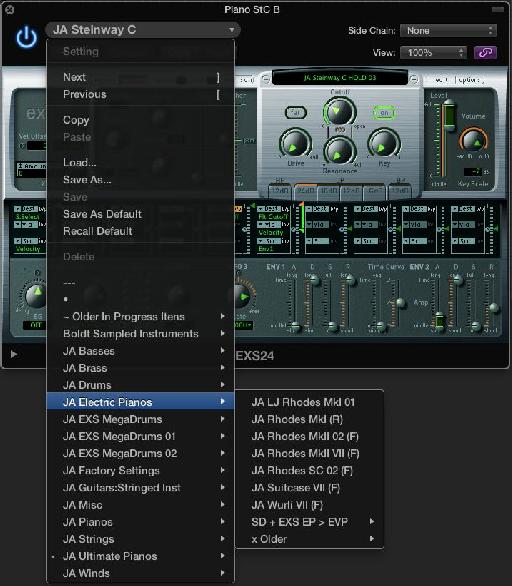 EXS (Plug-In) Settings Menu.
Settings (stored in the Plug-In Settings folders in the same root Library and user Music folder locations) contain most of the same data as EXS Instruments'"Filter, Envelope, and other front-panel settings'"but not the sample-to-key mapping information, which is only stored in the EXS Instrument. Settings are also stored in the Project file itself, so all the front-panel controls of an EXS Instrument used in a Project will always come up as you left them in that particular Project (overriding the stored values). But if the EXS Instrument can't be found, the plug-in can't link to the actual samples, and all you'll hear will be generic sine waves instead of the proper instrument notes. If that happens, you'll have to locate the missing EXS Instrument by hand, but at least you'll know what went wrong, what to search for, and where to put it when you find the missing .exs file.
The same is true when calling up EXS Instruments from the Channel Strip menu, or the new Patch Library. With these formats, just as with EXS settings, all the front-panel settings will have been stored in the Project file, so everything will look correctly, but if the EXS Instrument is not found (or Aliased) in one of the necessary locations (Logic Project folder, User Music folder, or root Library folder), you'll hear the weird, telltale sine wave instrument tones playing on one or more tracks.
Wrap-up
Maintaining the links between Sample Instruments and audio samples is something all samplers must do, and despite the worst-case scenarios I just went through, EXS is one of the best at keeping things together, and one of the fastest at re-linking, on those occasions when it does become necessary. And as long as you know what's going on under the hood, it's usually a fairly simple matter to put a sound back together again. The key is to make sure that whenever you re-organize, or travel with a Project, you've accounted for all the separate pieces needed for that Project to play properly. Keep track of them, and EXS will be your friend! Happy sampling..