Recently I wrote a tutorial on how to quickly make an electro kick drum in Logic Pro. If you recall, the exercise merely utilized a few iterations of Logic's Klopfgeist with a bit of effect.
Recently I wrote a tutorial on how to quickly make an electro kick drum in Logic Pro. If you recall, the exercise merely utilized a few iterations of Logic's Klopfgeist with a bit of effect. It wasn't too difficult and it gave a cool, easy way to make a kick drum that's yours!

'¨This month, I'd like to show you how to do the same for a snare drum! However, this time, Klopfgeist really wasn't up for the task. So instead, we're going to use one of the Logic bad boys, the ES2... in a way that isn't scary.
Step 1 - Setting up the Stage

For certain sound design projects, I'll go ahead and start off by setting up a beat for myself... Even if it's initially a beat that actually triggers nothing. This may sound strange, but as I start tweaking, I can hear my work in real time, and I don't have to sit there and press a key over and over going, 'Does that sound right?'
So first, go ahead and create an instrument track. Then go ahead and use the pencil tool to draw in where the snare will play in a sequence. Generally, when a snare plays, it's on the 5 and 13. So I'll go ahead and draw my snare beat in the same spot within the piano roll.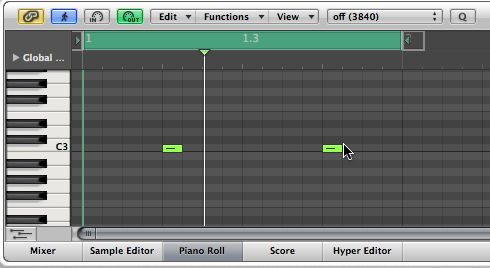 Just a hint: You'll see a hash mark at the top between 1 and 1.3. Then you'll see another between 1.3 and 2. Draw the hits in there!
Once finished, set your loop points up so you have a one-measure loop between bar 1 and bar 2.
Step 2 - Get Some Sound Going!

Okay, it's always fun knowing that we have a sequence that's triggering nothing. Let's go ahead and mend this now. In the I/O slot on the left of your newly created, empty instrument channel, instantiate the ES2. Go ahead, it won't bite. Make sure the sequencer is not running, by the way, when you throw in the ES2, or you will have a loop of a fuzzy pad!
Step 3 - Initialize and Sculpt

Once the ES2 is set up, we'll need to initialize it, or we're going to be undoing a lot of the hard work of one of the fine Logic Sound Designers. Go to select a new patch for the ES2, and select "12 Tutorial Settings". From the sub-menu, choose "Analog Saw Init".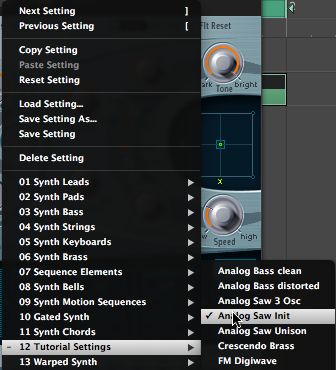 In the new Init patch, go ahead and disable oscillator 1 by pressing the 1 button, and then select the third oscillator, which has the magical white noise waveform we very much desire! Set Oscillator 3's knob to "Noise" and then move the little green dot (right of the Oscillator 2 knob) towards Oscillator 3, as close to it as you can (see figure below).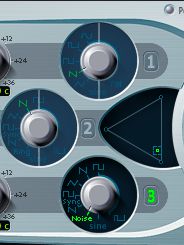 In the Router section of the ES2, turn the first dial down for the "Cutoff 2" routing. This will keep that pesky filter envelope from making it sound like a laser gun later. In fact, all of the green and orange indicators should be in the center, as shown below.

In the Filter section, set your left Cutoff frequency to 0.554 (around 12 o'clock) and the Resonance to 0.79 (around 3 o'clock). The "Blend" dial should be all the way to the right.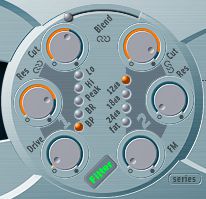 Now, let's sculpt the form of the snare. In the "Env 3" section, copy these settings. Later if you want a bigger body, modify the decay. If you decide you want a longer tail on the snare, adjust the release (Decay = D; Release = R).
Finally, let's get some distortion going on the snare to bump it up a bit, and have it say 'Hello'. Put your distortion on '˜Hard' and set the intensity to about 2 o'clock.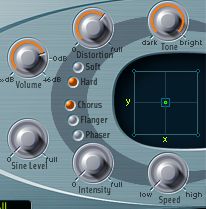 At this point, your snare should sound like this within your loop:
Step 4 - Setting up your Room

Alright, we've got a very dry, Atari 2600-sounding snare drum, and there's really nothing wrong with that, but it needs to sound a little more... alive!
So, the first step will be setting up some reverb. I have a little bit of a sense of humor when designing sounds, so I elected to use the impulse of a real snare drum. And what's the only reverb in Logic that would have something like this? Why, the Space Designer!
Set up Space Designer as an insert on your instrument track with the ES2. Next, we'll go inside and set up a reverb patch. The patch to select is 03 Small Spaces > 04 Gated Reverbs > 0.9s Studio Room Snare.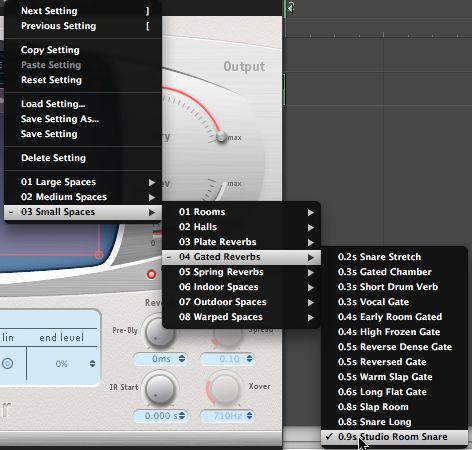 Once you have the appropriate patch in place, we need to do a slight tweak. Hey, we don't want to be using a plain vanilla patch, right? Adjust the reverb output to -19.5 dB. This will keep the reverb from being too overbearing. Actually, it will still be a little overbearing at this setting, but we aren't done yet. Hang in there.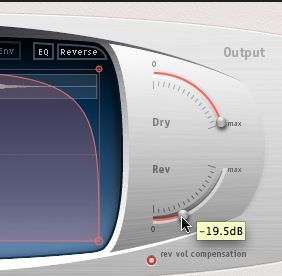 Step 5 - Add Some Crunch

Alright, we've got sound and ambience, but we need a little crunch. Something to keep the other kids from messing with our snare when he goes to school. Something that says, "I'm tough, and I don't need to smoke cigarettes". We'll add on the king of crap, the bit crusher. Set up the Bitcrusher as your second insert, and copy the settings below.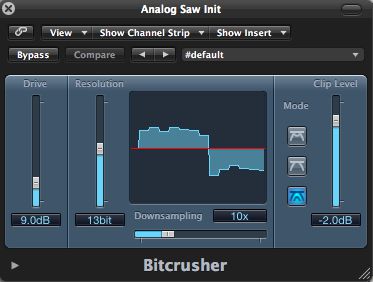 Okay, we've got the snare, we've given him some spine and a purple mohawk. He's tough, but to the point. I'll move my loop point to where it starts right at the snare hit in the sequencer and ends right at 1.3. When I bounce, it will start right with the snare, and the decay should be kept.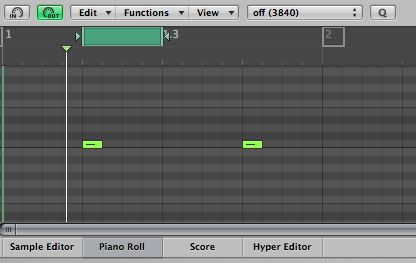 Let's take a listen:
So, there you go! A quick snare, with very little effort. Feel free to tweak the settings on your own and make it yours!
Check out Logic 206 - ES2 Exposed and the Logic 204 - Ultrabeat Unleashed to learn more about the ES2 and Ultrabeat!