Daft Punk's synth sounds, simply rule (a comment I'd like to make about their music in general). Let's find out how to re-create the sound used in Robot Rock using Logic's ES2 analog synth plugin.
Che cosa posso dire? Daft Punk synth suona semplicemente regola (un commento, mi piacerebbe fare della loro musica in generale). I suoni sono iconici. Classico. Altamente memorabili. Sono un fan. E quando Rounik mi chiese di scrivere un sound-design-in- Logic articolo per The Hub, mi sono ricordato di quando, durante una delle mie classi analogico maestro synth, uno studente ha chiesto come creare il suono synth sentito di Daft Punk "Robot Rock". Non solo era un grande divertimento per cercare di ricrearlo, ma mi ha ricordato di altri record classico in cui un suono utilizzando la sincronizzazione delle forme d'onda - è stato utilizzato come base per i ganci synth altrettanto definitiva - meglio conosciuto semplicemente come "sync" . Tra i record sono Neneh Cherry "Buffalo Stance" e The Cars, "Andiamo".

Ma abbastanza di me fare un viaggio nella memoria. Scopriamo come ricreare il suono usato in Robot Rock usando Logic ES2 synth analogici plugin!

Il Dipartimento reclamo, già ?

Mentre sto scrivendo questo articolo, le e-mail sono già inondazioni nel chiedere perché ho dovuto prendere logica più complessa plug-in virtual synth analogico per dimostrare come fare questo suono. Beh, ho due ragioni. Potrebbero anche essere quelle buone! Ti lascerò essere il giudice ...
In primo luogo, è l'unica delle spine Logic synth analogico che fornisce la capacità di produrre forme d'onda di sincronizzazione. E in secondo luogo c'è un suono in "Tutorial Impostazioni" cartella che dobbiamo solo fare piccole modifiche al fine di ottenere il suono usato in Robot Rock.
Sync: Fase 1

Caricare un'istanza di ES2 e quindi selezionare il molto blando-sondaggio "Sync Start" impostazione all'interno della "Esercitazione Impostazioni" cartella.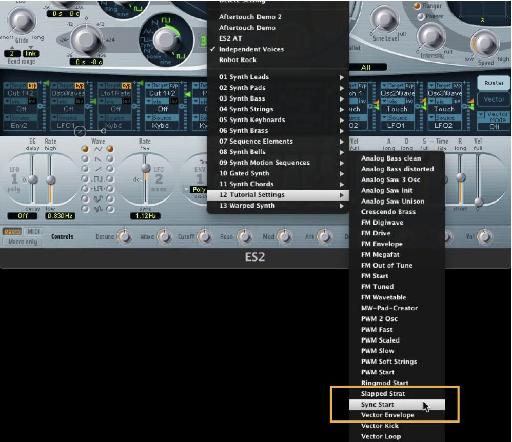 Una volta caricato, spostare la modwheel up abbastanza rapidamente come si suona una nota e sentirete il suono caratteristico strappo di un oscillatore sincronizzato. Il modwheel cause di questa azione, perché, come si può vedere nello slot 1 della matrice di modulazione, è pre-programmato per consentire di spazzare il campo dell'oscillatore 2 con i movimenti della ruota. Ma che cosa causa quel suono strappo?

Bene, questo si verifica quando il tono (frequenza) di un oscillatore (Osc. 2 in questo caso) viene modificato mentre la sua forma d'onda è costretto a ripristinare l'inizio del suo ciclo ogni volta che un altro oscillatore (il "oscillatore master" - Osc. 1) completa un ciclo a sé stante. E questo la sincronizzazione del punto di partenza della forma d'onda un oscillatore con un altro oscillatore è dove la parola "sync" deriva da. E così, come Osc. Forma d'onda 2 è costantemente ripristinata come si cambia il suo tono, la forma d'onda si piega letteralmente fuori forma nel processo, producendo quel suono classico strappo.

Ora che sapete la teoria, passiamo alla ...

Sync: Fase 2

Riportare la modwheel a zero, e nello slot modulazione secondo, aumentare la profondità di 0,93 (si avrà probabilmente bisogno di tenere premuto il tasto Shift per ottenere questo valore). Questo imposta la quantità di variazione del pitch che sta per verificarsi in Oscillator 2, questa volta per mezzo di ENV1 (generatore di inviluppo 1). Ora tutto quello che dobbiamo fare è regolare l'attacco ENV1 ei valori decadimento per ottenere la stessa "forma" dello sweep sincronizzazione sentito in Robot Rock:
Set Env 1 attack to 46.0 ms

Set Env 1 decay to 2500 ms

Voilà ! Abbiamo raggiunto il suono da Robot Rock! E a questo punto potreste trovare interessante confrontare questo suono a quelli usati nelle altre canzoni ho menzionato in precedenza in questo articolo. Sono molto simili!

Touches finale

Alla fine di ogni frase synth che sentirete saranno vibrato (passo vacillare) nel suono. Per ottenere questo effetto utilizzando il modwheel, procedere come segue:

Set LFO1's rate to 4.800 Hz

Set up modulation Slot 3 as you see in Figure 2 below, setting the modulation depth (orange triangle) to .18

Finally, click the b/p button on modulation slot 1 (bypass)

Ultimo ma non meno importante, si arriva un po 'più vicino al piccolo emulare il suono esatto Robot Rock impostando regolazione grossolana 2 dell'Oscillatore a -2 semitoni (-2S, 0c).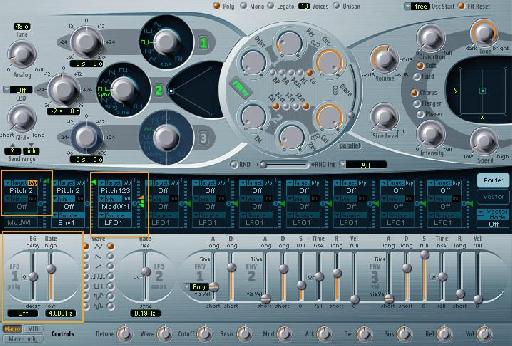 Alcune note ...
Undici, per la precisione - il numero di note in gancio Robot Rock. Nell'immagine qui sotto possiamo vedere il piano roll e redattore punteggio visualizzazione quelle note. Per motivi di copyright non ho trascritto il ritmo esatto di parte, ma le note sono facile preda.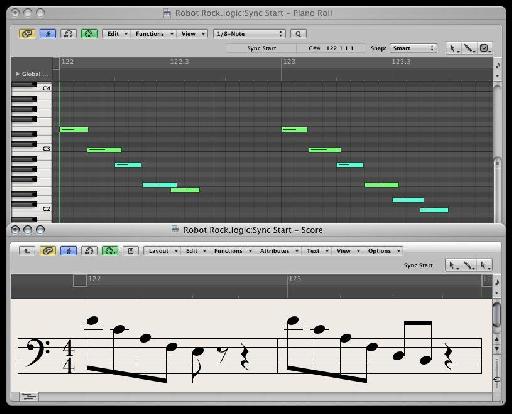 Una cosa che si potrebbe notare: se si dovesse giocare a queste note con la pista, il suono sarà fuori sintonia. Sembra essere il caso in ogni registrazione che ho sentito parlare di Robot Rock che il passo della pista è fuori di circa un quarto di tono. Questo si può rimediare mettendo a punto ES2 taglienti da 48 centesimi (quasi un quarto di tono) per ottenere il suono di tono.
Spero vi sia piaciuto fare questo suono!
Check-out e approfondito tutorial su come utilizzare il ES2 Logic