In Part 2 of this Quick Tutorial, we'll be looking at how to reproduce another synth sound from a recent pop hit...
In Part 2 of this Quick Tutorial, we'll be looking at how to reproduce another synth sound from a recent pop hit, The Black Eyed Peas' "The Time (Dirty Bit)":
For this tutorial, we'll be using Logic's ES2 soft-synth to recreate the slinky lead sound that comes in at 1:00. Let's get started.

Step 1 - Set Up the Logic Project
Open Logic, and start with a new empty project containing one Software Instrument track: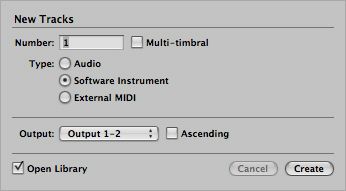 Click and hold the default EVP88 instrument in the I/O section of the channel strip and choose 01 Logic Instruments > ES 2 Hybrid Synth from the pop-up menu: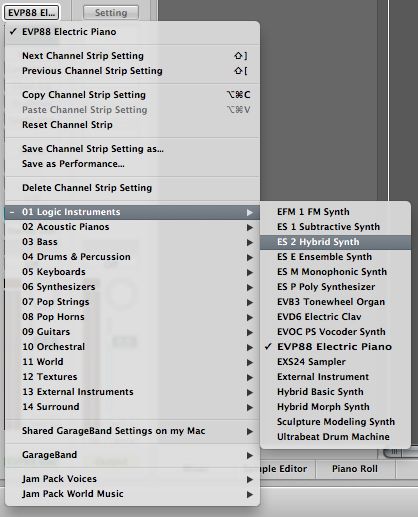 to open the default ES 2 window: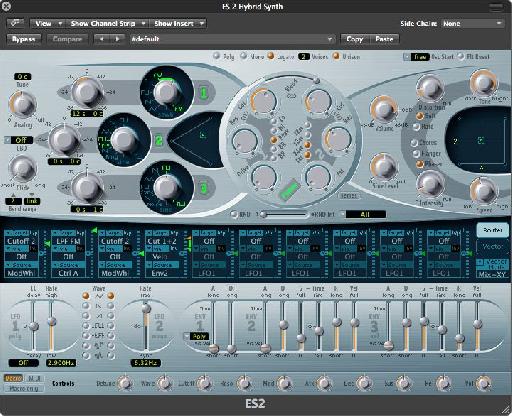 Step 2 - Analyze the Sound
As always, when we want to recreate a sound, we need to listen closely to the sound itself and try to figure out how it was put together. First, note that there are two pitches in the sound: in the figure played with this sound, the top pitch slides up and down between A# and B, but there's also a lower pitch following the upper pitch an octave and a fifth below, gliding between D# and E. So we're going to need at least two oscillators, and we want to set them up so we can easily glide between the notes. The sound of the bottom pitch is a little hard to make out in the mix, but seems to be a simple waveform. The upper pitch is dirtier'"in keeping with the song's title'"and seems to have either some distortion or some other modulation that adds grit. Let's see what we can do.
Step 3 - Create the Sound
OK, here's my version of the patch for you to follow along with: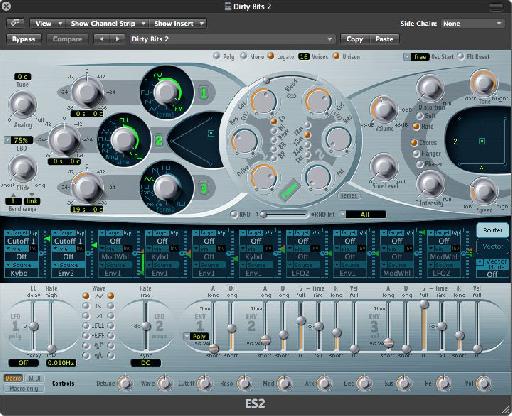 First, note that I have the Bend range set to 1; it sounds to me like this sound is played by just hitting the A# key and bending up to the B with the pitch wheel, then back down again, over and over. So by setting the Bend range to 1, all we have to do to play the sound is hit the A# in time and push the wheel all the way up to get the B, then let it drop back again for the A#.
Next, note that Oscillator 1 is being FM-modulated by Oscillator 2, which isn't itself heard. I was able to get a dirtier waveform out of Oscillator 1 by modulating it with a pulse wave from Oscillator 2. Also notice that Oscillator 3 is set to a relatively mild triangle wave, and it's tuned an octave and a fifth below Oscillator 1. Oscillators 1 and 3 will be our upper and lower pitches, respectively.
We also have some low-pass filtering on the mix of Oscillators 1 and 3. That same filter is also being opened a little more for the higher notes, thanks to the 'Kybd' modulation set for Cutoff 1 in the first slot of the Router, as well as by Envelope 1 as set in slot 2 of the Router. Other than that, the patch is pretty simple. I wasn't able to get quite the right waveform for the upper sound, but overall, it's quite close:
And that's it. As always, listen, experiment, and have fun!
Need a deeper understanding of synthesis? Watch Richard take you through the fundamentals of Analog Synthesis in a Digital World!