The Tab to Transient selection feature in Pro Tools is an easy way to navigate and edit audio. Logic Pro has similar functionality too! Mike Wakinson shows you how to navigate transients effortlessly.
Uno di Pro Tools ' più utili funzionalità di selezione di modifica deve essere 'Tab per transitoria'. Quando è abilitata è possibile spostare il cursore di modifica da transitoria a transitori premendo il tasto Tab. Tenere premuto il tasto Opzione fino a tornare indietro, tenere premuto il tasto Maiusc per creare ed estendere la selezione. E 'fantastico per la selezione rapida ed intuitiva e la modifica di materiale a base transitoria. Ma come si può fare questo in Pro Logic ?
Let's take a look...

Nella zona Arrange
Qui è possibile fare l'equivalente di un inserimento modificare facendo clic (piuttosto che strisciare / trascinamento) con lo strumento Selezione. Avendo il set strumento selezione come Comando-clic strumento velocità sempre questo. A meno che non li hanno personalizzato, il valore predefinito di comandi da tastiera
Si noti che questi comandi non sono da confondere con 'avanti da transitori' e 'Rewind da transitori' che si riferiscono alla posizione della testina.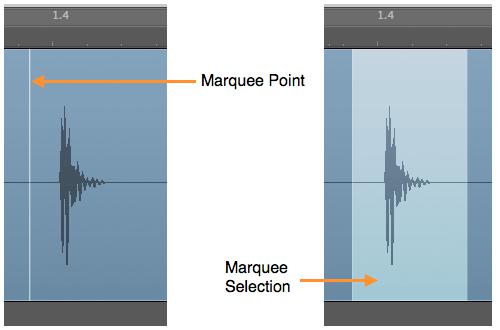 Selezione
Con il tasto Shift premuto i tasti freccia spostare la selezione inizio avanti e indietro. I tasti freccia senza tasto Shift spostare la finale della selezione avanti e indietro. Forse confusamente, una selezione può essere fatta anche spostando l'inizio selezione in vista della selezione finale. Le migliori pratiche per evitare confusione (e per collegare il comportamento chiaramente con l'editor di esempio - vedi sotto) è quello di cliccare l'inserimento tendone in vista del previsto prima transitoria, poi Maiuscole-Freccia sinistra la selezione inizio indietro a quel punto, e poi freccia destra ( nessun tasto Shift) alla fine la selezione in avanti. In alternativa, si può semplicemente fare una selezione Marquee per cominciare, quindi regolare come sopra.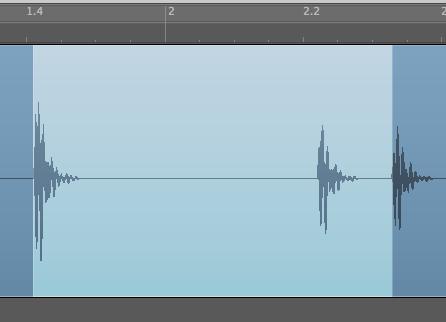 Transitori selezione che si basa Logic zona Arrange
Ma quale è meglio?
Gli utenti Pro die-hard Strumenti saranno consapevoli del fatto che il limite principale della scheda di selezione transitorio è che il bordo destro di una selezione non può essere spostata all'indietro se si overshoot il marchio (anche se questo può essere facilmente superato da spingendo all'indietro invece), quindi il fatto che la selezione Marquee Logic può avere il suo bordo destro regolato in entrambe le direzioni, dà il sopravvento.
Sensibilità 
Un'altra critica di Tab per transitori in Pro Tools è l'incapacità di regolare la sensibilità con la quale Pro Tools analisi transienti. Anche se funziona abbastanza bene nella maggior parte dei casi, Logic Pro va un meglio, permettendo all'utente di controllare il numero dei transitori rilevato. Aprendo la pista mappatura Beat tracce globale rivela un ' 'E' - 'pulsante che consente all'utente di aumentare o diminuire la quantità di transienti individuati visualizzati. Cliccando indietro sulla forma d'onda con lo strumento Selezione poi con i tasti freccia ancora una volta rivela che ora seguire una serie di raffinate transitori.
La scorciatoia da tastiera di default per aumentare e diminuire il numero di marcatori sono transitori = comando e di comando -. In questo modo non c'è bisogno di accedere alla pista beat Mapping, anche se può fornire una guida utile visivo!
Aumentando o diminuendo la sensibilità di rilevazione transitori
In Editor del campione
Gli stessi marcatori transitori possono anche essere visualizzati nella finestra Sample Logic Pro Editor. Facendo clic sul pulsante Transient Modalità di montaggio nella barra degli strumenti rivela i transitori, e cliccando su ' 'E' - 'pulsanti accanto ad esso ha lo stesso effetto cliccando loro controparti nella traccia mappatura Beat.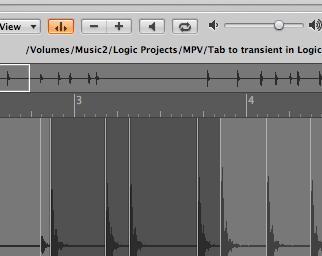 Regolazione transitoria Sample Editor
Cliccando nella forma d'onda con lo strumento Puntatore crea una 'modifica inserimento' che diventa una selezione con l'uso dei tasti freccia. Ancora una volta, premere i tasti freccia destra e sinistra con il tasto Shift per regolare l'inizio di selezione, senza il tasto shift che regola la fine selezione (questi sono i comandi da tastiera di default per 'Imposta Selezione di inizio / fine di Avanti / Indietro Transient). L'unica differenza di comportamento nella zona Arrange è che spostando la selezione inizio prima della fine selezione non si traduca in una selezione. Un punto sottile, forse, ma la pena ricordare, per evitare confusione!
Vuoi diventare un esperto Pro Logic ?