Programming your own synth sounds in Logic's ES2 doesn't have to be scary! Using the presets under 'Tutorial Settings' can help speed up the process. It can also be very fun. Read on to learn more.
Logic Pro verfügt über einige der mächtigsten Synths aus jeder DAW da draußen. Und sie sind nicht nur leistungsstark, sie klingen auch super.
Der ES2 hat eigentlich gekommen, um meine Favoriten aus allen von ihnen zu sein. Es muss nur das Geräusch, das polnische und Punsch für jede Strecke, die ich tun fügt. Es funktioniert erstaunlich, wie ein Bass, ein Pad, ein Arpeggio Teil ... Ich kann mich auf, und weiter.
Allerdings, wenn Sie versuchen, einen Patch mit einem Standard-ES2 erstellen, auch wenn sehr, sehr in der Synthese versiert youre starten, kann es eine schwierige Aufgabe sein. Its just wie die Logic Jungen über bei Apple roll! Sie geben Ihnen Software-Synthesizern, dass der Test der Zeit bestehen wird. Und das ist keine Übertreibung.
Apple hat uns einige "Cliff ist Notes" zu arbeiten, though. Sie können nicht einen Synthesizer-Guru sein, aber die meisten von uns wissen, wie man zu zwicken.
Tweak = Adjust zufällig Knöpfe und Tasten, bis Sie ein Pflaster, das gefällt, was Sie wollen, klingt zu bekommen.
Nein, das nicht der Webster-Definition, das ist meine eigene. Hassen.
Youve wahrscheinlich diese Zahl bereits getan: youve der Preset-Patches des ES2 gegangen, fand ein Pad oder Zeichenfolgen, die Sie gern, etwas in diese Richtung, und dann leicht modifiziert sie, nicht wahr?
Nun, in diesem Tutorial, wie Id, Sie zu etwas, die meisten Synthesizer-Herstellern gehören Punkt. Nicht alle von ihnen, aber die meisten. Diese werden manchmal auch Init-Patches, manchmal sind sie Templates genannt. Logic Pro nennt sie Tutorial-Presets.
Anstatt Gebäude aus der Grundlagenforschung Oszillatoren, wie Sie normalerweise würde, ist dieses Tutorial werde Ihnen zeigen, wie man bauen off von sehr, sehr einfach Standard-Patch zu beschleunigen Ihren Workflow und Komponieren.
Ein Szenario
Zuerst lassen Sie mich ein weiteres bekanntes Szenario. Denken Sie an jene Momente, in denen youre in der Mitte, einen neuen Song, Track, Produktion, was auch immer Sie sie nennen will. Youre hören Sie Ihre Nut, youre Spaß zu haben. Plötzlich hören Sie einen Teil in deinem Kopf wird mit einem Synth-Patch, der ganz besondere gespielt wird.
Sie beginnen zu graben um durch die Bibliothek, aber der Sound youre auf der Suche nach nicht angezeigt überall ... und seine so einfachen Ton.
Schritt 1 - Bring Up ein ES2
In Logic Pro, öffnen Sie eine leere Song-Projekt, erstellen Sie eine Software-Instrument-Spur und instanziieren ein ES 2 als Instrument: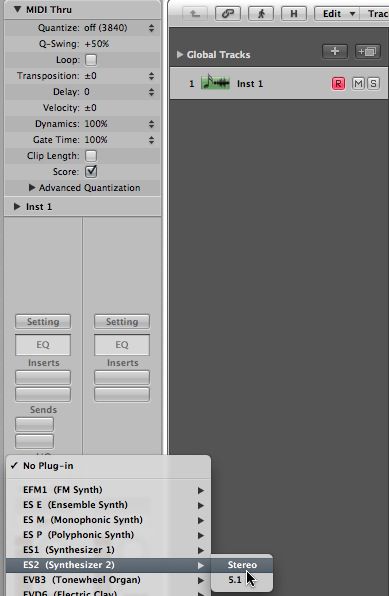 Zugegeben, diese Ãœbung wirklich auf das, was man in der Mitte ein Projekt zu tun ausgerichtet, sondern nur vorstellen, in den Mittelpunkt des Geschehens waren!
Schritt 2 - Suchen Sie die Tutorial-Patches
In der Preset-Auswahl-Menü, bis 12 gehen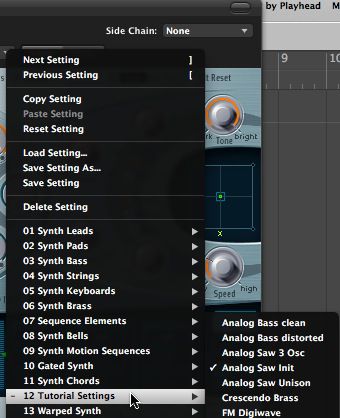 Wie Sie sehen können, gibt es ziemlich viele Patches in diesem Untermenü. Lassen Sie mich Ihre Aufmerksamkeit auf einige der Nützlichkeit hier. Zum Beispiel: Es ist die Analog Saw Init Patch. Das ist praktisch, denn wenn dieser Patch ausgewählt ist, Nullen im Wesentlichen die ES2, eine Menge wie youd Null aus einem Mixer. Es setzt man sich mit einer grundlegenden Sägezahn-Patch, den Sie von ohne gehen durch und setzen Sie die Routings zu einem grundlegenden Patch bekommen aufbauen können.
Schritt 3 - Wählen Sie Ihre Patch-
Nun können wählen Sie die Analog Saw Unison voreingestellt. Ich beginne mit diesem einen sehr viel, weil seine bullige schon, aber ist sehr einfach, zur gleichen Zeit.

Spielen Sie einige Noten auf Ihrem MIDI-Controller oder Capslock Keyboard und werfen Sie einen hören:
[Audio-id = "8395"]

Schritt 4 - Erstellen Sie eine geeignete Sequenz
Es gibt viele Möglichkeiten mit diesem einfachen Patch. Weil es so dick ist, es als eine hervorragende Lead, Pad genutzt werden kann, wie etc. Id, diese zu einem mutigen, arp, Staccato-Stil Patch zu machen.
Zunächst Ill in einem Arpeggio-Muster zu zeichnen, so kann ich den Patch programmiert, wie Id vorstellen hören können.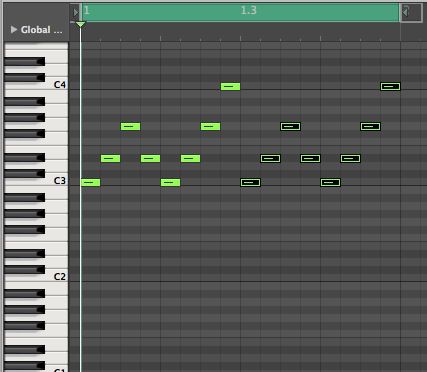 [Audio-id = "8239"]
Schritt 5 - Tweak der Patch
Mit dem Arpeggiator programmiert, Ill beginnen mit dem AMP 3 Envelope. Ill niedriger der Sustain den ganzen Weg hinunter. Stabs sind sehr glockig, und wir wollen diese Notiz vor dem gespielt Teil endet Verfall.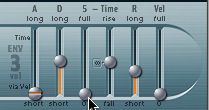 Anschließend gut Drop Decay auf etwa 110 ms.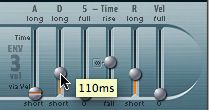 [Audio-id = "8238"]

Beachten Sie, dass seine viel choppier, aber viel besser im Hinblick auf die immer mehr Definition und Nervosität aus unserem gebrochenen Linie.
Und, wir können es noch weiter gehen. Da die ES2 hat einige wirklich erstaunliche eingebaute Effekte, lets go vor und stapeln einige von denen auf, auch. Ill gehen Sie vor und fügen Sie auf ein wenig Phaser mit der Intensity-Regler, und senken Sie die Geschwindigkeit auf 21 Hz. Dies wird eine subtile ätherische Wirkung auf die tapfere, kleine Synth Patch wir derzeit haben werde hinzuzufügen.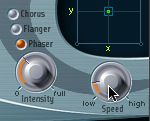 [Audio-id = "8240"]
Schritt 6 - Ändern der Character
Wenn ich mich entscheide, im Laufe meiner schnellen Sound-Design-Betrieb, die Id auf den allgemeinen Charakter meiner patch ändern möchten, können die ES2 leicht unterbringen. Zum Beispiel, wenn ich entscheiden, den Patch könnte ein Haar zu dick werden, Ill zurückziehen auf den Analog-Regler so ein, dass es nicht ganz so viel Verstimmung. Da die Phaser einen Hauch von Verstimmung, die bereits sehr verstimmt Standard-Patch, dieser kleine zwicken uns zurück geben einige der ursprünglichen Definition.

[Audio-id = "8241"]
Abschluss
Wie Sie sehen können, die ES2, wie alle Logic Pro Synthesizer , hat eine Fülle von Baustein-Typ klingt das leicht helfen können, erweitern Sie Ihre Bibliothek. Id empfehlen Ihnen, einige der anderen Tutorial Patches versuchen. Sie könnten am Ende den Aufbau eines völlig neuen, original Bibliothek für sich.