Programming your own synth sounds in Logic's ES2 doesn't have to be scary! Using the presets under 'Tutorial Settings' can help speed up the process. It can also be very fun. Read on to learn more.
Logic Pro a quelques-uns des synthés les plus puissants de toute DAW là -bas. Et, non seulement ils sont puissants, ils sonnent aussi bien étonnant.
L' ES2 a fait venir pour être mon favori parmi tous. Il vient que le son qui ajoute du punch à polir et chaque piste que je fais. Il fonctionne étonnamment comme une basse, un pad, une partie arpèges ... Je peux continuer, encore et encore.
Toutefois, lorsque vous commencez à essayer de créer un patch avec un défaut ES2, même si vous êtes très, très versé dans la synthèse, il peut être une tâche intimidante. C'est juste la manière dont les garçons plus logique au déploiement d'Apple! Ils vous donnent des synthétiseurs logiciels qui résisteront à l'épreuve du temps. Et ce n'est pas exagéré.
Apple n'a nous donner quelques "Cliff Notes" de travailler avec, cependant. Vous ne pouvez pas être un gourou de synthé, mais la plupart d'entre nous savent comment modifier.
Tweak = Régler les boutons au hasard et les boutons jusqu'à ce que vous obtenez un patch qui ressemble à ce que vous voulez.
Non, ce n'est pas la définition de Webster, c'est la mienne. Ne hais.
Youve probablement fait ce nombre déjà : youve allé à la patches de l'ES2, a trouvé un pad ou des chaînes que vous avez aimé, quelque chose du genre, et puis légèrement modifié ces, non?
Eh bien, dans ce tutoriel, Id tiens à vous indiquer quelque chose de la plupart des fabricants incluent synthé. Pas tous, mais la plupart. On les appelle parfois les correctifs Init, ils sont parfois appelés modèles. Logic Pro appelle les préréglages tutoriel.
Plutôt que de construire hors des oscillateurs de base, la façon dont vous le feriez normalement, ce tutoriel va vous montrer comment construire hors du patch par défaut très, très basiques pour accélérer votre flux de production et de composition.
Un scénario
Tout d'abord, laissez-moi vous donner un autre scénario familier. Pensez à ces moments où vous êtes au milieu de faire une nouvelle chanson, la piste, la production, tout ce que vous voulez les appeler. Youre écoute de votre gorge, vous êtes en s'amusant. Soudain, vous entendez un rôle dans votre tête se joue avec un patch de synthé qui est très particulier.
Vous commencez à creuser autour par la Bibliothèque, mais le son vous êtes à la recherche d'n'apparaît pas partout ... et de son exemple un son simple.
Étape 1 - Apportez Jusqu'à une ES2
Dans Logic Pro, ouvrez un projet morceau vide, créer une piste d'instruments logiciels et d'instancier une ES 2, comme l'instrument: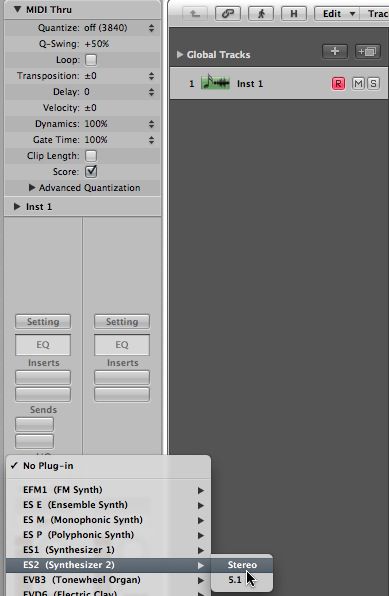 Certes, cet exercice est vraiment orientée vers ce que vous feriez dans le milieu d'un projet, mais imaginez étaient dans le vif du sujet!
Étape 2 - Localiser les patchs Tutoriel
Dans le menu de sélection de preset, passez à 12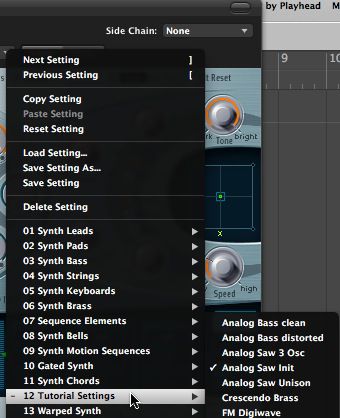 Comme vous pouvez le voir, il ya un quelques taches au sein de ce sous-menu. Permettez-moi de commencer à dessiner votre attention sur certains de l'utilité ici. Par exemple: il ya le correctif analogique Saw Init. C'est pratique parce que quand ce patch est sélectionné, il zéros essentiellement l'ES2, un peu comme nulle youd un mélangeur. Il vous met en place avec un patch en dents de scie de base que vous pouvez construire à partir sans avoir à passer à travers et réinitialiser les routages pour obtenir un patch de base.
Étape 3 - Choisissez votre patch
Maintenant, laisse choisir la scie unisson analogique prédéfinie. Je commence avec celui-ci beaucoup parce que ses costauds déjà , mais est très basique, en même temps.

Lisez quelques notes sur votre contrôleur MIDI ou clavier Capslock et prendre une écoute:
[Audio id = "8395"]

Étape 4 - Faire une séquence appropriée
Il ya beaucoup de possibilités avec juste cette simple patch. Parce qu'il est si épaisse, elle peut être utilisée comme un plomb, pavé excellente, etc Id souhaite faire cela en un cran, arp, staccato style patch.
Tout d'abord, attirer l'Ill dans un modèle de l'arpège, de cette façon je peux entendre le patch programmé l'identifiant ainsi imaginer.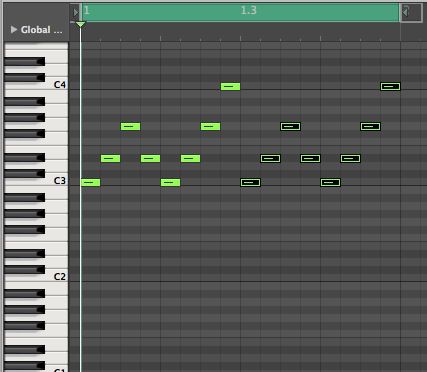 [Audio id = "8239"]
Étape 5 - Tweak du Patch
Avec les arpèges programmés, commencent mal avec la A, 3 enveloppes. Ill baisser le Sustain tout en bas. Stabs sont très en forme de cloche, et nous voulons cette note à la pourriture avant la fin du rôle joué.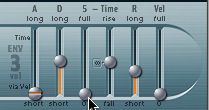 Ensuite, bien laisser tomber le Decay bas à environ 110 ms.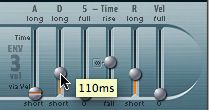 [Audio id = "8238"]

Notez que son saccadé beaucoup, mais mieux en termes d'obtenir plus de définition et la nervosité de notre ligne de arpégés.
Et, nous pouvons aller encore plus loin. Parce que l'ES2 a quelques vraiment étonnant des effets intégrés, laisse aller de l'avant et pile sur certains de ces trop. Ill aller de l'avant et ajouter un peu de Phaser l'aide du bouton d'intensité, puis réduire la vitesse à 21 Hz. Cela va ajouter un effet subtil éthérée à l'courageuse, patch petit synthé que nous avons actuellement en cours.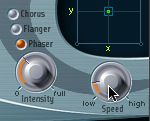 [Audio id = "8240"]
Étape 6 - Modification du caractère
Si je décide, pendant le cours de mon bon fonctionnement conception rapide, que Id comme pour modifier le caractère global de mon patch, l'ES2 peut facilement accueillir. Par exemple, si je décide de le patch pourrait être un poil trop épais, Ill tirez sur le bouton analogique de sorte que ce n'est pas tout à fait autant de désaccord. Comme le Phaser ajouté une touche de désaccord au patch par défaut déjà très désaccordées, ce petit tweak va nous redonner un peu de la définition originale.

[Audio id = "8241"]
Conclusion
Comme vous pouvez le voir, l'ES2, comme tous les synthés de Logic Pro , possède une richesse de sons type de bloc de construction qui peut facilement vous aider à améliorer votre bibliothèque. Id vous encourageons à essayer quelques-unes des patchs tutoriel d'autres. Vous pourriez finir par construire un tout nouveau, bibliothèque d'origine pour vous-même.