Programming your own synth sounds in Logic's ES2 doesn't have to be scary! Using the presets under 'Tutorial Settings' can help speed up the process. It can also be very fun. Read on to learn more.
Logic Pro tem alguns dos mais poderosos sintetizadores de qualquer DAW lá fora. E, não só eles são poderosos, eles som incrível também.
O ES2 tem realmente veio para ser o meu favorito de todos eles. Ele só tem que o som que adiciona polonês e socos para todas as faixas que eu faço. Ele funciona como um surpreendentemente baixo, uma almofada, uma parte arpeggiated ... Eu posso ir, e por diante.
No entanto, quando você começa a tentar criar um patch com um padrão ES2, mesmo se você está muito, muito versado em síntese, pode ser uma tarefa assustadora. Sua apenas como os meninos mais Logic no rolo Apple! Eles dão-lhe sintetizadores software que vai resistir ao teste do tempo. E isso não é exagero.
A Apple fez nos dar alguns "Cliff Notes" para trabalhar com, no entanto. Você não pode ser um guru synth, mas a maioria de nós sabe como ajustar.
Tweak = Ajuste knobs e botões aleatórios até chegar um patch que soa como o que você quer.
Não, esta não é a definição de Webster, esta é a minha própria. Não ódio.
Você provavelmente já fez este número: youve ido para os patches preset do ES2, encontrou uma almofada ou cordas que você gostou, algo nesse sentido, e depois ligeiramente modificado, certo?
Bem, neste tutorial, eu gostaria de apontar-lhe algo que a maioria dos fabricantes incluem synth. Nem todos eles, mas a maioria. Estas são algumas vezes chamados patches Init, às vezes eles são chamados de templates. Logic Pro chama presets tutorial.
Ao invés de construir fora de osciladores básicos, a forma como faria normalmente, este tutorial vai lhe mostrar como construir fora do patch padrão muito, muito básico para acelerar o seu fluxo de trabalho e compondo.
Um cenário
Primeiro, deixe-me dar-lhe um outro cenário familiar. Pense sobre aqueles momentos quando você está no meio de fazer uma nova canção, faixa, a produção, o que você quiser chamá-los. Youre ouvir o seu groove, você está se divertindo. De repente, você ouve uma parte em sua cabeça que está sendo jogado com um patch synth que é muito particular.
Você começa a cavar em volta através da Biblioteca, mas o som você está procurando não está aparecendo em qualquer lugar ... e seu som como uma simples.
Passo 1 - Bring Up um ES2
Em Pro Logic, abra um projeto canção vazia, crie uma trilha Instrumento Software e instanciar um ES 2 como o instrumento: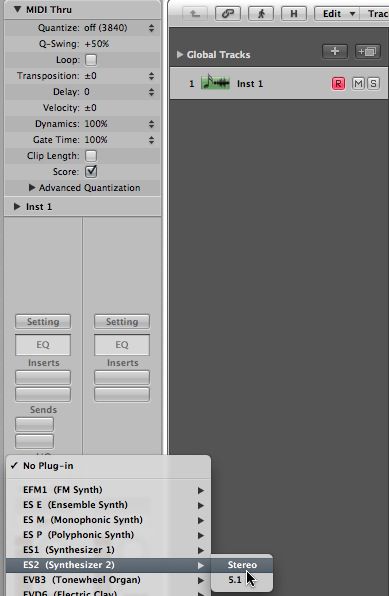 Concedido, este exercício é muito voltada para o que você faria no meio de um projeto, mas imagine se no meio dela!
Passo 2 - Localize o Patches Tutorial
No menu de seleção predefinidos, vá para 12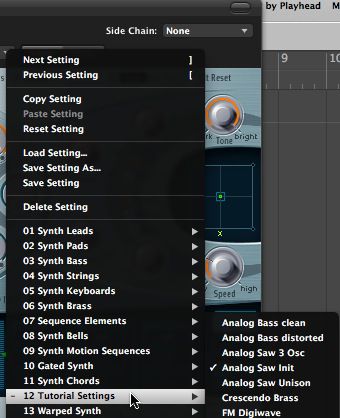 Como você pode ver, existem muito poucos fragmentos, dentro deste sub-menu. Deixe-me começar a desenhar a sua atenção para alguns dos utilidade aqui. Por exemplo: há o analógico Saw remendo Init. Isso é útil porque, quando este patch é selecionado, ele essencialmente zera a ES2, muito parecido com youd zerar um mixer. Estabelece-lo com um patch sawtooth básicas que você pode construir a partir sem ter que passar e redefinir as rotas para obter um patch básica.
Passo 3 - Escolha o seu patch
Agora, vamos escolher o analógico Saw Unison predefinido. Eu começar com um presente muito, porque a sua beefy já, mas é muito básico, ao mesmo tempo.

Reproduzir algumas notas sobre o seu controlador MIDI ou teclado Capslock e tomar uma escuta:
[Audio id = "8395"]

Passo 4 - Faça uma seqüência apropriada
Há um monte de possibilidades com apenas um remendo esta simples. Porque é tão espessa, ela pode ser usada como um excelente bloco de chumbo, etc eu gostaria de fazer isso em um plucky, arp, patch staccato estilo.
Primeiro, Ill desenhar em um padrão arpeggiated, desta forma eu posso ouvir o patch programado o Id maneira imaginar.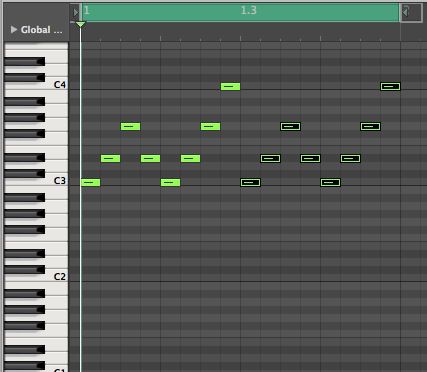 [Audio id = "8239"]
Passo 5 - Tweak o patch
Com o arpejo de início, programado mal com os 3 Amp Envelope. Mal menor do Sustain todo o caminho. Facadas são muito sino-like, e queremos esta nota a decadência antes da conclusão da parte desempenhada.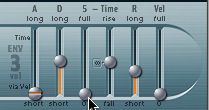 Em seguida, bem largar o Decay para cerca de 110 ms.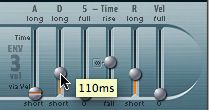 [Audio id = "8238"]

Note-se que o seu choppier muito, mas a melhor maneira em termos de conseguir mais definição e nervosismo fora da nossa linha de arpeggiated.
E, podemos levá-la ainda mais. Porque o ES2 tem algumas realmente incrível built-in efeitos, vamos em frente e pilha de alguns desses, também. Mal vá em frente e adicionar um pouco de Phaser usando o botão de intensidade, e depois diminuir a velocidade a 21 Hz. Isto irá adicionar um efeito sutil etéreo ao plucky remendo synth, pouco temos atualmente acontecendo.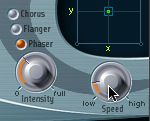 [Audio id = "8240"]
Passo 6 - Modificação do Caráter
Se eu decidir, durante o curso da minha operação rápida sound design, que eu gostaria de modificar o caráter global do meu patch, o ES2 pode facilmente acomodar. Por exemplo, se eu decidir o patch pode ser um cabelo muito grosso, mal puxe o manípulo analógico para que a sua não detuning tanto. Como a Phaser acrescentou um toque de dessintonia com o patch padrão já muito detuned, este pequeno tweak vai nos devolver alguma da definição original.

[Audio id = "8241"]
Conclusão
Como você pode ver, o ES2, como todos os synths Logic Pro , tem uma riqueza de sons de construção de blocos tipo que pode facilmente ajudá-lo a melhorar sua biblioteca. ID de incentivá-lo a experimentar alguns dos patches outro tutorial. Você pode acabar construindo uma inteiramente nova biblioteca, original para si mesmo.