Mastering is an essential part of the production process but many still remain in the dark about how to produce a professional sounding master at home. The truth is it's really not that difficult to g
Mastering is an essential part of the production process but many still remain in the dark about how to produce a professional sounding master at home. The truth is it's really not that difficult to get really pleasing results, even without the latest hardware or most expensive plug-ins.
To get you started I'll show you how to apply some mastering processing to your projects using only Logic Pro's bundled plug-ins. You can get very similar results in just about any DAW now using only the included plug-ins. Hopefully this will get you going regardless of the software you are using.
01 - Initial import and Pre-Flight Check

Before any processing is applied I'd strongly advise you take a close look at the audio you are working with. Whether you do this in a third party audio editor (Such as Soundtrack Pro or Peak Pro) or in Logic itself, this sort of quality control session can really pay off.
You should be looking for faults, clicks, pops and any clipping that may be present in your pre-master. Ideally the file should have at least 3-4db of headroom and be in high bit depth. 24 bit / 44.1khz is an excellent resolution to work at and offers a good compromise between file size and fidelity.
It's also a good idea to to have a buffer consisting of a small amount of silence at the start and end of the file and ideally any heavily limited or compressed audio should be rejected or re exported for a more transparent alternative.
Here you can see a clip of a drum and bass track I'm using for the purposes of this tutorial. I have opened it in Peak Pro and so far everything looks good. I'm ready to start applying my processors.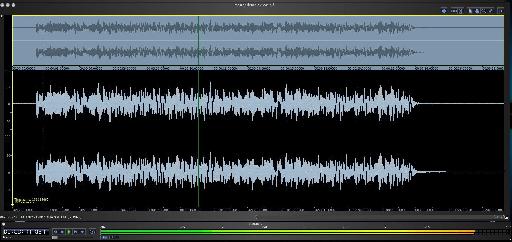 Our audio is checked in Peak Pro for faults and levels
The unmastered audio we'll be using:
02 - Dynamics Control

Your masters dynamics should be right at the top of the list when it comes to processing, in fact it's arguably the most important aspect of mastering. The first thing to think about here is some straight up buss compression.
All I've done is grab one of Logic's standard compressors and strapped it across the entire mix. The main difference to this sort of compression and processing you would apply during in the mix process is the the settings are generally a lot more subtle.
You'll notice my attack and release settings are very long, this means the compressor can't clamp down too quickly on any wayward transients and no artificial '˜pumping' should be introduced. The result should be transparent but effective.
The ratio and threshold settings are also in line with this '˜less is more' philosophy, only 2 or 3db of gain reduction is applied here. You can get away with a touch more at the loudest points of your track. Of course this isn't written in stone, it's just that anything past this will result in an obviously compressed master. If this is what you're looking to achieve then you can push things a little further.
Below you can see and hear Logic's basic compressor doing an excellent job of impersonating a mastering buss compressor. A cohesive quality is added when using a compressor in this way and any wayward peaks should be ironed out nicely.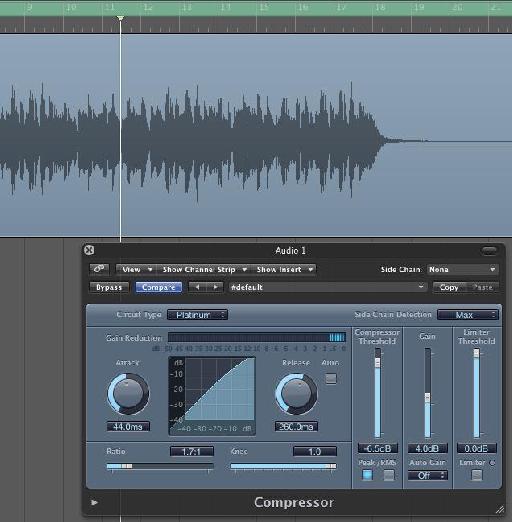 Logic's compressor performing as a buss compressor
The compressed audio plays back:
03 - The Great Equaliser
Next up you'll want to take a look at the tonal qualities of your mix. If all went according to plan during the mixing process you shouldn't have a huge amount of work to do here, and remember if there is a real problem frequency to deal with, if you can go back to the mix and fix it you, you should.
Unless you are working with a mix that can't be altered, the changes you make here can be really subtle, and again, transparency is what we are aiming for. The real key here is using large, wide brush strokes. So low Q points and additions or subtractions of only a few db at a time.
As you are working with the whole mix even these small changes can make quite drastic differences in the overall sound. 2 or 3db of high frequency added in this fashion can lift the whole mix adding air and clarity, without any intrusion on the original character.
I have used Logic's high quality '˜Linear Phase' equaliser to induce some extra high end and also a touch of sub bass. The effect is pretty pleasing and extremely transparent in nature. There is also a low cut set at 2h0z to remove any unwanted super low sub frequencies.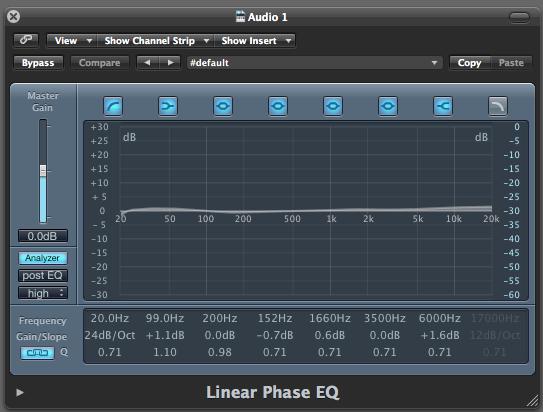 Our very subtle EQ settings are dialled in
The EQ is added to the chain:
04 - Far and Wide
Stereo enhancement is not something I'm a massive fan of but I know there are people that use it. If you must use this sort of processing on your masters it has to be in a controlled way and it should really be frequency specific.
Luckily, Logic's stereo enhancer plug-in is capable of some subtle effects perfect for the mastering process. Not only can you mix the wet and dry signal but you can also dial in exactly where in the frequency range the expansion takes place.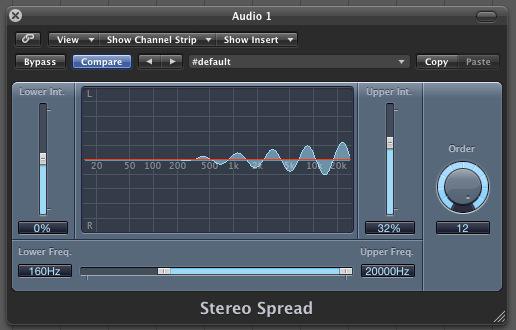 The high frequencies are expanded
This is essential as any stereo widening in the lower frequencies can cause real problems, including loss of intelligibility and phase issues. Widening higher frequencies is a little more fool proof. As you can see from my example I have used some subtle expansion in the high end of my clip.
The stereo treated audio:
05 - Know your Limits
The final thing in anyone's mastering chain should be a limiter. Our mastering limiter does two real jobs, it ensures that the final level doesn't go over a predetermined point but it is also capable of increasing the perceived volume of our masters.
This sort of mastering grade limiting is often known as brick-wall limiting, this simply refers to the absolute limit it imposes. Some other limiters may not be as strict and are perhaps not predicable enough for the task of mastering.
These mastering limiters usually work by being driven at their input stage, once the signal is '˜pushed' against the brick-wall (at the limiters output stage) gain reduction occurs. This gain reduction causes a loss of dynamic range and in turn an increase in perceived volume.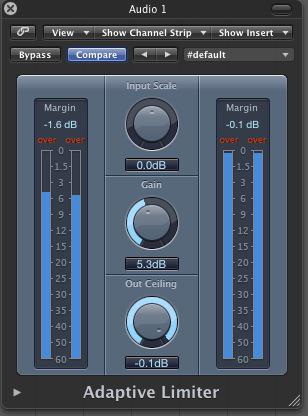 Logic's Adaptive Limiter doing it's thing
Logic's adaptive limiter does an excellent job of limiting masters and has an extremely simple interface. I have dialled in around 4 db of extra gain at the input stage. Always be careful that you are not destroying the dynamic range and allow the final master some room to breathe.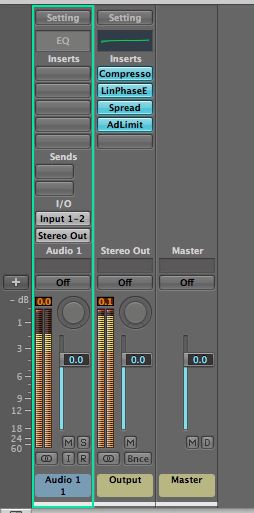 The final mastering chain
The final mastered audio in action:
Learn the SteveH way on Mastering in Logic.