The Marquee Stripe is a hidden gem, your Logic buddy, something you're likely to call on when arranging your compositions in Logic Pro. Jay Asher demonstrates its power in this tutorial.
One thing you can always count on with Logic Pro is that for almost any task, there will be multiple ways to accomplish it. This is very true for editing tsk in the Arrange area, but for me, most often the quickest and most efficient way will be to use the Marquee Tool. If you are not utilizing it, then you should be. Checkout Rounik Sethi's excellent Hub article here:

http://www.macprovideo.com/hub/logic-pro/5-amazing-ways-logics-marquee-tool
However, even many 'power users' who do use the Marquee Tool either are unaware of or simply do not utilize its kissing cousin, the Marquee Stripe. Small wonder, as the developers seem to have gone to great length to hide it.
So first off, where do I find the friggin' thing? Look for the little note icon in the upper right hand corner of the Arrange window, just under your primary and secondary tools.

Holding the mouse down on the icon will bring up a menu where you can check Marquee Stripe to enable it.
In the picture below, you can see that there is now a 'stripe' available just above the bar ruler. (At this point, you will want to lock your Screenset.)

Let's get busy. I want to copy Verse 2 to measure 129 and there are a lot of regions in this song so trying to 'rubber band' over them with the Marquee Tool or shift-select them could be imprecise and time consuming. In the pic below, you can see that I have simply drawn in over the Verse 2 marker in the Marquee Stripe and that all the regions and sections of regions in that verse are highlighted.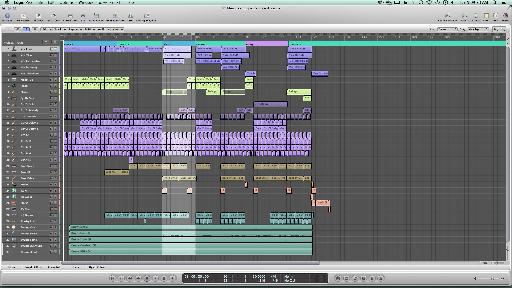 All I need to do now is hold the option key and drag the selection to measure 129 and as you can see by the highlighted regions below, it is done.
So far, so good! Here is something even cooler though. The Bridge comes after Chorus 2, but maybe it really should have come just before it.
Notice that I have changed my Drag mode to Shuffle L. (left)

I draw in over the Bridge section in the Marquee Stripe and as before, all the regions and sections of regions that fall in that part of the song are selected. All I need do now is drag them to the Chorus 2 section.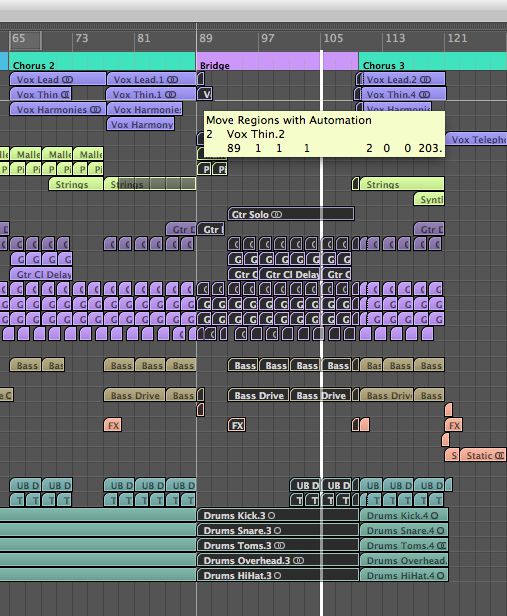 ...and more quickly than you can say 'politician flip-flop' as you can see below, they are reversed. Simple and fast.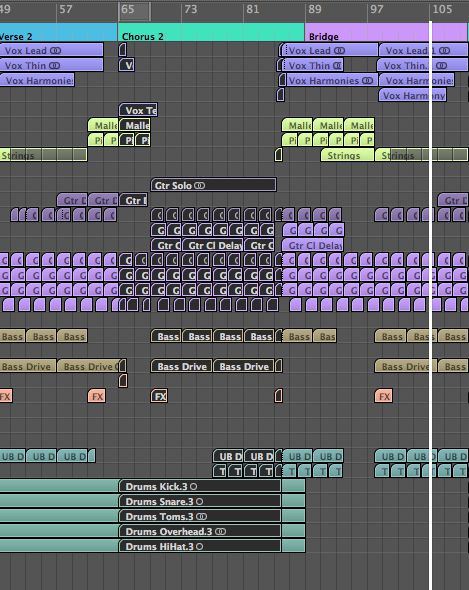 The only downside, and therefore a feature request to the Logic developers, is that as you can see, Markers are not included in the Marquee Stripe selection.
One more or the road, shall we? I want to eliminate Chorus 2. Making sure that I still have Shuffle L as my drag mode, I drag in the Marquee Stripe over the Chorus 2 section and hit the delete key. Hasta la bye-bye, Chorus 2!
Could it be easier? I don't think so, so my advice is to make friends with the Marquee Stripe, one of Logic Pro's hidden gems.