Perhaps one of the less shouted about areas of Logic Pro X is the Score Editor. Jay Asher discovers that changes have been made, and good ones at that! Read about his top 5 in this article.
Logic Pro X ist hier und sehr zu meiner Freude. Zum ersten Mal in eine ganze Weile einige Aufmerksamkeit auf Logic Pro Score Editor gezahlt worden ist. Während 90% der mein Buch, Punkten Mit Logic Pro ist immer noch sehr relevant, können Sie erwägen diesem Artikel einen Nachtrag für Logic Pro X.
Wenn man sich Bild 1 anschaut, kann man sehen, dass es Lücken zwischen den Regionen sowohl in der Flöte und Oboe Teile. In früheren Versionen von Logic Pro, wenn Sie den Noten-Editor geöffnet in der Standardkonfiguration Linear View, gäbe es Lücken in der Anzeige, wo es fehlt Regionen wurden sein.
1. Eingewickelt anzeigen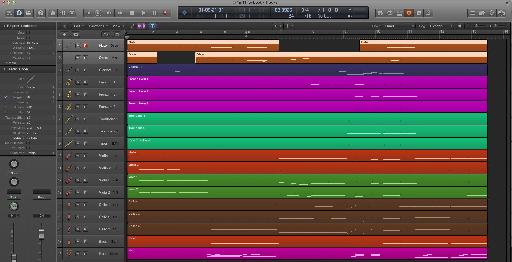 Pic 1
Aber jetzt gibt es eine neue Option, die sogenannte Eingewickelt View, die Sie sehen, ich bin in Bild 2 Auswahl können.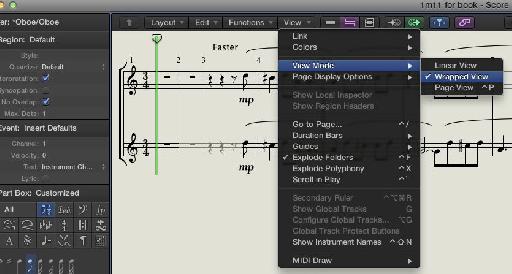 Pic 2
In Bild 3, bitte beachten Sie, dass die fehlenden Maßnahmen gefüllt wurden in. I love this!

Pic 3
2. Anpassbare Teil Boxes
In Abb. 4 sehen Sie den Part Box, wie es in Logic Pro 9 erscheint. Während Sie gezielt sehen, was in einem Teil Gruppe, indem Sie darauf sein würde es schön, in der Lage sein, um Gruppen anpassen? (Das ist eine rhetorische Frage.)

Pic 4
In Abb. 5, hier ist der Teil der Box mit Zugang zu einer Sub-Gruppe namens Customized während in Abb. 6 sehen Sie die optionalen Filter, die in jedem neuen Projekt.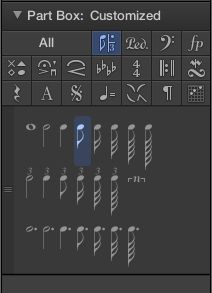 Pic 5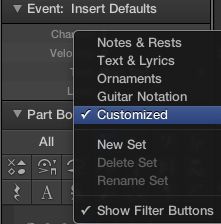 Bild 6
In Bild 7, habe ich alle und ausgewählt dann einfach abgewählt die spezifischen Gruppen, die ich nicht sehen will. Ich kann dann wählen, um einen neuen Satz zu erstellen und nennen Sie es, wie ich in Bild 8 getan haben. Ich kann dann auf alle zurück, und erstellen Sie einen anderen Satz.

Pic 7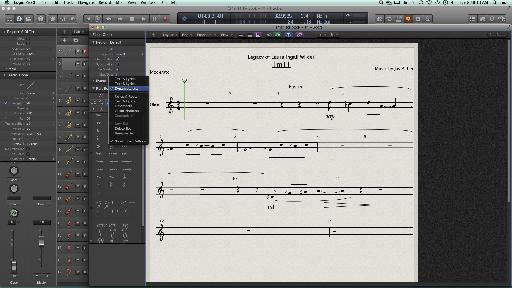 Bild 8
Diese benutzerdefinierten Teil Box-Sets sind weltweit auf LP X und wird daher nun in jedem Projekt.
3. Staff Stil
Sie können nicht mehr auf einem Personal Stil doppelklicken, um seine Eigenschaften zu sehen. Stattdessen müssen Sie nach unten scrollen, um den Boden des Auswahl, oder gehen Sie unter dem Menü Layout und wählen Sie zeigen Staff Styles, oder drücken Sie die Taste Befehl zugewiesen, dies zu.
Meine erste Reaktion war, was eine Drag bis ich sah, das neue Personal Style Editor öffnen, die Sie in Bild 9 zu sehen.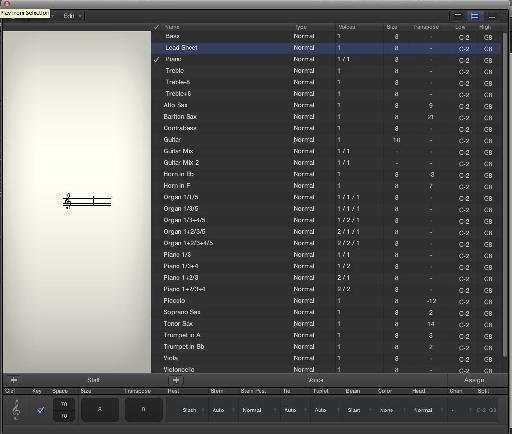 Bild 9
Jetzt haben wir die Möglichkeit zu schaffen, zu vervielfältigen, bearbeiten und alle unsere Mitarbeiter Styles in einem Fenster, was eine großartige Zeitersparnis ist.
So ziemlich alles, was ich dito über das Personal Style Editor für das Ergebnis Set Editor geschrieben. Leistungsfähiges Werkzeug. Siehe Bild 10.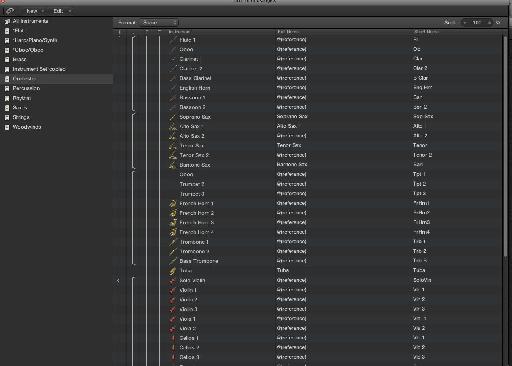 Bild 10
4. Extrahieren von Teilen aus einem Full Score
In der Vergangenheit hatte ich immer ein Ergebnis-Set oder jedes Instrument für Teile Ausdruck in einem separaten Logic-Projekt halten zu schaffen. Wenn dies erweist sich als praktikabel, wie ich sie erweisen sich als zu denken, kann das nicht mehr nötig sein. In jedem Fall ist es einfacher.
Um dies durchzuführen, muss lediglich eine Option auf das Ergebnis an der Spitze der Inspector Set und ein Instrument wählen. Es wird eine Personal-Art mit dem tatsächlichen Namen des Gerätes erstellen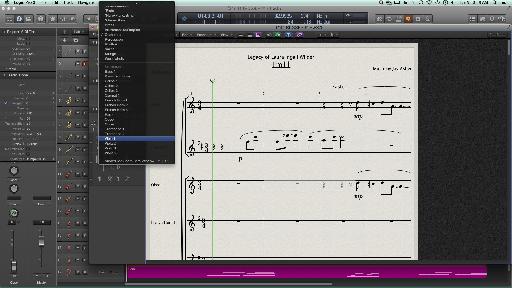 Bild 11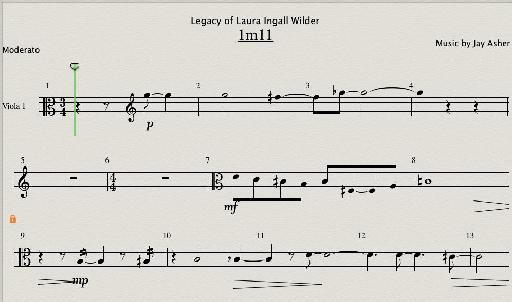 Bild 12
5. Genauere Dauer Bars
Eine Spitze des Hutes zu meinem Freund und Kollegen macProVideo Einsender, Peter Schwartz, für die Beratung von mir dieses: Dauer Bars nun korrekt angezeigt Notenwerten von gleicher Dauer, das war nicht immer in der Vergangenheit wahr. Siehe Bild 13.

Bild 13
Ich bin sicher, dass, wie ich tiefer in Logic Pro XI werde viele weitere verborgene Schätze, die vielleicht sein wird günstiger als diese Verbesserungen der Noten-Editor zu entdecken. Aber sprechen für alle lange Logic Pro Anwender, die ganz offen begann hatte, daran zu zweifeln, dass es jemals zu weiteren Verbesserungen der Noten-Editor sein, danke Apple!