Perhaps one of the less shouted about areas of Logic Pro X is the Score Editor. Jay Asher discovers that changes have been made, and good ones at that! Read about his top 5 in this article.
Logic Pro X está aquí y para mi deleite. Por primera vez en bastante tiempo un poco de atención se ha prestado a Logic Pro editor de partituras. Mientras que el 90% de mi libro, Hacer Con Logic Pro sigue siendo muy relevante, puede considerar este artículo una adenda para Logic Pro X.
Si nos fijamos en Pic 1, se puede observar que existen diferencias entre las regiones, tanto en la flauta y oboe partes. En versiones anteriores de Logic Pro si abrió el Editor de Partituras en su defecto View lineal, habría lagunas en la pantalla, donde faltaban las regiones.
1. Ver Envuelto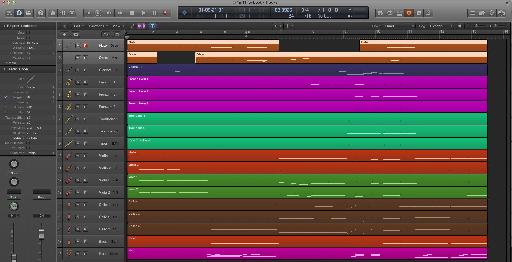 Pic 1
Pero ahora hay una nueva opción llamada View Envuelto, que se puede ver que estoy seleccionando en Pic 2.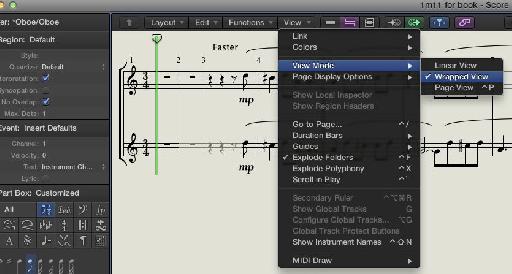 Pic 2
En Pic 3, nota por favor que todas las medidas que faltan se han llenado pulg Me encanta esto!

Pic 3
2. Cajas Parte personalizables
En Pic 4 se puede ver la caja de la parte tal y como aparece en Logic Pro 9. Mientras que usted puede ver específicamente qué es parte de un grupo haciendo clic en él, ¿No sería agradable ser capaz de personalizar grupos? (Esa es una pregunta retórica.)

Pic 4
En Pic 5, aquí está la apertura a un sub-grupo llamado personalizada, mientras que en el Cuadro 6 Pic parte, se puede ver los filtros opcionales que se encuentran en cualquier proyecto nuevo.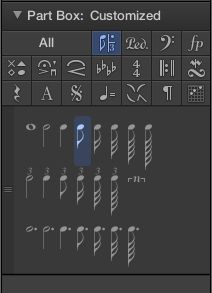 Pic 5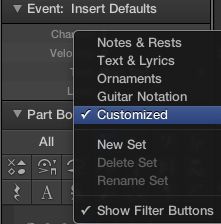 Pic 6
En Pic 7, he seleccionado todo y luego simplemente no seleccionado los grupos específicos que no quiero ver. Entonces puedo elegir crear un nuevo grupo y el nombre, como lo he hecho en el Pic 8. Entonces puedo volver a todos y crear otro conjunto.

Pic 7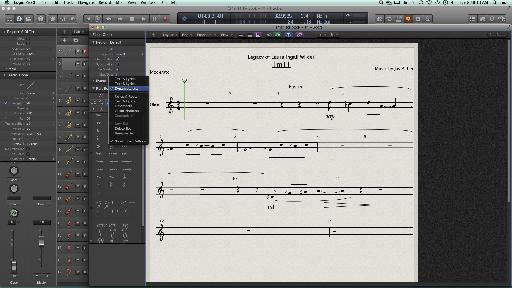 Pic 8
Estos Sistemas de la caja de la Parte personalizados son globales para LP X, por lo que ahora estarán en cada proyecto.
3. Estilo personal
Ya no se puede hacer doble clic en un estilo personal para ver sus propiedades. En su lugar, debe desplazarse hasta la parte inferior de la selección, o ir en el menú Layout y seleccione Mostrar estilos de pentagrama, o pulse la tecla de comando asignado a este.
Mi primera reacción fue de lo que es un lastre hasta que vi el nuevo Editor de Estilo Personal abrir que se ve en la Fig 9.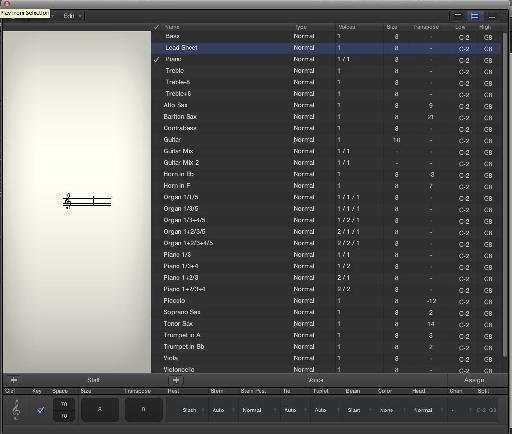 Pic 9
Ahora tenemos la capacidad de crear, duplicar y editar todos nuestros estilos de pentagrama en una ventana, que es un ahorro de tiempo increíble.
Más o menos lo mismo que todo lo que escribí sobre el editor de estilo personal para el Set Score Editor. Herramienta de gran alcance. Ver foto 10.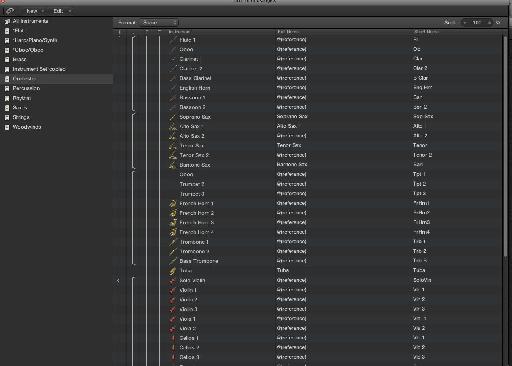 Pic 10
4. Extraer partes de una partitura completa
En el pasado, siempre he tenido que crear un índice de Set o cada instrumento para mantener a las partes para la impresión en un proyecto de Logic separado. Si se demuestra que es tan viable como creo que va a llegar a ser, que puede haber dejado de ser necesarios. De cualquier manera, es más fácil.
Para realizar esto, basta simplemente con Opción-clic en la puntuación establecida en la parte superior del Inspector y elegir un instrumento. Se va a crear un estilo personal con el nombre real del instrumento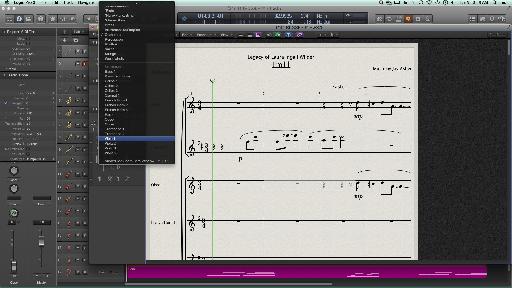 Pic 11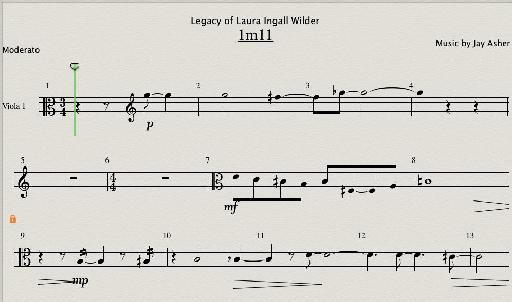 Pic 12
5. Bares Duración Más Precisos
Un guiño a mi amigo y compañero colaborador macProVideo, Peter Schwartz, para mí asesoramiento de éste: bares Duración muestran ahora correctamente duración de las notas de la misma duración, lo que no siempre ha sido cierto en el pasado. Ver foto 13.

Pic 13
Estoy seguro de que a medida que se vuelven más profundos a Logic Pro XI voy a descubrir muchas joyas más escondidas que quizá sean más beneficiosas que estas mejoras en el editor de partituras. Pero, hablando en nombre de todos los largos de tiempo los usuarios de Logic Pro que francamente había empezado a dudar de que alguna vez iba a haber más mejoras en el editor de partituras, gracias Manzana!