With 24-bit digital recording and better analog to digital converters than ever before, is there any point using dynamic processors when recording? Mike Watkinson examines the benefits.
Es ist gängige Praxis für Toningenieure dynamische Verarbeitung verwenden, um während der Aufnahme. Dieser stammt aus der Notwendigkeit, das Signal-Rausch-Verhältnis zu maximieren und nutzen die Kopffreiheit zur Verfügung, wenn die Aufzeichnung auf Band. Mit 24-Bit digitale Aufzeichnungs-und Analog-Digital-Wandler geben besser als 120 dB Signal-Rausch-Verhältnis, ist dies keine Priorität mehr. Allerdings wird komprimiert "auf dem Weg in" und über ein Noise Gate, um das Potenzial dieser Kompression zu maximieren noch als gute Praxis angesehen. Dies ist zum Teil, um den Dynamikbereich zu kontrollieren und zu verhindern, Clipping, sagen wir, einer über-enthusiastischen Sänger. Die Leistungen werden auch gefühlt beim Mischen: Die Anwendung schwerer Kompression an der Mischstufe nur, weil die Leistung sei "zu dynamisch" können die weniger als ziemlich Klangqualität von billiger-Plug-Ins (! Wie jene, die kostenlos mit Ihrer DAW zu kommen) zu offenbaren.
In Logic Pro
Wenn du genug Geld hatte konnte man erwerben Hardware dynamische Verarbeitung für jeden Kanal, den Sie aufnehmen, wenn Tracking (oder kaufen Sie ein SSL) wünschen. Einfaches Hinzufügen von Effekten, wie ein Noise Gate oder einen Kompressor an ein Audio-Kanal in Logic Pro wird Auswirkungen auf die Audio Sie hören können, aber nicht, was tatsächlich aufgezeichnet. Vergessen Sie nicht, dass Logics Effekte Arbeit in Echtzeit und Sie an den Ausgang jedes Kanals, nicht das Signal, das aufgenommen wird, wird zuhören. Sie können dies durch Aufzeichnung von Audio über einen Audiokanal mit Plug-Ins eingefügt und dann aktiv, nach der Aufnahme unter Umgehung ihnen zu beweisen, die Sie nun hören, wird sich ändern.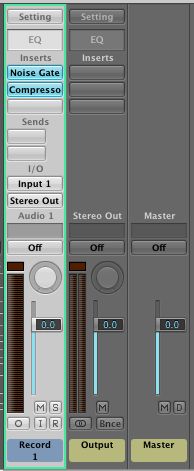 Die Plug-Ins auf dieser Audio-Kanal hat einen Effekt von dem, was man hören kann, aber nicht das, was aufgezeichnet wird
Es ist alles in der Routing-
So richten Sie Logics Mixer so dass Sie die Wirkung der eingesetzten Plug-Ins folgendermaßen vor aufzeichnen kann:
For each audio track onto which you wish to record, create an auxiliary channel strip (click the plus button on the left hand side of the Mixer or press Option-Command-N with the Mixer in key focus)

Connect the input of each audio channel to an available bus

Connect the output of the auxiliary channel to the same bus.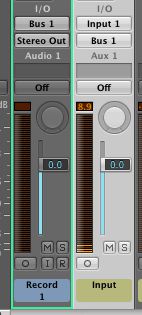 Das Signal tritt in den Aux-Kanal und wird dann an den Audio-Kanal aufgezeichnet werden mit Bussen
Wenn Sie die Ausgabe des Hilfs-Kanal zu verbinden, bevor Sie diesen Bus zum Eingang des Audio-Kanal, wird Logic automatisch (und verwirrend, in diesem Fall) eine zusätzliche Hilfs-Kanal. So stellen Sie sicher, Sie tun dies in der richtigen Reihenfolge!
Ein Nachteil der Art und Weise Logik fügt Kanälen an den Mischer ist, dass der Hilfskanal auf der rechten Seite des Tonträgers Kanal hinzugefügt wird. Für diejenigen, die ihre Signalweg lieber von links nach rechts, das ist falsch herum. Um die Reihenfolge der Hilfs-und Audio-Kanäle zu tauschen, auf dem Hilfs-Track-Header mit der rechten Maustaste und wählen Sie Create / Select Arrangierspur. Dann sortieren Sie die Titel in der Arrange-Fenster, die die Zahl der Spuren im Mixer neu zu ordnen.

Nachbestellung Tracks auf der Seite anordnen Nachbestellungen sie im Mixer
Leider mit Logics Hide-Funktion, um die Hilfs-Tracks auf dem Arrange-Fenster verstecken wirkt sich auf die Reihenfolge der Kanäle im Mixer, so dass Sie am Ende mit ziemlich vielen Tracks auf der Arrange-Fenster!
Insert-Effekte sollten im entsprechenden Hilfs-Kanal eingefügt werden. So wird die Eingabe an den Audio-Kanal (Aufnahmekanal) bereits erfolgt und die Verarbeitung der Audio-Datei gedruckt werden.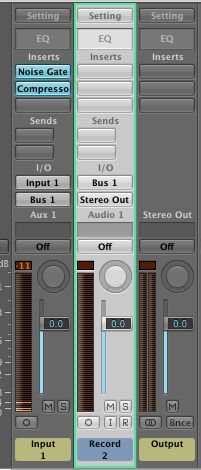 Auswirkungen auf den Aux-Kanal eingeschoben
Natürlich ist dies funktioniert sehr gut mit entsprechenden dynamischen Verarbeitung, aber denken Sie daran, dass Effekte wie Delays und Reverbs auch werden gedruckt und kann nachträglich nicht mehr in der Mischung entfernt werden! Sie können auch die Hilfs-Kanal-Fader als Eingangspegel-Regelung an den Audio-Kanal, wo das Signal aufgezeichnet wird.
Als Vorlage speichern
Da die Einrichtung dieses Routing dauert einige Zeit und Sorgfalt, ist es eine gute Idee für alle geläufig verwendeten Routing-Setups als Vorlage zu speichern, so dass jedes Mal, wenn Rekord Schlagzeug (zum Beispiel), können Sie eine Logic Pro Projekt bereit, mit zu gehen haben eingebaute in dynamischen Verarbeitung (File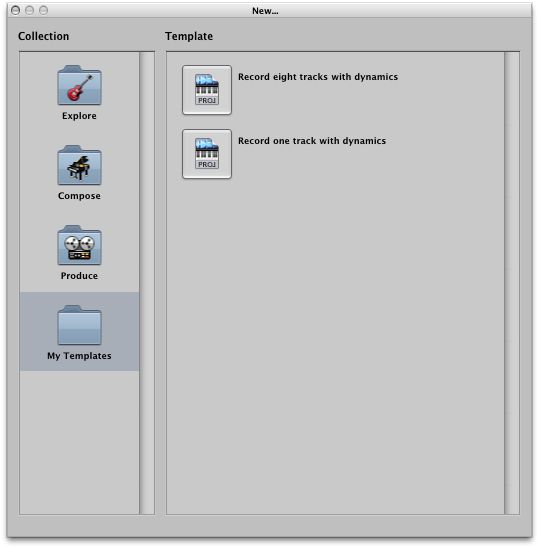 Eine Vorlage für die Aufzeichnung mit Dynamik