With 24-bit digital recording and better analog to digital converters than ever before, is there any point using dynamic processors when recording? Mike Watkinson examines the benefits.
Es una práctica común para los ingenieros de grabación que utiliza el procesamiento dinámico durante la grabación. Esto se origina en la necesidad de maximizar la relación señal-ruido y aprovechar el espacio libre disponible durante la grabación en cinta. Con grabación de 24 bits analógica y digital a los convertidores digitales dando mejor que 120 dB relación señal-ruido, esto ya no es una prioridad. Sin embargo, la compresión "en la forma en" y el uso de una puerta de ruido para maximizar el potencial de que la compresión sigue siendo visto como una buena práctica. Esto es en parte para controlar el rango dinámico y evitar el recorte de, digamos, un cantante demasiado entusiasta. Los beneficios también se sienten cuando se mezclan: Aplicación de compresión severa en la etapa de mezcla sólo porque el rendimiento es "muy dinámica" puede revelar la menor que el rendimiento sonoro de muy barato plug-ins (como los que vienen gratis con la aplicación de audio!).
En Logic Pro
Si tuviera suficiente dinero usted podría comprar hardware de procesamiento dinámico para todos los canales que desea grabar en el seguimiento (o comprar un SSL). Simplemente añadiendo efectos, como una puerta de ruido o el compresor a un canal de audio en Pro Logic afectará el audio se puede escuchar, pero no lo que realmente se registró. No te olvides de que los efectos Jornadas de trabajo en tiempo real y se le escucha de la salida de cada canal, no la señal que está siendo grabada. Esto se puede comprobar por la grabación de audio a través de un canal de audio con plug-ins insertados y después activa, después de la grabación, por encima de ellos, el sonido que se oye va a cambiar.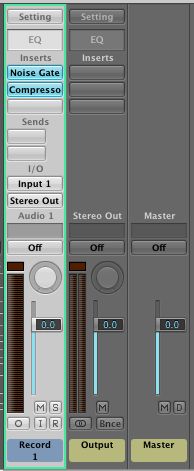 Los plug-ins en este canal de audio tendrá un efecto de lo que se puede escuchar, pero no lo que se registra
Todo está en la ruta
Para configurar el mezclador lógicas para que pueda registrar el efecto de insertar plug-ins siga estos pasos:
For each audio track onto which you wish to record, create an auxiliary channel strip (click the plus button on the left hand side of the Mixer or press Option-Command-N with the Mixer in key focus)

Connect the input of each audio channel to an available bus

Connect the output of the auxiliary channel to the same bus.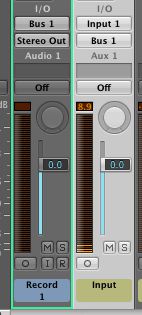 La señal entra en el canal auxiliar y luego en autobús a el canal de audio que se registró
Si se conecta la salida del canal auxiliar antes de conectar ese bus a la entrada del canal de audio, lógica automáticamente (y confusión, en este caso) crear un canal auxiliar adicional. Así que asegúrese de hacerlo en el orden correcto!
Una desventaja de la manera lógica añade canales a la mezcladora es que el canal auxiliar se añade a la derecha del canal de grabación de audio. Para aquellos que prefieren la ruta de la señal de flujo de izquierda a derecha, esto es al revés. Para cambiar el orden de los canales auxiliares y de audio, haga clic en la cabecera de la pista auxiliar y seleccione Crear / Seleccionar pista de Organizar. A continuación, cambiar el orden de las pistas en la ventana de arreglos, que reordenar las pistas en el mezclador.

Cambiando el orden de las pistas en la página Organizar reordena ellos en la mesa de mezclas
Por desgracia, con las lógicas Ocultar característica para ocultar las pistas auxiliares de la ventana Organizar afecta el orden de los canales del mezclador, por lo que va a terminar con un buen montón de pistas que muestran en la ventana de arreglos!
Efectos de inserción debe ser insertado en el canal auxiliar pertinente. De esta forma la entrada al canal de audio (el canal de grabación) ya se ha efectuado y el procesamiento se imprimirá en el fichero de audio.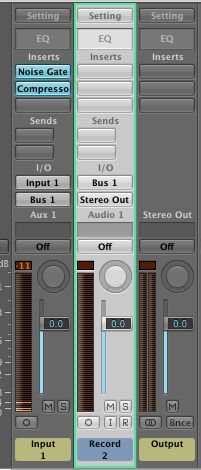 Efectos insertado en el canal auxiliar
Por supuesto, esto funciona muy bien con el procesamiento de dinámica adecuada, pero recuerde que los efectos tales como los retrasos y reverberaciones también será impreso y no se puede quitar después en la mezcla! También puede utilizar el fader de canal auxiliar como un control de nivel de entrada para el canal de audio donde se registra la señal.
Guardar como plantilla
Como la creación de esta ruta lleva algún tiempo y atención, es una buena idea para guardar los ajustes de uso común de enrutamiento como una plantilla para que cada vez que los tambores de registro (por ejemplo), usted tiene un proyecto de Logic Pro listo para ir con una función de en el procesamiento de dinámica (Archivo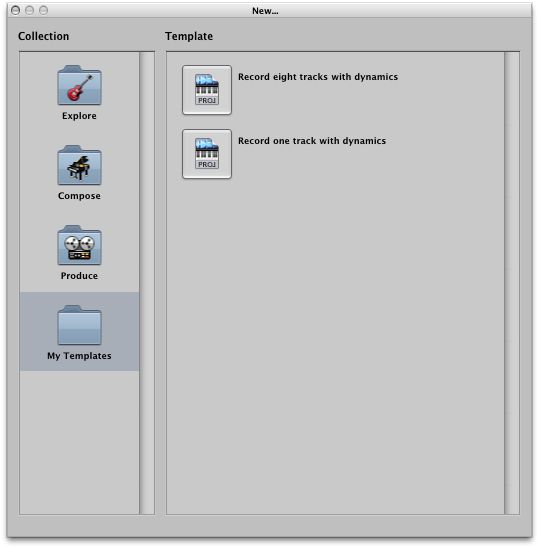 Una plantilla para la grabación con la dinámica