With 24-bit digital recording and better analog to digital converters than ever before, is there any point using dynamic processors when recording? Mike Watkinson examines the benefits.
녹화하는 동안 ë ˆì½"ë"© 엔지니어가 ë™ì  처리를 사용하는 것은 ì¼ë°˜ì ì¸ 관행입니다. 이것은 ì‹ í˜¸ 대 잡음 비율을 극대í™"í•˜ê³  테이프에 ë…¹í™"í•  ë•Œ ì'¬ìš©í•  수있는 헤드룸을 악용하기위한 필요성에서 ìœ ëž˜. 디지털 변환기에 대한 24 비트 디지털 녹음과 ì•"ë' 로그가 120dB ì‹ í˜¸ 대 잡음 비율보다 더 부여를 통해이 더 이상 ìš°ì"  순위가 없습니다. 그러나 "방식에서"압축 및 ê·¸ 압축의 ìž ìž¬ë ¥ì" 최대화하기 위해 노이즈 게이트를 사용하여 ì—¬ì "히 좋은 습관으로 간주된다. 이것은 다이나믹 ë ˆì¸ì§€ë¥¼ ì œì–´í•˜ê³  지나친 ì—´ì •ì ì¸ ê°€ìˆ˜ë¼ê³ ì˜ 클리핑을 방지하기 위해 일부입니다. 혼합했을 ë•Œ ìž¥ì ë" ìƒê°í•˜ê³  있습니다 : 성능이 "너무 ì—­ë™ì ì¸ '에만 있기 때문에 혼합 단계에서 심각한 압축을 ì ìš©í•˜ë©´ ì €ë ´ 플러그인 (! 같은 귀하의 갈가 마귀와 풀리지 것과 같은)의 매우 소닉의 성능보다 ì ê²Œ 공개 수 있습니다.
로직 프로에서
ë‹¹ì‹ ì€ 충분한 돈이있다면 ë‹¹ì‹ ì€ ì¶"ì í•˜ë©´ 기록 (또는 SSL (Secure Socket Layer)을 구입)í•˜ê³ ìží•˜ëŠ" 모ë"  채널에 대한 하드웨어 ë™ì  처리를 êµ¬ìž…í•  수 있습니다. 이러한 노이즈 게이트 또는 논리 Pro에서 오디오 채널로 압축기로 간단히 추가 효과는 ì‹¤ì œë¡œ 기록됩니다 만약 ë‹¹ì‹ ì´ë"¤ì" 수있는 오디오에 영향을했지만되지 않습니다. Logics 효과는 실시간으로 ìž'ì—…ê³¼ 각 채널의 ì¶œë ¥ì´ ì•"ë‹Œ 기록되는 ì‹ í˜¸ë¥¼ ë"£ê³ 된다ëŠ" 것을 잊지 말라. ë‹¹ì‹ ì€ 플러그인 그들을 거치지 ì•Šê³  녹화 후 다음 Active ì'½ìž…ë˜ê³ ìžˆëŠ" 오디오 채널을 통해 녹화 오디오이를 ì¦ëª…í•  수 없으며 들리는 소리가 변경됩니다.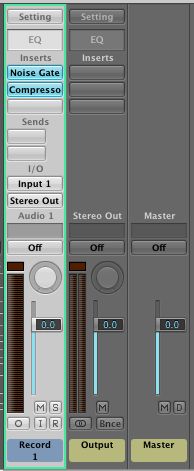 이 오디오 채널에서 플러그인 녹음되는 소리를 들으면 어떤 효과가 있지만하지 않습니다
그것은 라우팅에 모두 있어요
ë‹¹ì‹ ì´ 삽입된 플러그인은 다음 단계를 수행의 효과를 ê¸°ë¡í•  수 있도록 Logics 믹서를 ì"¤ì •í•˜ë ¤ë©´ :
For each audio track onto which you wish to record, create an auxiliary channel strip (click the plus button on the left hand side of the Mixer or press Option-Command-N with the Mixer in key focus)

Connect the input of each audio channel to an available bus

Connect the output of the auxiliary channel to the same bus.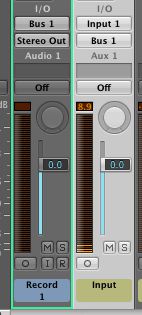 ì‹ í˜¸ëŠ" AUX 채널을 ìž…ë ¥í•˜ê³  기록하는 오디오 채널에 bussed합니다
ë‹¹ì‹ ì€ 오디오 채널의 ìž…ë ¥ 버스를 연결하기 ì "에 ë³´ì¡° 채널의 ì¶œë ¥ì" 연결하면 로직은 자동으로 (ê·¸ë¦¬ê³  혼동이 경우에는) 추가 ë³´ì¡° 채널을 만듭니다. 그래서 ë‹¹ì‹ ì€ ì •í™•í•œ 순서로이 작업을 수행하십시오!
논리는 믹서에 채널을 추가하는 방법 중 하나 ë‹¨ì ì€ ë³´ì¡° 채널 오디오 녹화 채널의 오른쪽에 추가됩니다 ì ì´ë‹¤. 왼쪽에서 오른쪽으로 흐름에 ìžì‹ ì˜ ì‹ í˜¸ 경로를 ì" 호하ëŠ" 사람의 경우이 주위를 잘못된 방법입니다. ë³´ì¡° 및 오디오 채널의 순서를 êµì²´í•˜ë ¤ë©´, ë³´ì¡° 트랙 헤더를 마우스 오른쪽 버튼으로 í´ë¦­í•˜ê³  트랙을 ì •ë ¬ ì" 택 / 생성을 ì" 택합니다. 그런 다음 믹서에서 트랙을 ìž¬ì •ë ¬ë©ë‹ˆë‹¤, ë°°ì—´ 윈도우에서 트랙을 ìž¬ì •ë ¬.

믹서에서 ì •ë ¬ 페이지를 다시 주문 그위에 다시 주문 트랙
불행하게도, Logics는 ë°°ì—´ 창에 ë³´ì¡° 트랙을 ìˆ¨ê¸°ë ¤ë©´ 숨기기 기능을 사용하면 믹서의 채널의 순서에 영향을하므로 ë°°ì—´ 창에 보여주는 트랙이 너무 많아 함께 끝ë'  것이다!
삽입 효과 ê´€ë ¨ ë³´ì¡° 채널에 삽입되어야합니다. 이 방법은 오디오 채널 (ë ˆì½"ë"œ 채널)에 ìž…ë ¥ì´ 이미 영향되었으며 처리는 오디오 파일에 인쇄됩니다.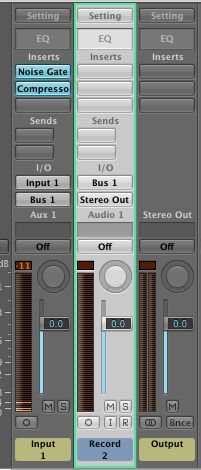 효과는 AUX 채널에 삽입
ë¬¼ë¡  이것은 해당 ë™ì  처리를 ì •ë§ 잘 작동하지만 이러한 지연 및 reverbs 등의 효과도 인쇄되며 믹스에서 나중에 ì œê±°í•  수 없다는 것을 기억 í•´ìš"! ë‹¹ì‹ ì€ 또한 ì‹ í˜¸ê°€ 기록된 오디오 채널의 ìž…ë ¥ ë ˆë²¨ 컨트롤로 ë³´ì¡° 채널 fader를 ì'¬ìš©í•  수 있습니다.
템플릿으로 ì €ìž¥
이 라우팅을 ì"¤ì •í•˜ëŠ" 것은 시간과 담당한다대로, 너희 기록 드럼 때마다 (예를 들어), ë‹¹ì‹ ì´ ê°ˆ 준비 로직 프로 í""ë¡œì íŠ¸ë¥¼ ê°€ì§€ê³  있도록 템플릿으로 ì–´ë–¤ ì¼ë°˜ì ìœ¼ë¡œ 사용되는 라우팅 ì"¤ì •ì" ì €ìž¥í•˜ëŠ" 것이 좋습니다 내장 ë™ì  처리 (파일의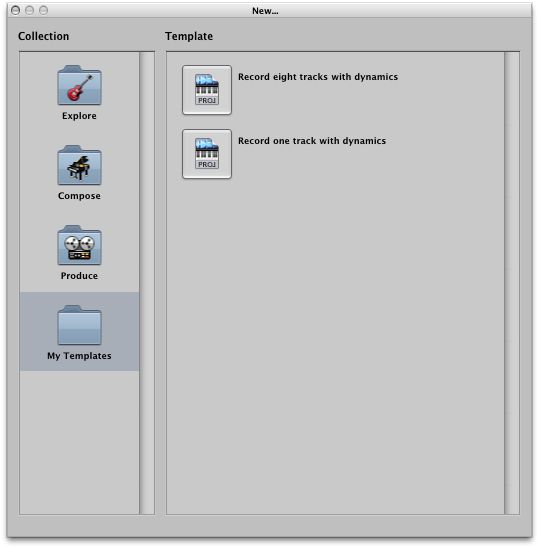 역학과 ë ˆì½"ë"©ì"ìœ"í•œ 템플릿