With 24-bit digital recording and better analog to digital converters than ever before, is there any point using dynamic processors when recording? Mike Watkinson examines the benefits.
É prática comum para os engenheiros de gravação para usar o processamento dinâmico durante a gravação. Este origina a necessidade de maximizar a razão sinal-ruído e explorar a altura livre disponível durante a gravação na fita. Com 24-bit gravação digital e analógica para conversores digitais dando melhor do que 120 dB relação sinal-ruído, isso não é mais uma prioridade. No entanto, comprimindo "sobre a forma" e usando uma porta de ruído para maximizar o potencial de que a compressão ainda é visto como uma boa prática. Isto é em parte para controlar a gama dinâmica e evitar o corte de, digamos, um vocalista excesso de entusiasmo. Os benefícios também são sentidos quando a mistura: Aplicando compressão grave na fase de mistura só porque o desempenho é "muito dinâmico" pode revelar a menos de desempenho muito mais barato sonora de plug-ins (como os que vêm livre com seu DAW!).
Em Logic Pro
Se você tivesse dinheiro suficiente, você poderia comprar hardware de processamento dinâmico para todos os canais que você deseja gravar quando o controle (ou comprar um SSL). Basta adicionar efeitos, como uma porta de ruído ou compressor para um canal de áudio em Pro Logic vai afetar o áudio você pode ouvir, mas não o que realmente está gravado. Não se esqueça que os efeitos Lógica trabalho em tempo real e você vai estar ouvindo a saída de cada canal, não o sinal de que está sendo gravada. Você pode provar isto a gravação de áudio através de um canal de áudio com plug-ins inserido e activo, então, após a gravação, ignorando-os, o som que você ouve vai mudar.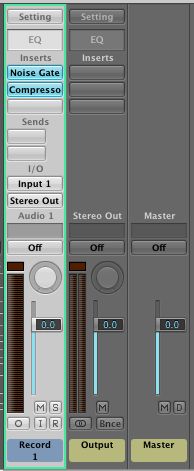 Os plug-ins de áudio neste canal terá um efeito do que você pode ouvir, mas não o que está registrado
É tudo no roteamento
Para configurar o Mixer Lógica para que você possa gravar o efeito de inserido plug-ins siga estes passos:
For each audio track onto which you wish to record, create an auxiliary channel strip (click the plus button on the left hand side of the Mixer or press Option-Command-N with the Mixer in key focus)

Connect the input of each audio channel to an available bus

Connect the output of the auxiliary channel to the same bus.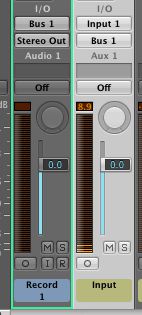 O sinal entra no canal Aux e é então bussed para o canal de áudio a ser gravado
Se ligar a saída do canal auxiliar antes de ligar que autocarro para a entrada do canal de áudio, de Lógica automaticamente (e confusão, neste caso) criar um canal auxiliar adicional. Portanto, verifique se você fizer isso na ordem certa!
Uma desvantagem com a forma de Lógica adiciona canais para o misturador é que o canal auxiliar é adicionado à direita do canal de gravação de áudio. Para aqueles que preferem o caminho do sinal de fluxo da esquerda para a direita, esta é a maneira errada. Para trocar a ordem dos canais auxiliares e áudio, botão direito do mouse no cabeçalho da pista auxiliar e escolha Criar / Organizar Selecione pista. Em seguida, reordenar as faixas na janela Arrange, que vai reordenar as faixas da Mixer.

Re-ordenação faixas na página Organizar re-ordena-los no mixer
Infelizmente, utilizando Lógica Ocultar recurso para esconder as pistas auxiliares na janela Organizar afeta a ordem dos canais no Mixer, então você vai acabar com um monte de faixas que mostram na janela Organizar!
Efeitos de inserção deve ser inserido no canal relevante auxiliar. Desta forma, a entrada para o canal de áudio (o canal de registro) já foi efetuado e processamento vai ser impresso para o arquivo de áudio.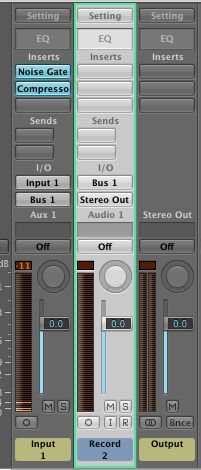 Efeitos inserido no canal Aux
Claro que isso funciona muito bem com processamento dinâmico for o caso, mas lembre-se que os efeitos, como delays e reverbs também será impressa e não pode ser removido em seguida na mistura! Você também pode usar o fader do canal auxiliar como um controle de nível de entrada para o canal de áudio onde o sinal é gravado.
Salvar como modelo
Como configurar esse encaminhamento leva algum tempo e cuidado, é uma boa idéia para salvar as configurações de roteamento comumente usados ​​como um modelo para que cada vez tambores gravar (por exemplo), você tem um projeto Logic Pro pronto para ir com built- em processamento de dinâmica (File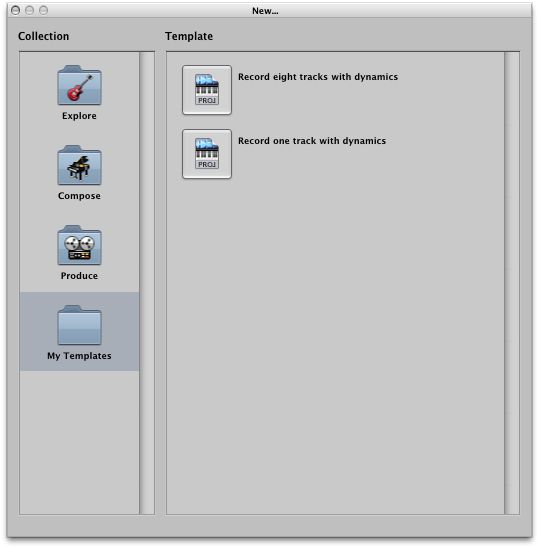 Um modelo para a gravação com dinâmica