Logic Pro is a deep music production platform with multiple ways to get from A to Z! In this article Mo Volans uncovers two paths for parallel processing in Logic. Which route will you choose?
Mit parallelen Verarbeitung kann eine gute Möglichkeit, die Kontrolle über extreme Effekte zu gewinnen und sie in Ihren Mix, ohne sich um Over-Kochen Ihre Signale sein. In Logic Pro (und vielen anderen DAWs) gibt es normalerweise ein paar Möglichkeiten zum Einrichten parallel Effekte Mixe. Heres die Lowdown.

1 - Die traditionellen (oder Long) Way
OK. So ist ein paralleler Bus einfach eine Möglichkeit, das Mischen eines trockenen Signals erfolgt mit einer Version in unterschiedlichen Mengen. Die beiden Ströme sollten wirklich parallel und daher unabhängig von jeder anderen gibt Ihnen die Freiheit, sie in irgendeiner Weise Sie wollen zu mischen.
Um dies zu erreichen, die in Logic können wir senden alle Kanäle wollen wir zu einem trockenen sub-Gruppe zu bearbeiten, mit der Ausgabe-Option. Als nächstes können Sie die Sends aus den gleichen Kanäle nutzen, um mit einem zweiten Bus zu senden, wird dies das bewirkt oder verarbeitet parallel Gruppe sein.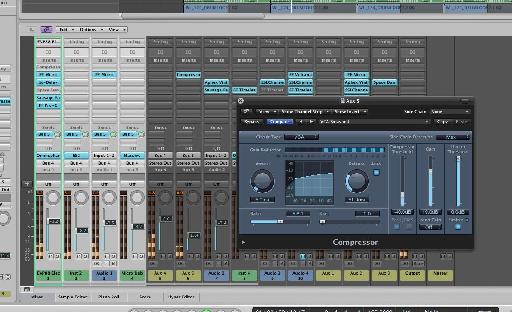 Logic setzt sich für die traditionelle parallele Verarbeitung gesetzt
Mit den beiden Bussen erstellt Sie können nun beliebige Verarbeitung Sie zur zweiten Gruppe. Diese kann dann gemischt werden, um Geschmack und schafft ein Gleichgewicht der ursprünglichen, dynamischen und unbehandelte Signal und verarbeitet die sekundäre Gruppe.
Das funktioniert sehr gut mit Kompression, Limiting, Distortion, Bit Brech-und sogar Modulations-Effekten.
2 - Der schnelle Weg
Bei weitem die einfachste Möglichkeit, eine parallele Effekte Stream erstellen ist, um einen Effekt mit einem Mix-Funktion verwenden. Viele von Logic Pro Plug-Ins jetzt über diese Funktion und es macht ihn zu einem absoluten Brise einzurichten.
Logic Pro Kompressor ist ein großartiges Beispiel für ein Plug-In mit dieser Art von Fähigkeit. Um den Mix-Funktion zugreifen einfach klappen Sie die untere Hälfte des Plug-in und ein paar versteckte Features enthüllt werden:
Viele von Logics Plug-Ins sind in der Lage schnelle parallele Verarbeitung mit dem Mix-Regler.
Sie können jetzt jede Menge zu mischen des ursprünglichen trockenen Signal und dem bearbeiteten Audio aus dem Kompressor selbst. Sie sollten sich mehr oder weniger die gleiche Wirkung wie das obige Verfahren aber nur einen Bruchteil der Zeit.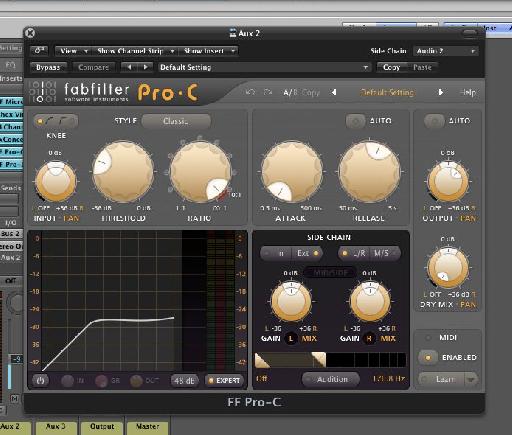 Viele Drittanbieter-Plug-Ins haben Mix-Regler als auch.
3 - Fazit
So wie Sie können Sie sehen, wir haben zwei drastisch unterschiedliche Weise zum Erreichen des gleichen, wenn nicht ähnliche Endergebnisse. So konnten Sie sich schon gefragt haben: Warum in aller Welt würde ich die Verwendung des langen, traditionellen Methode?
Nun, ich glaube fest, dass die erste Methode, die Ihnen sehr viel mehr Kontrolle über das Endergebnis und ermöglicht es Ihnen, zusätzliche Verarbeitung hinzufügen und letztendlich eine parallele Effekte Bus mit jedem Plug-in-die Sie wählen.
Obwohl ich mit dem schnellen Weg und nutzen Plugins, die über einen integrierten Mix-Funktion gibt es auch viele Situationen, wenn ich kann einfach nicht ohne eine physische parallele Bus zu tun haben. Probieren Sie beide für sich selbst und sehen, welche für Sie und Ihre Mixe funktioniert.