Logic Pro is a deep music production platform with multiple ways to get from A to Z! In this article Mo Volans uncovers two paths for parallel processing in Logic. Which route will you choose?
Utilizando el procesamiento en paralelo puede ser una gran manera de obtener el control de efectos extremos y utilizarlos en la mezcla sin tener que preocuparse sobre-cocinar sus señales. En Logic Pro (y muchas otras aplicaciones musicales) por lo general hay varias formas de establecer las mezclas de efectos en paralelo. Aquí está toda la verdad.

1 - La tradicional (o largo) camino
Aceptar. Por lo tanto, un bus paralelo es simplemente una manera de mezclar una señal seca con una versión a cabo en cantidades variables. Las dos corrientes debe ser verdaderamente paralelo y por lo tanto, independientes entre sí, que le da la libertad para mezclar en la forma que desee.
Para lograr esto en la lógica nos puede enviar todos los canales que queremos procesar a un subgrupo seco, utilizando la opción de salida. Lo siguiente que usted puede usar los envíos de los mismos canales para enviar a un segundo bus, éste será el grupo efectúe o procesado paralelo.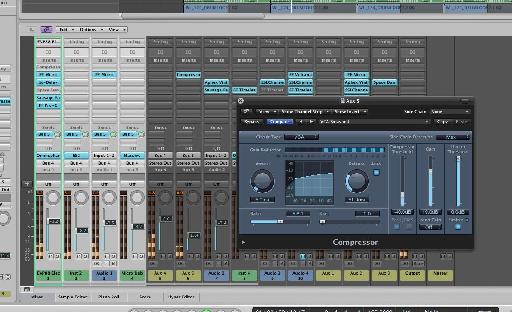 La lógica está configurado para el procesamiento paralelo tradicional
Con los dos buses creados ahora puede agregar cualquier tratamiento que usted desea que el segundo grupo. Esto se puede mezclar a su gusto, creando un equilibrio de la señal original, dinámico y sin tratamiento y el grupo de procesado secundario.
Esto funciona muy bien con la compresión, lo que limita, la distorsión, el bit de trituración e incluso los efectos de modulación.
2 - La Vía Rápida
Con mucho, la forma más fácil de crear un flujo de efectos en paralelo es el uso de un efecto con una función de mezcla. Muchos de Logic Pro plug-ins ahora tienen esta característica y que hace que sea muy fáciles de configurar.
Logic Pro compresor es un gran ejemplo de un plug-in con este tipo de capacidad. Para acceder a la función de mezcla, simplemente se pliegan en la mitad inferior del plug-in y una serie de características ocultas pocos serán revelados:
Muchas de las lógicas de plug-ins son capaces de un procesamiento rápido en paralelo con el control de mezcla.
Ahora se puede mezclar cualquier cantidad de la señal original en seco y el procesado de audio desde el propio compresor. Debe obtener más o menos el mismo efecto que el método anterior, pero en una fracción del tiempo.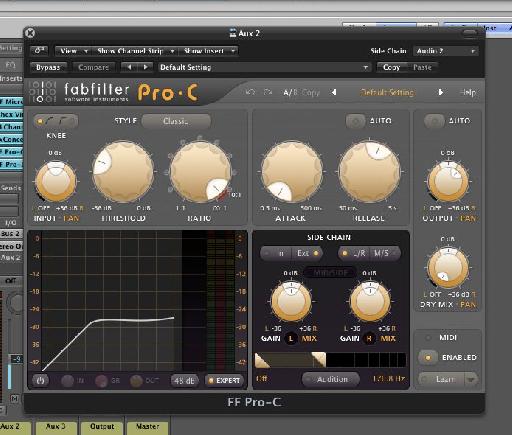 Parte Muchos plug-ins tienen controles de mezcla también.
3 - Conclusión
Así que como puedes ver tenemos dos formas radicalmente diferentes de alcanzar el mismo si los resultados finales no similares. Así que es posible hacerse la pregunta: ¿Por qué diablos iba yo a considerar el uso del método de largo y tradicional?
Bueno, creo firmemente que el primer método le da mucho más control sobre el resultado final y le permite añadir procesamiento adicional y, finalmente, crear un bus de efectos paralelo con cualquier plug-in que usted elija.
A pesar de que utilice la vía rápida y utilizar los plug-ins que tienen una función de mezcla incorporado también hay un montón de situaciones en las que simplemente no puedo hacerlo sin tener un bus paralelo físico. Intente tanto para ti mismo y ver cuál funciona para usted y sus mezclas.