سنتی در مقابل سرعت پردازش موازی در منطق نرم افزار
Logic Pro is a deep music production platform with multiple ways to get from A to Z! In this article Mo Volans uncovers two paths for parallel processing in Logic. Which route will you choose?
با استفاده از پردازش موازی می تواند یک راه بسیار خوبی برای به دست آوردن کنترل بر عوارض شدید و استفاده از آنها را در ترکیب خود را بدون هیچ گونه نگرانی در مورد بیش از پخت و پز سیگنال های خود را. در منطق نرم افزار (و بسیاری از دیگر DAWs) معمولا چند راه برای راه اندازی مخلوط اثرات موازی وجود دارد. اینجا lowdown.

1 - راه سنتی (یا بلند)
OK را بزنید. بنابراین، اتوبوس موازی است که به سادگی به یک روش مخلوط کردن یک سیگنال خشک با نسخه مؤثر بر آن در مقادیر متفاوتی است. این دو جریان باید واقعا موازی و در نتیجه مستقل از یکدیگر به شما این آزادی را به مخلوط آنها را در هر راه که می خواهید.
برای رسیدن به این در منطق ما می توانید تمام کانال های ما می خواهیم برای پردازش به یک گروه زیر خشک، با استفاده از گزینه خروجی ارسال کنید. بعدی شما می توانید می فرستد و از کانال های مشابه استفاده کنید برای ارسال به اتوبوس دوم، این خواهد بود گروه تاثیر یا پردازش های موازی است.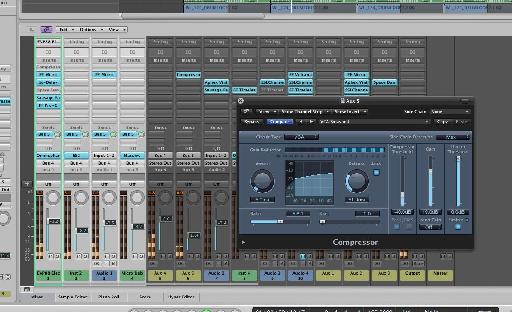 منطق است تا برای پردازش موازی سنتی
با دو اتوبوس ایجاد شده، شما هم اکنون می توانید هر پردازش شما را به گروه دوم می خواهم اضافه کنید. سپس این مخلوط را به سلیقه می شود، ایجاد یک تعادل از سیگنال اصلی، پویا و درمان و گروه ثانویه پردازش شده است.
این کار به خوبی با فشرده سازی، محدود کردن، اعوجاج، کمی خرد کردن و حتی اثر مدولاسیون.
2 - راه سریع
تا کنون ساده ترین راه برای ایجاد یک جریان موازی اثر این است که استفاده از یک اثر با عملکرد ترکیبی. بسیاری از جوانب منطق پلاگین در حال حاضر که این ویژگی آن را می سازد و آن را مطلق نسیم به راه اندازی.
منطق کمپرسور جوانب یک مثال عالی از یک پلاگین در با این نوع توانایی است. برای دسترسی به تابع مخلوط به سادگی در نیمه پایین تر از پلاگین در پایین بریزید و چند ویژگی های مخفی آشکار خواهد شد:
بسیاری از منطق پلاگین قادر به پردازش سریع موازی با استفاده از کنترل مخلوط هستند.
شما هم اکنون می توانید هر مقدار از سیگنال اصلی خشک و پردازش صوتی از کمپرسور به خودی خود کاملا ترکیب شود. شما باید بیشتر یا کمتر، همان اثر را به عنوان روش فوق، اما در کسری از زمان.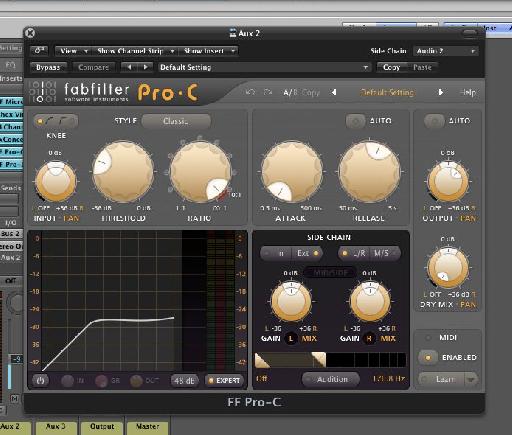 بسیاری از شخص ثالث و پلاگین کنترل ترکیبی نیز هست.
3 - نتیجه گیری
بنابراین همانطور که می بینید که ما به دو روش شدت های مختلف برای دستیابی به همان صورت شباهت نتایج پایان. بنابراین شما ممکن است از خودتان سوال بپرسید: چرا بر روی زمین به نظر من با استفاده از روش های سنتی؟
خوب، من قویا بر این باورند که روش اول به شما می دهد کنترل بسیار بیشتری بر نتیجه نهایی و اجازه می دهد تا شما را به اضافه کردن پردازش های اضافی و در نهایت ایجاد یک اتوبوس اثرات موازی با هر پلاگین شما انتخاب می کنید.
اگر چه من با استفاده از مسیر سریع و استفاده از plug-in ها که تابع ساخته شده در مخلوط نیز وجود دارد مقدار زیادی از شرایط زمانی که من به سادگی نمی تواند انجام دهد و بدون داشتن یک اتوبوس موازی فیزیکی. سعی کنید هر دو را برای خودتان و ببینید که یکی برای شما و مخلوط شما کار می کند.