Logic Pro is a deep music production platform with multiple ways to get from A to Z! In this article Mo Volans uncovers two paths for parallel processing in Logic. Which route will you choose?
En utilisant le traitement parallèle peut être un excellent moyen d'acquérir le contrôle de ces effets extrêmes et de les utiliser dans votre mix sans se soucier de sur-cuisson de vos signaux. Dans Logic Pro (et de nombreux autres DAW) il ya généralement quelques moyens pour mettre en place en parallèle des mélanges effets. Heres la verité.

1 - Le traditionnel (ou long) chemin
OK. Ainsi, un bus parallèle est tout simplement une façon de mélanger un signal sec avec une version réalisée en quantités variables. Les deux cours d'eau devraient être vraiment parallèle et donc indépendant de l'autre vous donnant la liberté de les mélanger en aucune façon que vous voulez.
Pour atteindre cet objectif dans Logic, nous pouvons envoyer tous les canaux que nous voulons traiter à un groupe sec sous, en utilisant l'option de sortie. Suivant jusqu'à vous pouvez utiliser les départs à partir des mêmes canaux pour envoyer à un deuxième bus, ce sera le groupe effectuée ou traitées en parallèle.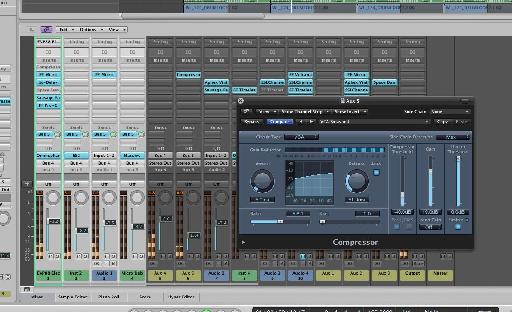 Logic est mis en place pour le traitement parallèle traditionnelle
Avec les deux bus créés, vous pouvez maintenant ajouter tout traitement que vous souhaitez le deuxième groupe. Cela peut ensuite être mélangé au goût, créant ainsi un équilibre de l'original, le signal dynamique et non traité et le groupe traité secondaire.
Cela fonctionne très bien avec la compression, ce qui limite, de la distorsion, peu de concassage et de même des effets de modulation.
2 - La voie rapide
De loin le moyen le plus simple pour créer un flux d'effet parallèle est d'utiliser un effet avec une fonction de mélange. Beaucoup de pros Logic plug-ins ont maintenant cette fonctionnalité et il rend une brise absolue de mettre en place.
Logic Avantages compresseur est un excellent exemple d'un plug-in avec ce genre de capacité. Pour accéder à la fonction de mixage possible de rabattre la moitié inférieure de l'plug-in et quelques fonctionnalités cachées seront révélées:
Beaucoup de Logiques des plug-ins sont capables de traiter en parallèle rapide en utilisant le contrôle du mixage.
Vous pouvez à présent mixer n'importe quelle quantité du signal original sec et l'audio traité par le compresseur lui-même. Vous devriez obtenir plus ou moins le même effet que la méthode ci-dessus, mais en une fraction du temps.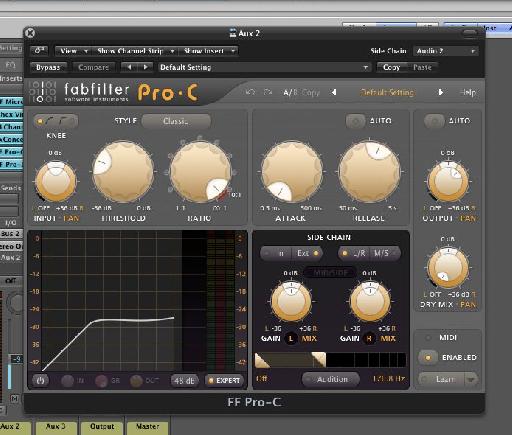 Beaucoup tiers plug-ins ont commandes de mixage ainsi.
3 - Conclusion
Donc, comme vous pouvez vous voyez nous avons deux manières radicalement différentes de faire de même si les résultats finaux ne pas similaires. Ainsi, vous pourriez vous poser la question: Pourquoi diable voudrais-je envisager d'utiliser la longue, la méthode traditionnelle?
Eh bien, je crois fermement que la première méthode vous donne un contrôle beaucoup plus sur le résultat final et vous permet d'ajouter un traitement supplémentaire et, finalement, de créer un bus parallèle effets avec n'importe quel plug-in que vous choisissez.
Bien que je ne utiliser la voie rapide et d'utiliser les plug-ins qui ont une fonction de mixage intégré il ya aussi beaucoup de situations où je ne peux pas le faire sans avoir un bus parallèle physique. Essayez les deux pour vous-même et de voir où l'on travaille pour vous et vos mixages.