Logic Pro is a deep music production platform with multiple ways to get from A to Z! In this article Mo Volans uncovers two paths for parallel processing in Logic. Which route will you choose?
Utilizzo di elaborazione in parallelo può essere un ottimo modo per ottenere il controllo su effetti estremi e usarli nel mix, senza preoccuparsi troppo cucinare i vostri segnali. In Logic Pro (e molte altre DAW) di solito ci sono alcuni modi per impostare parallele mix effetti. Heres il lowdown.

1 - Il tradizionale (o Long) Way
OK. Così, un bus parallelo è semplicemente un modo di miscelazione di un segnale a secco con una versione effettuato in quantità variabili. I due flussi dovrebbe essere veramente in parallelo e quindi indipendenti l'uno dall'altro ti dà la libertà di mixare in qualsiasi modo desiderato.
Per raggiungere questo obiettivo in Logic siamo in grado di inviare tutti i canali che vogliamo elaborare per un gruppo di sub a secco, utilizzando l'opzione di uscita. Next up è possibile utilizzare il mandate dagli stessi canali da inviare a un secondo autobus, questo sarà il gruppo effettuata o trasformati in parallelo.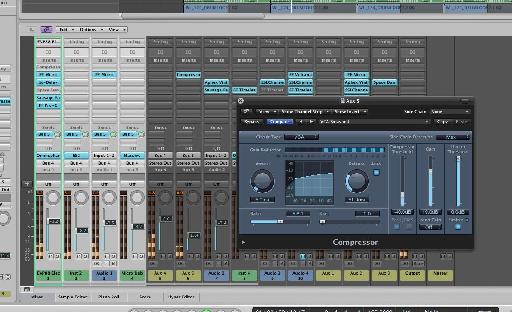 Logic è impostato per la tradizionale elaborazione parallela
Con i due bus creati è ora possibile aggiungere qualsiasi trattamento che ti piace al secondo gruppo. Questo può essere miscelato a piacere, creando un equilibrio tra l'originale, segnale dinamico e non trattato e il gruppo secondario lavorato.
Questo funziona molto bene con la compressione, limitazione, distorsione, bit frantumazione e persino effetti di modulazione.
2 - Il modo più veloce
Di gran lunga il modo più semplice per creare un flusso di effetti parallelo è quello di utilizzare un effetto con una funzione di mix. Molti di Logic Pro plug-in ora hanno questa funzione e lo rende una brezza assoluta da configurare.
Logic Pro compressore è un grande esempio di un plug-in con questo tipo di capacità . Per accedere alla funzione di mix, basta ribaltare la metà inferiore del plug-in e alcune caratteristiche nascosto sarà rivelato:
Molti di Logics plug-in sono in grado di veloci di elaborazione in parallelo utilizzando il controllo mix.
È ora possibile mixare qualsiasi quantità del segnale originale secco e l'audio processato dal compressore stesso. Si dovrebbe ottenere più o meno lo stesso effetto del metodo di cui sopra, ma in una frazione del tempo.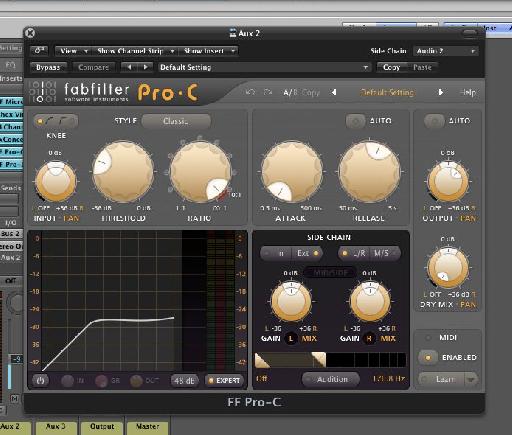 Molti di terze parti plug-ins sono dotati di comandi mix pure.
3 - Conclusione
Quindi, come potete vedere abbiamo due modi radicalmente diversi per raggiungere lo stesso se i risultati finali non simili. Così si potrebbe porsi la domanda: perché mai dovrei considerare l'utilizzo a lungo, metodo tradizionale?
Beh, credo fermamente che il primo metodo consente un controllo molto maggiore sul risultato finale e consente di aggiungere ulteriore elaborazione e, in definitiva creare un bus parallelo effetti con tutti i plug-in si sceglie.
Sebbene io non utilizzare il percorso rapido e utilizzare plug-in che hanno una funzione built-in mix ci sono anche un sacco di situazioni in cui non posso fare a meno di avere un bus fisico parallelo. Provate sia per te stesso e vedere uno che lavora per voi ed i vostri mix.