Logic Pro is a deep music production platform with multiple ways to get from A to Z! In this article Mo Volans uncovers two paths for parallel processing in Logic. Which route will you choose?
Usando o processamento paralelo pode ser uma ótima maneira de ganhar controle sobre efeitos extremos e usá-los em seu mix sem se preocupar com o excesso de cozinhar os seus sinais. Em Logic Pro (e muitos outros DAWs) geralmente há algumas maneiras de configurar mixagens paralelas efeitos. Heres o lowdown.

1 - O caminho (ou Long) Tradicional
OK. Assim, um bus paralelo é simplesmente uma forma de mistura de um sinal seco com uma versão efectuada em quantidades variáveis. Os dois fluxos devem ser verdadeiramente paralelo e, portanto, independentes um do outro o que lhe dá a liberdade de misturá-los em qualquer maneira que você quiser.
Para conseguir isso em Lógica, podemos enviar todos os canais que deseja processar a um grupo seco sub, usando a opção de saída. Em seguida acima você pode usar o sends dos mesmos canais para enviar a um segundo ônibus, este será o grupo efectuadas ou processadas em paralelo.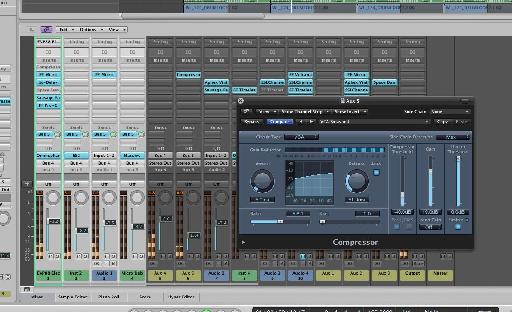 A lógica é criada para o processamento paralelo tradicional
Com os dois barramentos criados agora você pode adicionar qualquer transformação que você gosta ao segundo grupo. Isto pode então ser misturado com o gosto, criando um equilíbrio do sinal, dinâmico original e não tratados, eo grupo processado secundário.
Isso funciona muito bem com compressão, limitar a distorção, pouco esmagamento e até mesmo efeitos de modulação.
2 - The Fast Way
De longe, a maneira mais fácil de criar um fluxo de efeitos paralelo é a utilização de um efeito com uma função de mistura. Muitos Pros Lógica plug-ins agora tem esse recurso e torna-se uma brisa absoluta de configurar.
Compressor Prós Logic é um grande exemplo de um plug-in com este tipo de capacidade. Para acessar a função de mistura simplesmente dobre a metade inferior do plug-in e algumas características escondidas será revelado:
Muitos de Lógica plug-ins são capazes de processamento paralelo rápido usando o controle de mistura.
Pode agora misturar qualquer quantidade do sinal original seca eo áudio processado a partir do próprio compressor. Deverá ficar mais ou menos o mesmo efeito que o método acima, mas em uma fracção do tempo.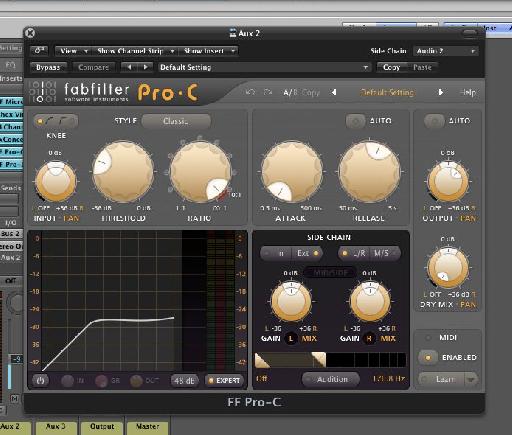 Terceiro Muitos plug-ins têm controles mix também.
3 - Conclusão
Então, como você pode ver, temos duas maneiras drasticamente diferentes de alcançar o mesmo se os resultados finais não semelhantes. Então você pode se perguntar a pergunta: Por que diabos eu iria considerar o uso do método, tempo tradicional?
Bem, eu acredito firmemente que o primeiro método dá-lhe muito mais controle sobre o resultado final e permite que você adicione processamento extra e, finalmente, criar uma via de efeitos paralelo com qualquer plug-in que você escolher.
Embora eu use a via rápida e utilizar os plug-ins que têm uma função built-in mix existem também muitas situações em que eu simplesmente não posso fazer sem ter um ônibus paralela física. Tente tanto para si mesmo e ver qual delas funciona para você e suas misturas.