Logic is a wonderfully deep, creative piece of software! There's no doubt about that...  It has steadily become easier to setup and use since Apple acquired it from Emagic But, as any software user .
Logic ist eine wunderbar tiefe, kreative Stück Software! Es gibt keinen Zweifel, dass ...
Also, was können Sie tun? Nun, die Tutorials und Foren sind oft die meisten Menschen ist erste Anlaufstelle. Aber was ist, wenn Sie wollen, um zu versuchen und zu diagnostizieren das Problem selbst? Sie brauchen nicht zu einem Tech-Genie sein, um einige Probleme zu lösen ... Ausstattung selbst mit einem Werkzeugkasten
Eines der häufigsten Probleme, die durch Logic User empfunden wird, wenn Sie nicht bekommen kann keinen Ton-Ausgabe von einem Logic-Projekt. Ob das Problem ist, bis auf User-Fehler (es passiert den Besten von uns!), Hardware (Audio-Interface, Bedienoberfläche, Monitore, Kabel, schlechte ram ...), oder ein Software-Bug oder Feature, diese Tipps helfen Ihnen bei der Diagnose, verstehen und letztendlich zu lösen es!
Ich würde empfehlen, lesen Sie die folgenden Tipps diesen selbst wenn Sie nie ein Thema wie dieses in Logic angetroffen habe.
Tipp 1 - Überprüfen Sie Ihre Hardware
Das 'root' Schritt ist zu prüfen, ob Ihr Audio-Interface richtig angeschlossen ist, sind die FireWire / USB-Kabel von der Schnittstelle zum Mac angeschlossen und alle Kabel wie Ihr Monitor und Kopfhörer richtig angeschlossen sind. Achten Sie darauf, die Lautstärke in geeigneter Weise und hob es ist eine gute Idee an dieser Stelle zu prüfen, ob die Kabel in Ordnung sind. Swap sie aus. Wenn Sie sich nicht um sie zu tauschen (was Sie haben noch keine Ersatzteile?) Bist, dann kannst du wieder kommen, um diesen Schritt später.
Sie sollten auch überprüfen, ob Sie den aktuellsten Treiber für Ihre Audio-Interface und der dazugehörigen Hardware finden Sie auf der Webseite des Herstellers zu haben. Immer vor der Installation des Treibers (s), dass sie kompatibel mit der Version von Logic und OS X laufen zu überprüfen.
Tipp 2 - Audio-MIDI-Setup

Audio-MIDI-Setup ermöglicht es Ihnen, MIDI-und Audio-Geräte an den Mac angeschlossen Setup. Es ist eine gute Idee, dieses kleine app Check-Out. Es ist in Ihrem Ordner Programme / Dienstprogramme befindet.
Wählen Sie Fenster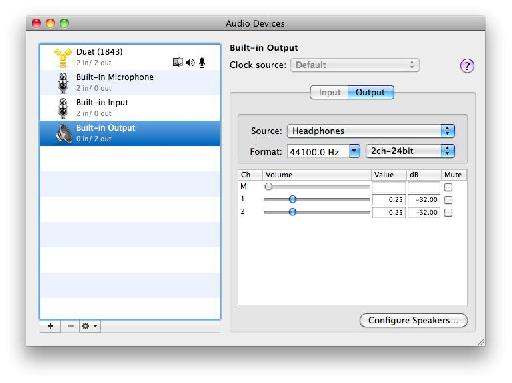 Tipp 3 - Output Device Setup

Ein weiterer guter Test ist sicher, solide zu machen kommt aus anderen Anwendungen auf Ihrem Mac, zB iTunes ... Aber sobald wir festgestellt haben, dass Ihr Mac die Audio-Wiedergabe läuft gut, es ist Zeit zu Logic an der Reihe.
In Logic choose Logic Pro > Preferences > Audio

Under the Devices tab, you should see the Core Audio tab (which should be enabled).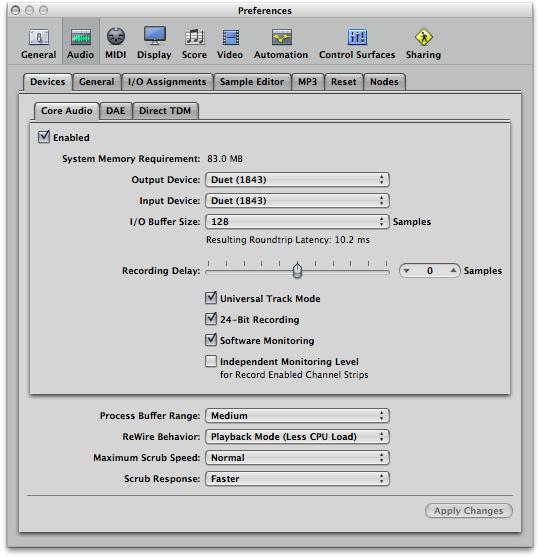 In Core Audio finden Sie das Ausgabegerät und Eingabegerät. Achten Sie darauf, diese Einrichtung angemessen für Ihre Audio-Interface.
Im Bild oben, habe ich meine Apogee Duet gesetzt wie die Output-und Eingabegerät. Wenn Sie ein Audio-Interface auszuwählen. Wenn nicht, verwenden Sie Ihren Mac Built-In Output als Output Device.
Tipp 4 - Prüfen Sie Ihre Channel-Strips

In Logic öffnen Sie den Mixer und stellen Sie sicher, dass Ihr Channel-Strips "gibt entweder werden die Stereo Out geführt, oder wenn Sie leitet sie über einen Bus, dass die entsprechenden Hilfs-Kanal beginnen weitergeleitet, um den Output.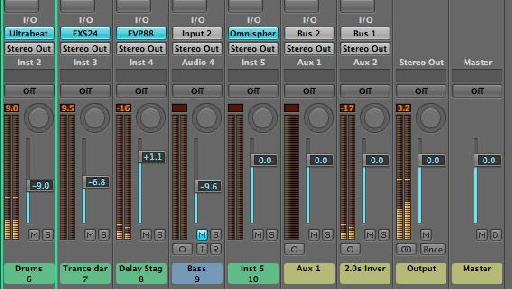 Im Bild oben sind wir in der Lage ist, bestimmte Informationen:
Sound wird registriert und in eine interne Audio-Logic-Engine auf der Kanalzüge gespielt.

Das Signal von jedem Kanalzug wird direkt an den Ausgang Kanalzug geroutet.

Die Output-Channel-Strip nicht stumm geschaltet ist, und wir können Aktivitäten in seiner Pegelanzeige sehen.

Keines der Geräte (Ultrabeat, EXS24, EVP88, etc) umgangen werden (ausgegraut).

Der Master-Channel-Strip ist weder stumm noch ist es das Niveau niedrig genug, dass wir die Ausgabe von Logic zu hören.

Tipp 5 - Check Mute und Solo

Es gibt verschiedene Möglichkeiten, Mute und Solo in Logic. Es ist möglich, / solo am Kanalzug Ebene verfolgen Ebene regionaler Ebene und sogar MIDI Event-Ebene (ein einzelnes MIDI-Note zum Beispiel) stumm.
In den folgenden Mixer Bild, das ich einem einzigen Kanalzug im Solo-Modus haben, so dass das Signal von anderen Kanälen vom Erreichen der Ausgang wird gestoppt. Man kann sagen, dies ist der Fall, da die Mute-Taste blinkt.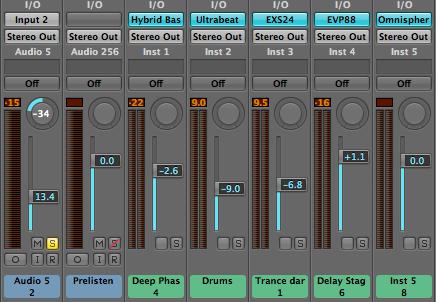 Wenn Sie aus irgendeinem Grund nicht finden können, die Solo geschaltete Channel-Strip, entweder auf der Registerkarte Alle im Mixer klicken und manuell danach suchen, oder Option auf eine beliebige Kanal Solo-Taste zweimal. Keine Kanalzüge wird im Solo-Modus jetzt.
Tipp 6 - Solo in der Arrange

Wenn in den Arrange-Bereich können Sie sich an Solo eine Region oder eine Gruppe von Regionen wünschen, während die Anordnung oder Vermischung. Die meisten Nutzer zu erreichen für die Solo-Schaltfläche im Transport oder wählen Sie eine Region aus und drücken Sie die Taste S.
Die ausgewählten Regionen werden mit einem gelben Rahmen hervorgehoben. Wenn Sie jedoch deaktivieren einer Region (durch einen Klick auf den Hintergrund der Arrangierbereich Sie keinen Ton hören aus dem Projekt, da keine Region ausgewählt ist und Logic ist noch im Solo-Modus).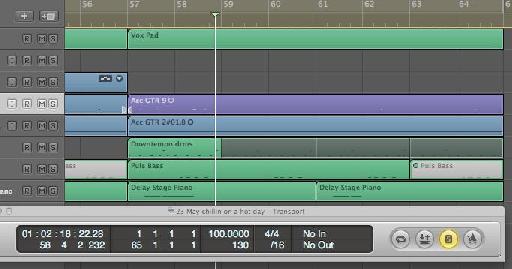 The solution is to check the solo button in the transport is off. If for some reason you've removed it from the Transport, you can tell when solo mode is active as the Bar Ruler is highlighted in yellow.
Tipp 7 - Check Automation

Es könnte sein, dass stumm oder solo Automatisierung in Ihrem Projekt geschrieben wurde. Wählen Sie Ansicht
Vielleicht möchten Sie auch Ihre Stereo Output-Kanal für die Automatisierung Werte zu überprüfen ... Zuerst müssen Sie es auf die Arrange-Bereich hinzufügen, da standardmäßig Aux-und Output-Channel-Strips nicht im Arrangierbereich Display zu tun.
Öffnen Sie den Mixer auf der Output Channel Strip mit der rechten Maustaste und wählen Sie Create / Select Arrange Track aus dem Dropdown-Menü.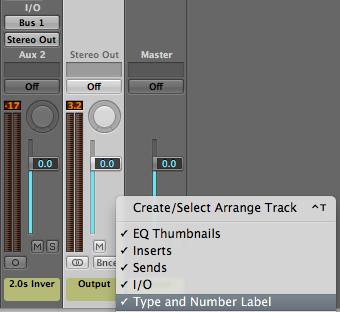 Tipp 8 - Das Vorhören Channel Strip

Das Vorhören Kanalzug wird durch Logic verwendet werden, um Apple Loops und Audio-Regionen, wieder in den Sample-Editor gespielt Vorschau.
Es ist in der Regel auf Audio Channel Strip 256 vorbehalten. Öffnen Sie den Mixer ein und klicken Sie auf die Registerkarte ALL in der oberen rechten. Blättern entlang, bis Sie das Vorhören Kanal zu finden.
Nun öffnen Sie den Loop-Browser und klicken Sie auf jedem Loop. Sie sollten hören, einige Audio-kommen aus Logic und über die Audio-Schnittstelle. Wenn es noch keinen Ton aus dem Rest Ihres Projekts, überprüfen Sie die Solo-und Mute-Tasten ...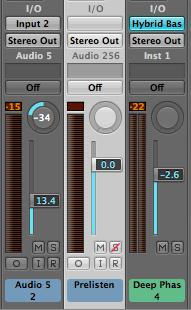 .

Tipp 9 - Prüfen Sie Ihre Stereo-Ausgang ... Exists (!)

Dies ist interessant, und machte mich darauf aufmerksam, indem ein Benutzer auf dem macProVideo.com Logic Foren gebracht. Wenn Sie versehentlich löschen die Stereo Output-Channel-Strip in der Umwelt oder der Mixer Sie keinen Ton hören von Ihrem Projekt, wenn Sie Routing von Audiodaten auf eine andere Ausgabe sind ...
Um dies zu beheben, öffnen Sie die Umwelt und navigieren Sie zu dem Mixer-Schicht. Hier wählen Sie Neu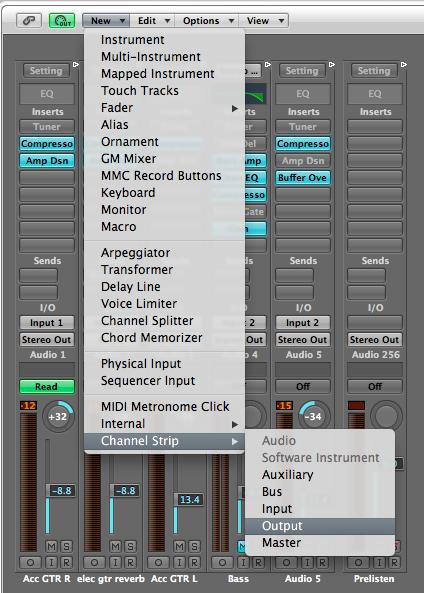 Sie sollten die Tonausgabe aus dem Projekt wieder hören!
Tipp 10 - Abschließende Gedanken

Es ist ungewöhnlich, aber nicht unmöglich, dass ein Projekt werden kann beschädigt werden. In diesem Fall versuchen Sie schaffen ein ganz neues Projekt und verwenden Sie den Vorhören
Logic saves backups of your project file in the Project folder/ Project File Backups sub-folder.
Try opening one of these to see if your project can be recovered. If it can, save as a new project to a new location with a new name and continue working on that version.
Du weißt, ich werde dich nicht gehen lassen, bis ich zum Sichern Ihrer wichtigen Dateien gesprochen habe. So gehen Backup ... verwenden Sie eine App wie Carbon Copy Cloner oder Super Duper oder Time Machine auf Ihr ganzes System sichern ... oder kopieren Sie Ihre wichtigen Dateien auf einer externen Festplatte oder auf DVD.
Und schließlich ist hier ein paar nützliche praktische Wartungsarbeiten, die helfen können - und sie definitiv nicht weh ...! Die OS X Troubleshooting Dreifaltigkeit:
Restart your Mac (quit all applications and choose Apple Menu > Restart...)

Repair Permissions (check out this thread on how to repair permissions on the Mac)

Trash/remove the Logic Preferences file: Go to User Home folder/Library/Preferences/Logic/ and move the file: com.apple.logic.pro.plist to the Desktop. Restart Logic...

Ausgestattet mit allen oben Logic Tipps zur Fehlerbehebung Sie nicht nur in der Lage sein, herauszufinden, einige gewöhnliche und ungewöhnliche "kein Ton" Probleme in Logic werden, aber Sie werden kommen, um die Logic-Guru an alle Ihre Freunde zu betrachten.
Interested in learning more about Logic? These tutorials will help you to become proficient whether you are starting out or looking for advanced tips, tricks and techniques! We'd love to hear your tricks, shortcuts & opinions. Let us know what you think by writing a comment below!