Solución de problemas 101: No hay salida de audio de la lógica? No hay problema!
Logic is a wonderfully deep, creative piece of software! There's no doubt about that...  It has steadily become easier to setup and use since Apple acquired it from Emagic But, as any software user .
La lógica es una maravillosa profundidad, la pieza creativa de software! No hay duda de eso ...
Entonces, ¿qué puede hacer usted? Bueno, la tutorías y foros suelen ser el puerto más gente primer punto de contacto. Pero ¿qué pasa si quieres probar y diagnosticar el problema usted mismo? Usted no necesita ser un genio de alta tecnología para resolver algunos problemas ... equiparse con una caja de herramientas de
Uno de los problemas más comunes experimentados por los usuarios de Logic es cuando usted no puede conseguir ninguna salida de sonido de un proyecto de Logic. Si el problema se debe a error por el usuario (lo que sucede a lo mejor de nosotros!), Basado en hardware (interfaz de audio, la superficie de control, monitores, cables, ...), RAM defectuosa o un error de software o la función, estos consejos le ayudará a diagnosticar, comprender y finalmente resolverlo!
Me gustaría recomendar la lectura de las puntas por debajo de estos, incluso si nunca he encontrado un tema como este en la lógica.
Consejo 1 - Compruebe su hardware
El 'root' paso es comprobar que la interfaz de audio está conectado correctamente, los cables FireWire / USB están conectados desde la interfaz de Mac y todos los cables, como el monitor y los auriculares están conectados correctamente. Asegúrese de que los niveles de volumen son criados adecuadamente y es una buena idea en este punto para comprobar que los cables están bien. Swap a cabo. Si usted es incapaz de intercambio (lo que no tienen los repuestos?), Entonces usted puede volver a este paso más adelante.
También debe comprobar que tiene los últimos controladores para su interfaz de audio y hardware disponibles en el sitio web de los fabricantes. Comprobar siempre antes de instalar el driver (s) que sean compatibles con la versión de la lógica y OS X se está ejecutando.
Consejo 2 - Configuración de Audio MIDI

Configuración de Audio MIDI le permite configurar los dispositivos de audio y MIDI conectado a su Mac. Es una buena idea revisar esta pequeña aplicación a cabo. Se encuentra ubicado en la carpeta Aplicaciones / Utilidades.
Seleccione Ventana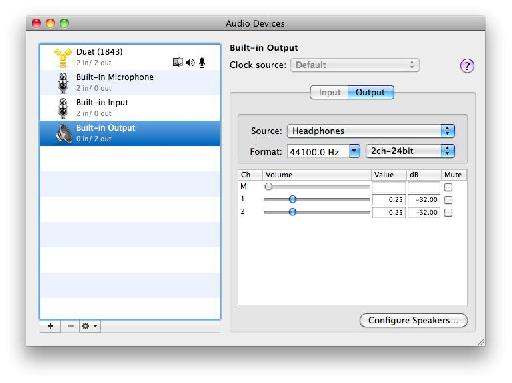 Consejo 3 - Configuración del dispositivo de salida

Otra buena prueba para hacer el sonido que sale de otras aplicaciones en el Mac, iTunes, por ejemplo ... Pero una vez que hemos establecido que el audio de tu Mac se reproduce bien, es hora de dar vuelta a la lógica.
In Logic choose Logic Pro > Preferences > Audio

Under the Devices tab, you should see the Core Audio tab (which should be enabled).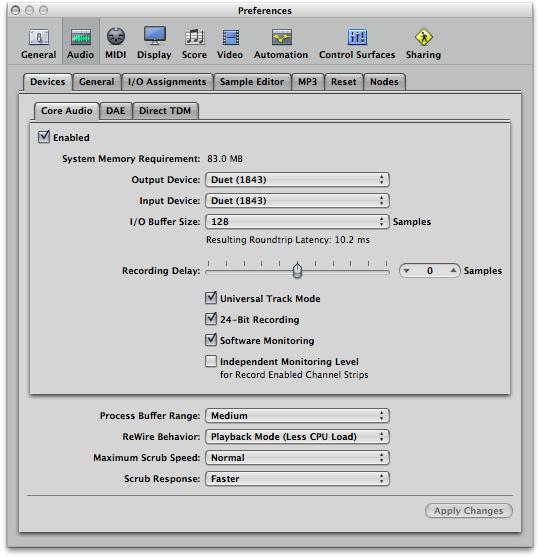 En Core Audio que se encuentra el dispositivo de salida y el dispositivo de entrada. Asegúrese de que se trata de la configuración apropiada para su interfaz de audio.
En la imagen de arriba, tengo mi Dúo apogeo como la salida y el dispositivo de entrada. Si usted tiene una interfaz de audio que seleccione. Si no, utilice Built-In de tu Mac como de salida de su dispositivo de salida.
Consejo 4 - Compruebe su Canales

En la lógica abrir el mezclador y asegúrese de que sus salidas de canales "o bien están siendo enviados a la salida estéreo, o si son ellos a través de una ruta de autobús, que el canal auxiliar correspondiente se comenzará dirige a la salida.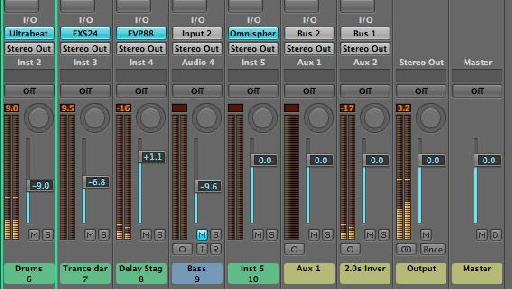 En la imagen superior podemos conocer cierta información:
El sonido se registra y reproduce en la lógica interna del motor de audio en los canales.

La señal de cada canal se está conectado directamente al canal de salida.

El canal de salida no está en silencio, y podemos ver la actividad en el medidor de nivel que es.

Ninguno de los instrumentos (Ultrabeat, EXS24, EVP88, etc) están excluidas (en gris).

La tira de Canal Maestro no es ni silenciada ni es su bajo nivel suficiente para que podamos escuchar la salida de la lógica.

Consejo 5 - Compruebe el silenciamiento y la familia

Hay diferentes maneras de mute y solo en la lógica. Es posible que mute / solo en el canal a nivel banda, el nivel de pista, el nivel de la región y el nivel de evento, incluso MIDI (una sola nota MIDI, por ejemplo).
En la imagen siguiente Mixer tengo una sola tira de canal en el modo en solitario, por lo que la señal de otros canales se detiene de alcanzar la salida. Se puede decir este es el caso de los botones de silenciar a parpadear.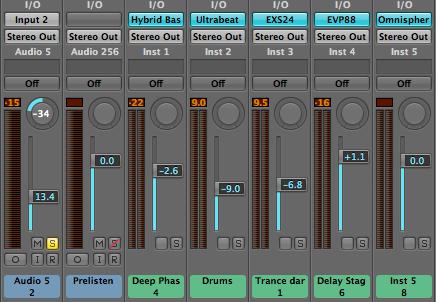 Si por alguna razón usted no puede encontrar el canal en 'solo', puede hacer clic en la ficha Todos, en el mezclador y buscar manualmente, o la tecla Opción botón de cualquier canal en solitario en dos ocasiones. No hay canales estará en el modo en solitario ahora.
Consejo 6 - Solo en los arreglos

Cuando en el área Organizar es posible que desee solo una región o grupo de regiones, mientras que la organización o la mezcla. La mayoría de los usuarios para alcanzar el botón Solo en el transporte o seleccione una región y pulse la tecla S.
Las regiones seleccionadas se resaltan con un borde amarillo. Sin embargo, si se anula la selección de una región (haciendo clic en el fondo del área de arreglos no se oirá ningún sonido en su proyecto, ya que ninguna región se ha seleccionado y la lógica se encuentra todavía en el modo Solo).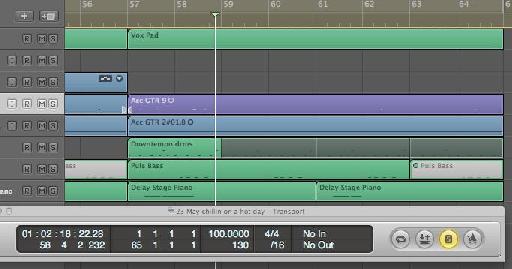 The solution is to check the solo button in the transport is off. If for some reason you've removed it from the Transport, you can tell when solo mode is active as the Bar Ruler is highlighted in yellow.
Consejo 7 - Automatización Compruebe

Podría ser que la automatización de silencio o en solitario ha escrito en su proyecto. Seleccione Ver
También es posible que desee comprobar su canal de salida estéreo para los valores de automatización ... En primer lugar, tendrás que añadir a la zona de arreglos, ya que por defecto Aux y las tiras de canal de salida no se muestran en el área Organizar.
Abra el mezclador, haga clic derecho en el canal de salida y seleccione Crear / Seleccionar arreglos de pista en el menú desplegable.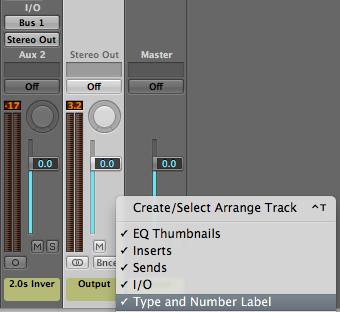 Consejo 8 - La preescucha de canal

La tira de canal pre-escuchar es utilizada por la lógica para previsualizar Apple Loops y regiones de audio que se reproduce en el Editor de muestras.
Es normalmente reservado en audio de canal 256. Abra el mezclador y haga clic en la ficha Todos, en la parte superior derecha. Desplazarse a lo largo hasta que encuentre el canal pre-escuchar.
Ahora abre el navegador de bucles y haga clic en cualquier circuito. Usted debe escuchar a algunos de audio que sale de la lógica ya través de su interfaz de audio. Si aún no existe un sonido que proviene del resto de su proyecto, ver los botones de solo y mute ...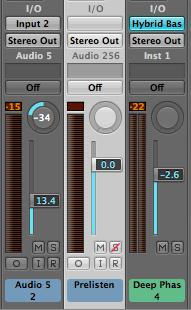 .

Consejo 9 - Revise su salida estéreo ... Existe (!)

Esto es interesante, y fue traído a mi atención por un usuario en los foros de la lógica macProVideo.com. Si por error elimina la tira de canal de salida estéreo de Medio Ambiente o el mezclador no escuchará ningún sonido de su proyecto a menos que el envío de audio a una salida diferente ...
Para solucionar este problema, abra el Medio Ambiente y navegar a la capa de mezclador. Aquí elija Nuevo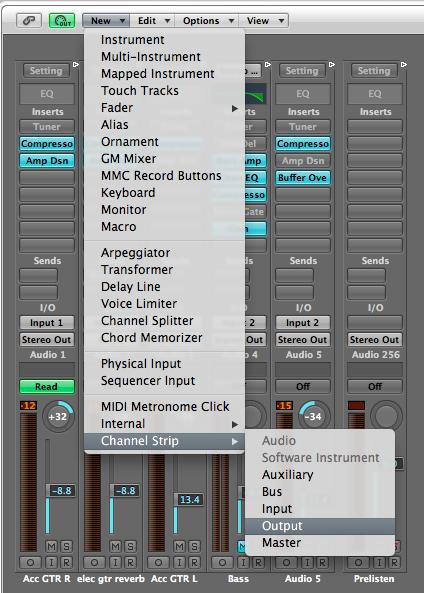 Usted debe oír la salida de sonido de su proyecto de nuevo!
Consejo 10 - Consideraciones finales

Es inusual, pero no imposible, que un proyecto puede resultar dañada. En este caso, intente crear un nuevo proyecto y el uso de la pre-escuchar
Logic saves backups of your project file in the Project folder/ Project File Backups sub-folder.
Try opening one of these to see if your project can be recovered. If it can, save as a new project to a new location with a new name and continue working on that version.
Usted sabe, yo no te dejaré ir hasta que haya hablado sobre el respaldo de sus archivos importantes. Así pues, vaya copia de seguridad ... utilizar una aplicación como Carbon Copy Cloner o Super Duper o copia de seguridad de Time Machine a todo el sistema ... o copiar los archivos importantes a un disco duro externo o en DVD.
Y, por último, aquí hay algunos procedimientos útiles prácticos de mantenimiento que pueden ayudar - y definitivamente no duelen ...! El OS X Solución de problemas trinidad:
Restart your Mac (quit all applications and choose Apple Menu > Restart...)

Repair Permissions (check out this thread on how to repair permissions on the Mac)

Trash/remove the Logic Preferences file: Go to User Home folder/Library/Preferences/Logic/ and move the file: com.apple.logic.pro.plist to the Desktop. Restart Logic...

Equipado con todas las puntas por encima de la lógica de solución de problemas que no sólo será capaz de entender algunos problemas comunes y no comunes "sin sonido" en la lógica, pero llegará a ser considerado como el gurú de la lógica a todos tus amigos.
Interested in learning more about Logic? These tutorials will help you to become proficient whether you are starting out or looking for advanced tips, tricks and techniques! We'd love to hear your tricks, shortcuts & opinions. Let us know what you think by writing a comment below!