عیب یابی 101 : بدون خروجی صوتی از منطق؟ مشکلی نیست!
Logic is a wonderfully deep, creative piece of software! There's no doubt about that...  It has steadily become easier to setup and use since Apple acquired it from Emagic But, as any software user .
منطق زیبا و عمیق ، قطعه خلاق از نرم افزار است! بدون شک در مورد آن وجود دارد...
بنابراین ، آنچه می توانید انجام دهید؟ خوب ، آموزش ها و انجمن ها اغلب اولین بندر اکثر مردم از تماس است . اما آنچه در مورد اگر شما می خواهید را امتحان کنید و تشخیص این موضوع به خودتان؟ شما لازم نیست یک نابغه های فن آوری برای حل برخی از مسائل می شود... تجهیز خود را با یک جعبه ابزار
یکی از مشکلات شایع تر تجربه شده توسط کاربران منطق است زمانی که شما می توانید هر گونه خروجی صدا از یک پروژه منطق را می کنید. یا نه ، مشکل این است که به کاربر خطا (آن را به بهترین چیزی که از ما رخ دهد) ، مبتنی بر سخت افزار (رابط صوتی ، سطح کنترل ، مانیتور ، کابل ها ،...)، قوچ بد و یا یک اشکال نرم افزار و یا قابلیت ، این راهنمایی کمک خواهد کرد که آن را تشخیص شما ، آن را درک و در نهایت آن را حل کند!
من اینها را پیشنهاد میکنم خواندن نکات زیر این حتی اگر شما یک مسئله مانند این در منطق مواجه می شوند هرگز.
نکته 1 -- چک کردن سخت افزار خود را
'ریشه' گام این است که به بررسی کنید که رابط های صوتی خود را به درستی متصل شده ، کابل فایروایر / USB از رابط کاربری را با مک متصل شده و تمام کابل مانند مانیتور و هدفون خود را به درستی به هم متصل است. اطمینان حاصل کنید که سطح حجم مناسب مطرح و آن را یک ایده خوب در این مرحله به بررسی کنید که کابل OK. تعویض آنها. اگر شما قادر به مبادله آنها را (به آنچه شما انجام هر گونه قطعات یدکی ندارد؟) و سپس شما می توانید به آمدن به این مرحله بعد.
شما همچنین باید که شما را از آخرین درایور های رابط های صوتی خود را و مربوط به سخت افزار موجود بر روی تولید کنندگان وب سایت را بررسی کنید. همیشه قبل از نصب درایور (ها) که آنها سازگار با نسخه ای از منطق و OS X در حال اجرا هستند چک کنید.
نکته 2 -- صوتی راه اندازی MIDI

صوتی راه اندازی MIDI به شما اجازه می دهد تا راه اندازی دستگاه های MIDI و صوتی متصل به سیستم مک شما. این ایده خوبی است برای بررسی این برنامه کوچک. این در برنامه های کاربردی / نرم افزار پوشه قرار دارد.
را انتخاب کنید پنجره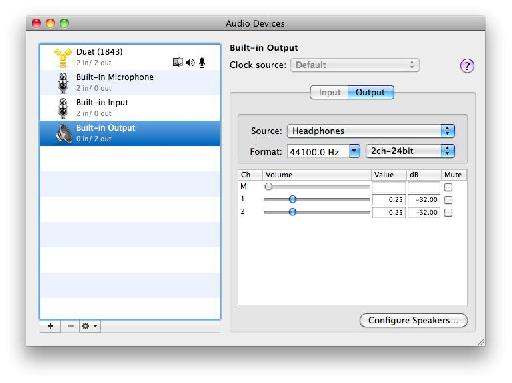 نکته 3 -- راه اندازی دستگاه خروجی

یکی دیگر از تست خوب آن را به صدا مطمئن شوید در حال آمدن است از یک برنامه دیگر بر روی مک ، آیتونز به عنوان مثال... اما زمانی که ما از تاسیس صوتی مک شما در حال پخش است به عقب خوب است ، آن هم به نوبه خود به منطق است.
In Logic choose Logic Pro > Preferences > Audio

Under the Devices tab, you should see the Core Audio tab (which should be enabled).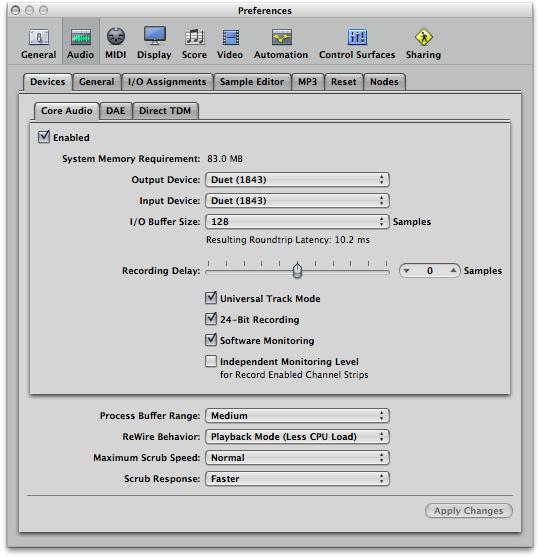 در هسته های صوتی شما خروجی دستگاه و دستگاه ورودی را پیدا کنید . اطمینان حاصل کنید که این راه اندازی مناسب را برای رابط های صوتی خود را.
در تصویر بالا ، من اوج دو نفره مجموعه من به عنوان دستگاه خروجی و ورودی است. اگر شما از یک رابط های صوتی آن را انتخاب کنید . اگر نه ، استفاده از خروجی ساخته شده است در مک خود را به عنوان خروجی دستگاه شما است.
نکته 4 -- چک کردن نوارها کانال خود را

در منطق باز کردن میکسر و مطمئن شوید که نوار کانال خروجی خود را یا از استریو روت ، و یا اگر شما آنها را مسیریابی از طریق یک اتوبوس ، که کانال مربوطه کمکی شروع به روت به خروجی.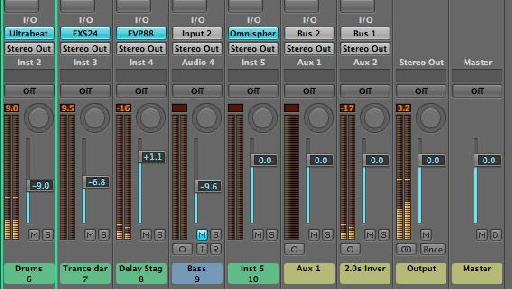 در تصویر بالا ما می توانند به اطلاعات معلوم خاص :
صدا است که ثبت نام و در منطق موتور داخلی های صوتی بر روی نوار کانال بازی.

سیگنال از هر نوار کانال است که به طور مستقیم به خروجی کانال نوار روت.

نوار کانال خروجی خاموش نمی شود و ما می توانیم فعالیت در متر سطح آن را ببینید.

هیچ یک از ابزار (Ultrabeat ، EXS24 EVP88 ، و غیره) بای پاس (خاکستری از).

استاد نوار کانال نه خاموش است و نه آن را سطح پایین به اندازه کافی است که ما می توانیم خروجی از منطق را بشنود.

نکته 5 -- بررسی و لال و تکنوازی

راه های مختلف لال و انفرادی در منطق وجود دارد. این ممکن است برای لال / انفرادی در سطح کانال نوار ، سطح مسیر ، سطح منطقه و حتی MIDI سطح رویداد (توجه داشته باشید تنها MIDI به عنوان مثال).
در تصویر میکسر زیر من یک نوار کانال تنها در حالت انفرادی است ، بنابراین سیگنال از کانال های دیگر را از رسیدن به خروجی متوقف خواهد شد. شما می توانید بگویید این مورد به عنوان دکمه قطع خواهد شد فلش.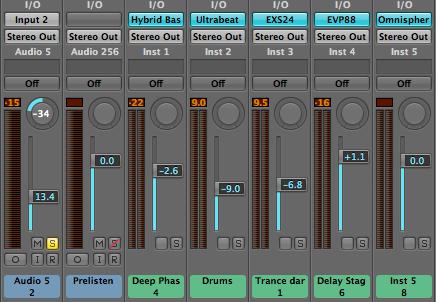 اگر به هر دلیلی شما می توانید نوار کانال Soloed را پیدا کند ، یا با کلیک بر روی زبانه در میکسر و دستی جستجو برای آن ، یا Option کلیک کنید دکمه «سولو» هر کانال دو بار. بدون نوار کانال در حال حاضر در حالت انفرادی است.
نکته 6 -- انفرادی به ترتیب

هنگامی که در منطقه ترتیب شما ممکن است به انفرادی یک منطقه یا گروهی از مناطق آرزو در حالی که تنظیم و یا مخلوط کردن. بیشترین تعداد کاربرانی که برای دکمه های انفرادی در حمل و نقل برسد و یا یک منطقه را انتخاب کنید و با فشار کلید S.
مناطق انتخاب شده تبدیل با یک مرز زرد پر رنگ شده است. با این حال ، اگر یک منطقه (با کلیک کردن بر روی پس زمینه از منطقه ترتیب شما هر صدا از پروژه شما را نمی شنوند و این علت که هیچ منطقه انتخاب شده است و منطقی است که هنوز در حالت انفرادی) شما را از حالت انتخاب است.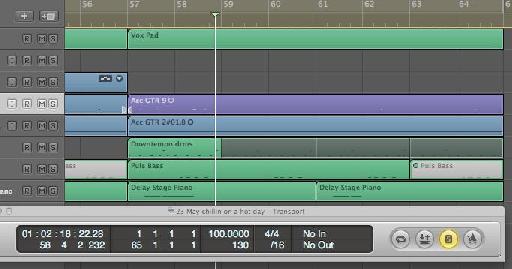 The solution is to check the solo button in the transport is off. If for some reason you've removed it from the Transport, you can tell when solo mode is active as the Bar Ruler is highlighted in yellow.
نکته 7 -- اتوماسیون چک

این اتفاق ممکن است که قطع و یا انفرادی اتوماسیون در پروژه های شما نوشته شده است. را انتخاب کنید مشاهده
شما همچنین ممکن است مایل به بررسی کانال خروجی استریو برای ارزش های اتوماسیون... در ابتدا شما باید به آن اضافه کنید تا منطقه ترتیب ، چرا که به طور پیش فرض نوار کانال خروجی AUX و در منطقه ترتیب نمایش نیست.
باز کردن میکسر ، نوار خروجی کانال راست کلیک و انتخاب ایجاد / انتخاب ترتیب آهنگ از منوی کشویی .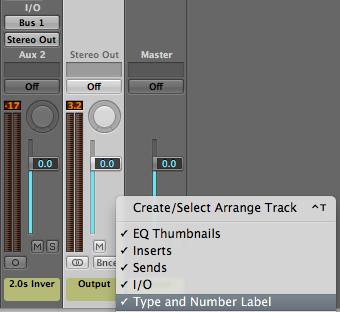 نکته 8 -- نوار کانال Prelisten

نوار کانال Prelisten توسط منطق مورد استفاده قرار می گیرد برای پیش نمایش حلقه های اپل و مناطق صوتی که پشت در ویرایشگر نمونه بازی.
به طور معمول در کانال صوتی نوار 256 محفوظ می باشد. میکسر را باز و در بالا و سمت راست با کلیک بر روی زبانه ALL . رفته همراه تا شما را پیدا کانال Prelisten.
در حال حاضر مرورگر حلقه و باز کردن بر روی هر حلقه کلیک کنید. شما باید برخی از صوتی بیرون می آید از منطق و از طریق رابط های صوتی خود را می شنوید. اگر هنوز وجود دارد و نه صدایی که از بقیه پروژه خود را ، بررسی دکمه های انفرادی و قطع...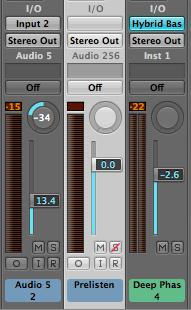 .

نکته 9 -- بررسی خروجی استریو... وجود دارد (!)

این یکی جالب است ، و توسط یک کاربر در انجمن ها منطق macProVideo.com توجه من به ارمغان آورده است. اگر شما به اشتباه حذف نوار کانال استریو خروجی در محیط و یا میکسر شما هر صدا را از پروژه خود را می شنوید مگر اینکه شما مسیریابی صوتی را به یک خروجی های مختلف...
برای اصلاح این موضوع ، باز کردن محیط زیست و حرکت به لایه میکسر. در اینجا جدید را انتخاب کنید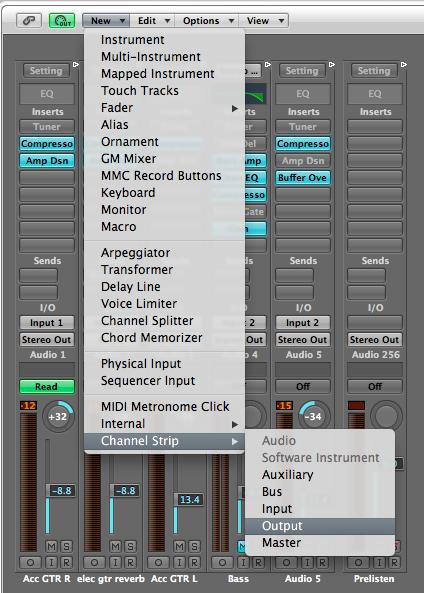 شما باید خروجی صدا را دوباره از پروژه خود را می شنوید!
نکته 10 -- افکار نهایی

این غیر عادی است ، اما از بی سابقه نیست ، که یک پروژه می تواند خراب شود. در این مورد ایجاد یک پروژه با نام تجاری جدید را امتحان کنید و با استفاده از Prelisten
Logic saves backups of your project file in the Project folder/ Project File Backups sub-folder.
Try opening one of these to see if your project can be recovered. If it can, save as a new project to a new location with a new name and continue working on that version.
شما می دانید ، من نمی خواهد به شما اجازه تا زمانی که من در مورد پشتیبان گیری از فایل های مهم خود را صحبت کردیم. بنابراین ، به پشتیبان... استفاده از یک نرم افزار مانند کربن Cloner به کپی یا سوپر Duper یا ماشین زمان کل سیستم خود نسخه پشتیبان تهیه کنید... و یا کپی فایل های مهم خود را به درایو های خارجی و یا بر روی DVD است.
و در نهایت ، در اینجا برخی از روش های مفید نگهداری عملی که می توانند کمک کنند -- و آنها قطعا درد نکنه...! OS X عیب یابی ترینیتی :
Restart your Mac (quit all applications and choose Apple Menu > Restart...)

Repair Permissions (check out this thread on how to repair permissions on the Mac)

Trash/remove the Logic Preferences file: Go to User Home folder/Library/Preferences/Logic/ and move the file: com.apple.logic.pro.plist to the Desktop. Restart Logic...

مجهز به تمام راهنمایی منطق عیب یابی بالا شما فقط می خواهید نمی شود قادر به کشف کردن برخی از مسائل مشترک و غیر معمول ، بدون صدا در منطق است ، اما شما آمده به عنوان گورو منطق به تمام دوستان خود در نظر گرفته می شود.
Interested in learning more about Logic? These tutorials will help you to become proficient whether you are starting out or looking for advanced tips, tricks and techniques! We'd love to hear your tricks, shortcuts & opinions. Let us know what you think by writing a comment below!