Logic is a wonderfully deep, creative piece of software! There's no doubt about that...  It has steadily become easier to setup and use since Apple acquired it from Emagic But, as any software user .
La logique est une merveille de profondeur, morceau de logiciel de création! Il n'y a aucun doute à ce sujet ...
Alors, que pouvez-vous faire? Eh bien, les tutoriels et les forums sont souvent le port le plus populaire d'abord appel. Mais qu'en est-il si vous voulez essayer et diagnostiquer le problème vous-même? Vous n'avez pas besoin d'être un génie technique pour résoudre certains problèmes ... vous équiper avec une panoplie de
Un des problèmes les plus courants rencontrés par les utilisateurs de Logic, c'est quand vous ne pouvez pas obtenir la sortie audio à partir d'un projet Logic. Que ce soit ou non le problème est en baisse à l'utilisateur d'erreur (ça arrive aux meilleurs d'entre nous!), Basé sur le matériel (interface audio, surface de contrôle, surveille, câbles, ...), mémoire vive ou un bogue informatique ou une fonction, ces conseils vous aideront à le diagnostiquer, le comprendre et finalement de le résoudre!
Je vous recommande la lecture des trucs en dessous de ces même si vous ne l'avez jamais rencontré un problème comme celui-ci dans Logic.
Astuce 1 - Vérifiez votre matériel
Le 'root' étape est de vérifier que votre interface audio est correctement connecté, les câbles FireWire / USB sont connectés via l'interface de Mac et tous les câbles tels que le moniteur et le casque est branché correctement. Assurez-vous que les niveaux de volume sont élevés convenablement et c'est une bonne idée à ce stade de vérifier que les câbles sont ok. Leur céder sa place. Si vous êtes incapable de les échanger (ce que vous n'avez pas de pièces de rechange?) Alors vous pouvez revenir à cette étape ultérieure.
Vous devez également vérifier que vous avez les derniers pilotes pour votre interface audio et de matériel disponibles sur le site Web du fabricant. Toujours vérifier avant d'installer le pilote (s) où elles sont compatibles avec la version de Logic et OS X que vous utilisez.
Astuce 2 - Configuration audio et MIDI

Configuration audio et MIDI vous permet de configurer les périphériques MIDI et audio connecté à votre Mac. C'est une bonne idée de vérifier ce petit soft sur. Il est situé dans votre dossier Applications / Utilitaires.
Choisissez Fenêtre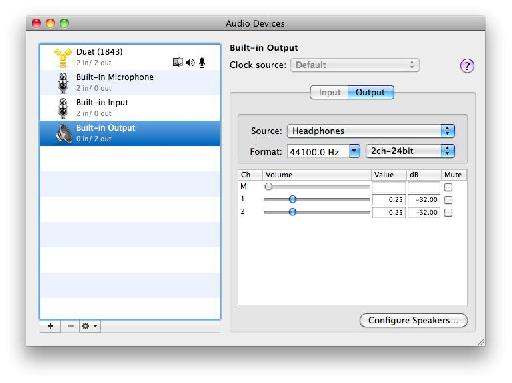 Astuce 3 - Configuration des périphériques de sortie

Un autre bon test c'est de prendre de bonnes sûr, c'est sortir d'autres applications sur votre Mac, iTunes par exemple ... Mais une fois que nous avons établi que l'audio de votre Mac est la lecture fine, il est temps de se tourner vers Logic.
In Logic choose Logic Pro > Preferences > Audio

Under the Devices tab, you should see the Core Audio tab (which should be enabled).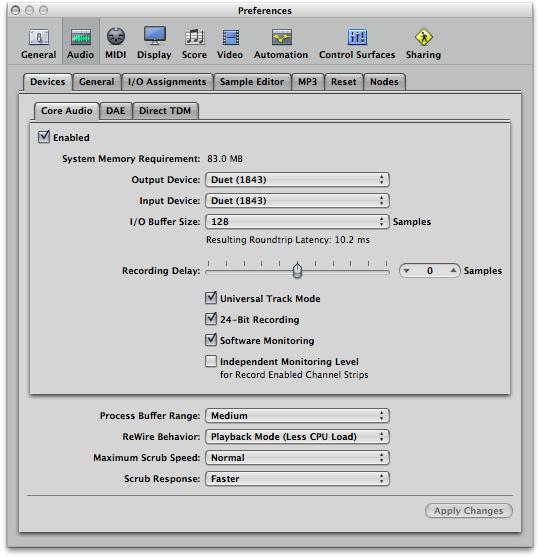 Dans Core Audio, vous trouverez le périphérique de sortie et Input Device. Assurez-vous que ce sont de configuration appropriée de votre interface audio.
Dans l'image ci-dessus, j'ai mon jeu Apogee Duet que la sortie et le dispositif d'entrée. Si vous avez une interface audio de le sélectionner. Sinon, utilisez votre Mac Sortie intégrée comme périphérique de sortie.
Astuce 4 - Vérifiez vos tranches de console

Dans Logic ouvrir le mélangeur et assurez-vous de votre bandes de canaux de sorties sont soit acheminé vers la sortie stéréo, ou si vous leur acheminement via un bus, que le canal correspondant auxiliaire est de commencer acheminés vers la sortie.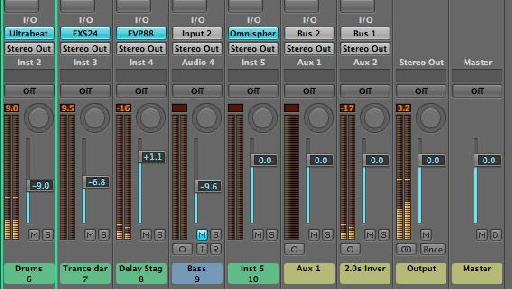 Dans l'image ci-dessus, nous sommes en mesure de déterminer certaines informations:
Le son est enregistré et être lus dans la logique du moteur audio interne sur les bandes de canaux.

Le signal de chaque voie est routé directement vers la bande de canaux de sortie.

La bande du canal de sortie n'est pas coupé et on peut voir l'activité dans le sonomètre c'est.

Aucun des instruments (Ultrabeat, EXS24, EVP88, etc) sont contournés (grisé).

La bande master Manche n'est ni muet ni le niveau assez bas pour que nous pouvons entendre la sortie de Logic.

Astuce 5 - Vérifier Mute et Solo

Il ya différentes façons de mute et solo dans Logic. Il est possible de mute / solo au niveau des bandes de canaux, niveau de la piste, le niveau de la région et au niveau de l'événement, même MIDI (une seule note MIDI par exemple).
Dans l'image suivante Mixer J'ai une bande seul canal en mode solo, donc le signal des autres canaux seront arrêtés d'atteindre la sortie. Vous pouvez dire que ce n'est le cas que les boutons mute clignote.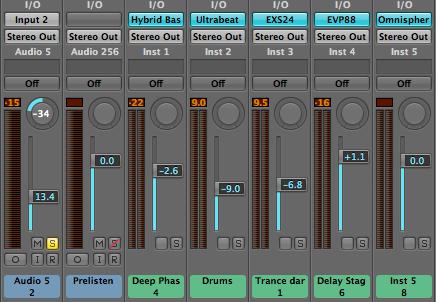 Si pour quelque raison vous ne pouvez pas trouver la bande de canal en solo, soit cliquer sur l'onglet Toutes les dans le mixer et rechercher manuellement, ou Option-cliquez sur le bouton en solo n'importe quel canal à deux reprises. Pas de bandes canal sera désormais en mode solo.
Astuce 6 - Solo dans l'Arrangement

Lorsque dans la zone Arrangement, vous pouvez jouer en solo d'une région ou un groupe de régions, tout en organisant ou de mélange. La plupart des utilisateurs à atteindre pour le bouton Solo dans le transport ou sélectionner une région et appuyez sur la touche S.
Les régions sélectionnées apparaissent en surbrillance avec une bordure jaune. Toutefois, si vous désactivez une région (en cliquant sur le fond de la zone Arrangement, vous n'entendez aucun son de votre projet, car aucune région n'est sélectionnée et Logic est toujours en mode solo).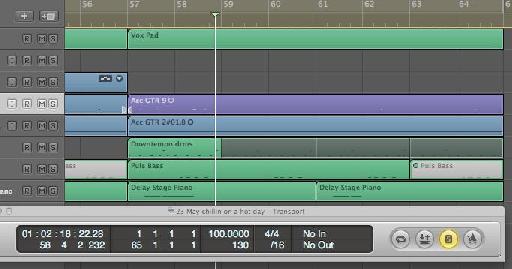 The solution is to check the solo button in the transport is off. If for some reason you've removed it from the Transport, you can tell when solo mode is active as the Bar Ruler is highlighted in yellow.
Astuce 7 - Automatisation Check

Il se pourrait que l'automatisation mute ou solo a été écrit dans votre projet. Choisissez Vue
Vous pouvez aussi vérifier votre canal de sortie stéréo pour les valeurs de l'automatisation ... D'abord vous aurez besoin pour l'ajouter à la zone Arrangement, car par défaut Aux et les bandes de canaux de sortie ne s'affichent pas dans la zone Arrangement.
Ouvrez la console, clic-droit sur ​​la bande de canaux de sortie et choisissez Créer / Sélectionner Disposer piste dans le menu déroulant.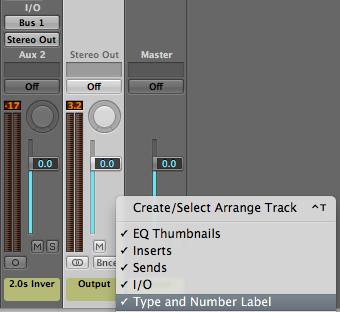 Astuce 8 - Le Pré-écoute Channel Strip

La bande Pré-écoute canal est utilisé par la logique de prévisualiser les boucles Apple Loops et des régions audio en cours de lecture dans l'Éditeur d'échantillon.
Il est normalement réservée sur Audio Channel Strip 256. Ouvrez la Console et cliquez sur l'onglet Tous en haut à droite. Faites défiler le long jusqu'à ce que vous trouverez le canal Pré-écoute.
Maintenant, ouvrez le navigateur de boucles et de cliquer sur n'importe quelle boucle. Vous devriez entendre le son sortant de la logique et à travers votre interface audio. S'il n'y a toujours aucun son ne sort du reste de votre projet, vérifiez les boutons Solo et Mute ...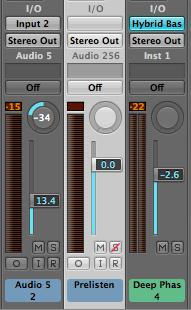 .

Astuce 9 - Vérifiez votre sortie stéréo ... Exists (!)

C'est une question intéressante, et a été porté à mon attention par un utilisateur sur le forum Logic macProVideo.com. Si par erreur vous supprimez la bande de canal de sortie stéréo dans l'environnement ou la table de mixage vous n'entendez aucun son de votre projet, sauf si vous êtes le routage audio à un résultat différent ...
Pour remédier à cela, ouvrez l'Environnement et de naviguer vers la couche de mixage. Ici choisissez Nouveau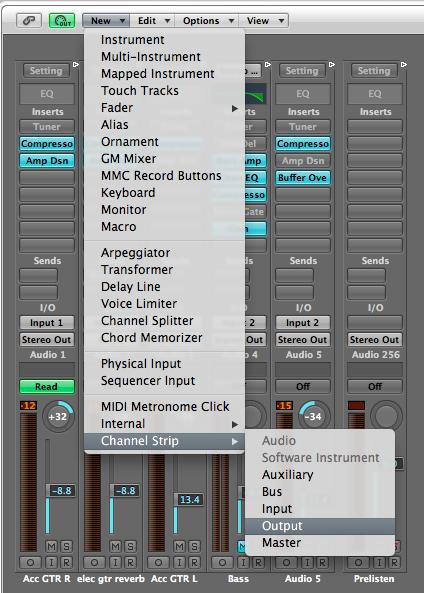 Vous devriez entendre la sortie audio de votre projet à nouveau!
Astuce 10 - Réflexions finales

C'est inhabituel, mais pas impossible, qu'un projet peut être corrompu. Dans ce cas, essayez de créer un tout nouveau projet et l'utilisation de la Pré-écoute
Logic saves backups of your project file in the Project folder/ Project File Backups sub-folder.
Try opening one of these to see if your project can be recovered. If it can, save as a new project to a new location with a new name and continue working on that version.
Vous savez, je ne vais pas vous laisser aller jusqu'à ce que j'ai parlé de la sauvegarde de vos fichiers importants. Alors, allez de sauvegarde ... utiliser une application comme Carbon Copy Cloner ou Super Duper ou Time Machine pour sauvegarder votre système en entier ... ou de copier vos fichiers importants sur un disque externe ou sur DVD.
Et enfin, voici quelques procédures d'entretien utiles pratiques qui peuvent aider - et ils ne sont définitivement pas faire de mal ...! Les OS X Dépannage trinité:
Restart your Mac (quit all applications and choose Apple Menu > Restart...)

Repair Permissions (check out this thread on how to repair permissions on the Mac)

Trash/remove the Logic Preferences file: Go to User Home folder/Library/Preferences/Logic/ and move the file: com.apple.logic.pro.plist to the Desktop. Restart Logic...

Doté de tous les conseils de dépannage ci-dessus Logic vous aurez non seulement être capable de comprendre certaines communes et rares "pas de son« questions de logique, mais vous serez venu à être considéré comme le gourou logique à tous vos amis.
Interested in learning more about Logic? These tutorials will help you to become proficient whether you are starting out or looking for advanced tips, tricks and techniques! We'd love to hear your tricks, shortcuts & opinions. Let us know what you think by writing a comment below!