Logic is a wonderfully deep, creative piece of software! There's no doubt about that...  It has steadily become easier to setup and use since Apple acquired it from Emagic But, as any software user .
La logica è un meraviglioso ed intenso, pezzo creativo di software! Non c'è alcun dubbio al riguardo ...
Allora, che cosa si può fare? Beh, il tutorial e forum sono spesso prima porta la maggior parte della gente di chiamata. Ma che dire se volete provare a diagnosticare il problema da soli? Non è necessario essere un genio tecnico per risolvere alcuni problemi ... dotare te stesso con una serie di strumenti di
Uno dei problemi più comuni rilevati dagli utenti Logic è quando non si può ottenere qualsiasi suono in uscita da un progetto di Logic. Se il problema è giù per l'utente-errore (capita ai migliori di noi!), Basato su hardware (interfaccia audio, superficie di controllo, monitor, cavi, ...), ram cattivo o un difetto del software o una funzione, questi suggerimenti vi aiuterà a diagnosticare, capire e infine risolverlo!
Mi consiglia di leggere i suggerimenti di sotto di questi, anche se non hai mai incontrato un problema come questo in Logic.
Suggerimento 1 - Controllare l'hardware di
Il passo 'root' è quello di verificare che l'interfaccia audio è collegato correttamente, il firewire / USB cavi sono collegati da interfaccia per Mac e tutti i cavi, come il monitor e le cuffie sono collegate in modo corretto. Assicurarsi che i livelli di volume vengono allevati opportunamente ed è una buona idea, a questo punto per verificare che i cavi sono ok. Scambia fuori. Se non sei in grado di scambiare loro (ciò che non hanno alcun ricambi?) Allora si può tornare a questa fase successiva.
Si dovrebbe anche controllare di avere gli ultimi driver per l'interfaccia audio e relativo hardware disponibili sul sito del produttore. Controllare sempre prima di installare il driver (s) che siano compatibili con la versione di Logic e OS X in esecuzione.
Suggerimento 2 - Configurazione MIDI Audio

Audio MIDI Setup permette di impostare i dispositivi MIDI e audio collegato al Mac.. E 'una buona idea controllare questa piccola applicazione fuori. Si trova nella cartella Applicazioni / Utility.
Scegliere Finestra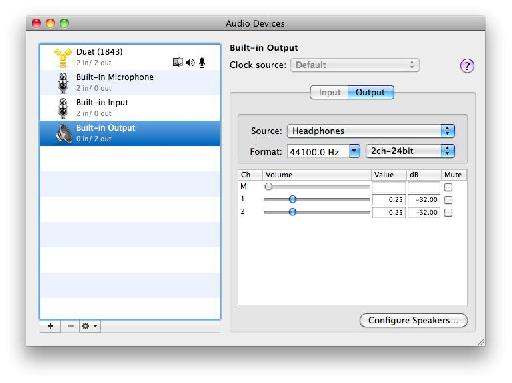 Suggerimento 3 - Dispositivo Output Setup

Un altro buon test per rendere il suono che esce di altre applicazioni sul vostro Mac, iTunes ad esempio ... Ma una volta che abbiamo stabilito che l'audio del Mac è la riproduzione di bene, è il momento di rivolgersi a Logic.
In Logic choose Logic Pro > Preferences > Audio

Under the Devices tab, you should see the Core Audio tab (which should be enabled).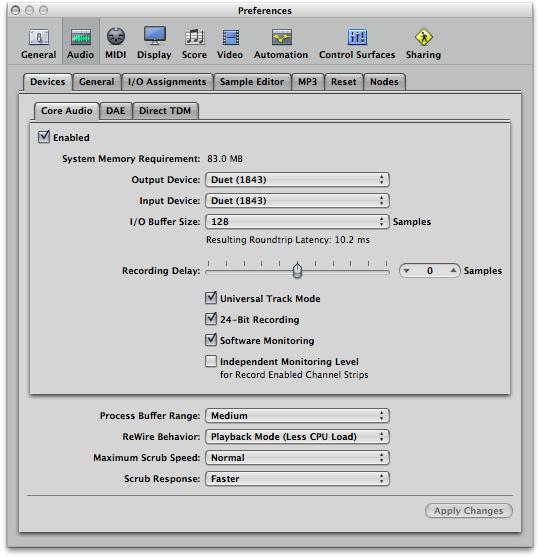 In Core Audio si trova il dispositivo di output e periferiche di input. Assicurarsi che questi siano configurati in modo appropriato per l'interfaccia audio.
Nell'immagine qui sopra, ho il mio set Duet Apogee come uscita e dispositivo di input. Se si dispone di una interfaccia audio selezionarlo. In caso contrario, utilizzare il vostro Mac Built-In uscita come periferica di output.
Suggerimento 4 - Controlla la tua Channel Strip

In Logic aprire il Mixer e assicurarsi uscite le strisce di canale 'sono o venga mandato in Stereo Out, o se li instradamento tramite un bus, che il canale ausiliario corrispondente è cominciare indirizzato al di uscita.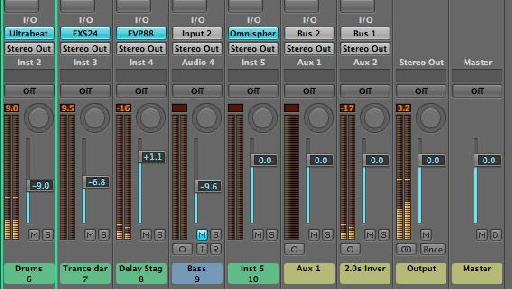 Nella foto sopra siamo in grado di accertare alcune informazioni:
Il suono viene registrato e riprodotto nel motore audio interno Logic sulle strisce canale.

Il segnale proveniente da ogni striscia di canale viene indirizzato direttamente alla striscia di canale di uscita.

La striscia di canale di uscita non sia disattivato e si può vedere l'attività nel suo indicatore di livello.

Nessuno degli strumenti (Ultrabeat, EXS24, EVP88, etc) vengono bypassati (in grigio).

La striscia di Canale Maestro non è né mute né è il livello abbastanza basso da poter ascoltare l'output da Logic.

Suggerimento 5 - Controllare Mute e Solo di

Ci sono diversi modi per disattivare l'audio e solo in Logic. E 'possibile mute / solo a livello di channel strip, il livello di traccia, il livello di regione e il livello degli eventi anche MIDI (una singola nota MIDI per esempio).
Nella figura seguente Mixer ho una singola striscia di canale in modalità solo, in modo che il segnale proveniente da altri canali sarà impedito di raggiungere l'uscita. Si può dire questo è il caso, come i tasti mute lampeggia.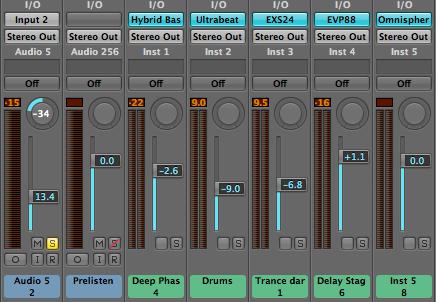 Se per qualche motivo non riesci a trovare la striscia in solo canale, fare clic sulla scheda Tutti nel Mixer e manualmente la ricerca di esso, o il tasto Opzione pulsante solo un canale di due volte. Nessun strisce di canale sarà in modalità ora solista.
Suggerimento 6 - Solo in Arrange

Quando nella zona Arrange potete desiderare da solo una regione o gruppo di regioni, mentre l'organizzazione o alla miscela. Maggior parte degli utenti per raggiungere il pulsante Solo nel settore dei trasporti o selezionare una regione e premere il tasto S.
Le regioni selezionato viene evidenziato con un bordo giallo. Tuttavia, se si deseleziona una regione (cliccando sullo sfondo della Arrange zona che non si sente alcun suono dal progetto perché nessuna regione è stata selezionata e Logic è ancora in modalità solo per lavoro).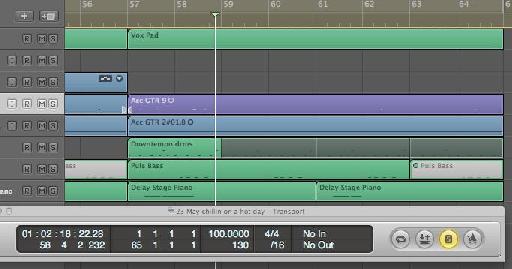 The solution is to check the solo button in the transport is off. If for some reason you've removed it from the Transport, you can tell when solo mode is active as the Bar Ruler is highlighted in yellow.
Suggerimento 7 - Automazione Verifica

Potrebbe essere che l'automazione muto o solista è stato scritto nel progetto. Scegli Vista
Puoi anche controllare il canale di uscita stereo per i valori di automazione ... Per prima cosa sarà necessario aggiungere alla zona Arrange, perché per impostazione predefinita Aux e strisce canale di uscita non vengono visualizzati nella zona Arrange.
Aprire il mixer, destro del mouse sulla Striscia di canale di uscita e scegliere Create / Select Disporre traccia dal menu a discesa.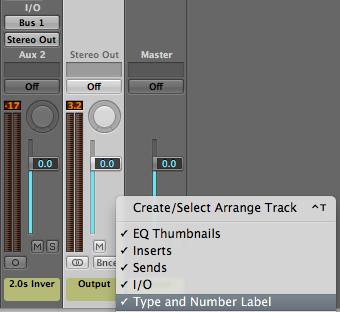 Suggerimento 8 - La Prelisten Channel Strip

La striscia Prelisten canale viene utilizzato da Logic per vedere in anteprima loop Apple e regioni audio riprodotto nel Sample Editor.
È normalmente riservata Audio Channel Strip 256. Aprire il mixer e fare clic sulla scheda Tutti in alto a destra. Scorrere lungo fino a trovare il canale Prelisten.
Ora aprite il browser loop e fare clic su qualsiasi circuito. Dovreste sentire qualche audio che esce di Logica e attraverso l'interfaccia audio. Se non vi è ancora alcun suono proveniente dal resto del progetto, controllare i bottoni solo e muto ...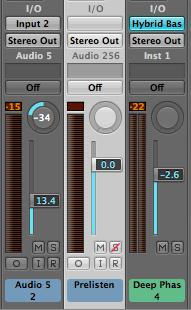 .

Suggerimento 9 - Controllare l'uscita stereo ... Esiste (!)

Questo è interessante, ed è stato portato alla mia attenzione da un utente sul forum di Logic macProVideo.com. Se per errore eliminare il Stereo striscia di canale di uscita in ambiente o il mixer che non sentirà alcun audio dal vostro progetto se non si è di routing audio a un output diverso ...
Per rimediare a questo, aprire l'Ambiente e navigare per lo strato di Mixer. Qui scegliete Nuovo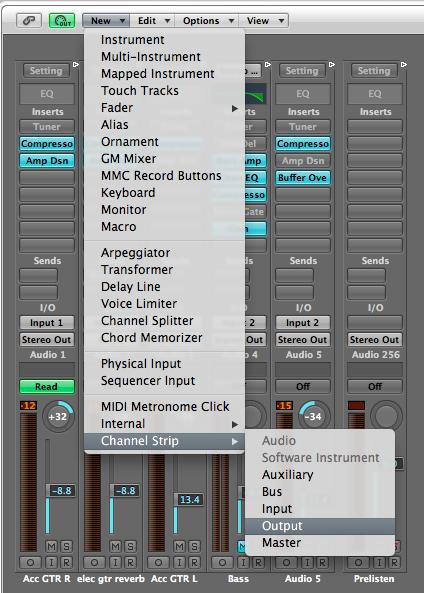 Si dovrebbe udire suono in uscita dal progetto di nuovo!
Suggerimento 10 - Considerazioni finali

E 'insolito, ma non inaudito, che un progetto può diventare danneggiato. In questo caso provare a creare un progetto nuovo di zecca e usare il Prelisten
Logic saves backups of your project file in the Project folder/ Project File Backups sub-folder.
Try opening one of these to see if your project can be recovered. If it can, save as a new project to a new location with a new name and continue working on that version.
Sai, io non ti lascerò andare fino a quando ho parlato di backup dei file importanti. Quindi, vai di backup ... utilizzare un app come Carbon Copy Cloner o Super Duper o Time Machine per il backup dell'intero sistema ... o copiare i file importanti su un'unità esterna o su DVD.
E infine, ecco alcune procedure utili pratica nella manutenzione che possono aiutare - e sicuramente non fanno male ...! L'OS X risoluzione dei problemi trinità :
Restart your Mac (quit all applications and choose Apple Menu > Restart...)

Repair Permissions (check out this thread on how to repair permissions on the Mac)

Trash/remove the Logic Preferences file: Go to User Home folder/Library/Preferences/Logic/ and move the file: com.apple.logic.pro.plist to the Desktop. Restart Logic...

Dotato di tutti i suggerimenti di cui sopra troubleshooting logica non sarà solo in grado di capire alcuni comuni e non comuni problemi di 'suono' di Logic, ma ti è venuto per essere considerato come il guru Logic per tutti i tuoi amici.
Interested in learning more about Logic? These tutorials will help you to become proficient whether you are starting out or looking for advanced tips, tricks and techniques! We'd love to hear your tricks, shortcuts & opinions. Let us know what you think by writing a comment below!